Guiding Team | Field Guide
FW de Klerk
Growing up on a farm was FW de Klerk's first taste of the natural world, although he was always more intrigued by wild animals than domesticated ones. Luckily for him, he was taken on safari from an early age and got to experience private game reserves and the vastness of Kruger National Park.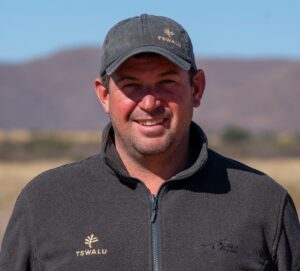 FW grew up in North West province on a family farm where his parents and grandparents raised cattle and sheep and also grew various crops.
Living and growing up close to nature as a farm child definitely influenced FW's decision to choose a career where he knew he would spend most of his day outdoors.
"I was always more intrigued by the wild animals and wild places on the farm, rather than the domesticated animals or farming itself."
His first introduction to the safari industry was going to a private game reserve and the Kruger National Park at a very young age. Those experiences sparked his interest in nature, which just continued to grow over time.
When he was given the opportunity to complete a field guiding course, he didn't hesitate and has never looked back. Today he holds FGASA Field Guide Level 2 (now known as FGASA NQF4), Lead Trails, and Cyber Tracker Level 3 qualifications (Track and Sign Professional, Trailing Level 3).
His guiding career started in a small private reserve in the Waterberg, followed by a long stint in the Lowveld or Greater Kruger area where he worked as a guide in private game reserves. He also has experience running wilderness backpacking trails in the Kruger National Park.
The Kalahari has always been one of FW's favourite wilderness areas in South Africa. Guiding at Tswalu brings together his love for the vastness of the Kalahari with genuine awe for the way that creatures survive and thrive in such a harsh environment.
"The interconnectedness of life in a semi-arid environment fascinates me. Being able to see and experience these challenges and adaptations first hand is such a privilege."
FW has a keen interest in the traditional and medicinal uses of Kalahari plants, but his first love is tracking. Once he has completed his Professional Field Guide qualification he plans to work towards his SKS Dangerous Game certificate. Through Cyber Tracker, he wants to obtain a Senior Tracker qualification.
For anybody wanting to get into guiding, FW says that he or she must be prepared to spend long hours out in the field and, of course, be passionate about nature, wildlife and people.
Drag
Scroll