Guiding Team | Head Tracker
William Gaotsenwe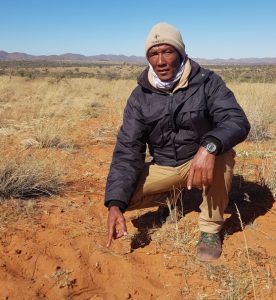 Guides who have had the privilege of working with Tswalu's head tracker, William Gaotsenwe, say he never misses a clue or a sign left in the wild by an animal. Quiet and focused, when William signals with a raised hand from the tracker seat for the guide to stop the vehicle, nobody argues. Just a cursory glance at fresh tracks left in the red Kalahari sand, and he knows exactly where to go, or which direction to take. Willie, as he is known, is always right. He rates his keen eyesight as his most valuable attribute, but says he relies almost as much on his gut instinct and heart to find what he is looking for or what his guests want to see.
William was born and raised in Kuruman in the Northern Cape. He has been living and working at Tswalu for the past 20 years. Tracking is in his blood. Growing up, he says his grandfather taught him everything he needed to know, from the art of tracking to indigenous bush lore. As a result, he can read the ground like a book. Sightings in a reserve as vast as Tswalu are often hard earned. With William at the helm, cheetah, black-maned lion, aardvark and roan and sable antelope are just some of the iconic species, characteristic of the Kalahari, that his guests are thrilled to encounter. The elusive creatures, like the pangolin, honey badger and caracal, are a challenge to track, even for someone as skilled as William. He confirms that the desert black rhino is still the most rewarding animal to track – a challenge he always enjoys.
He remembers being charged by a black rhino once, while tracking on foot. At first he tried to climb a tree, but soon realised that it was too small to carry his weight. Instead, he dived underneath the nearest bush, which was a mistake as it was covered in thorns. Emerging afterwards, full of scratches, was not fun, he recalls. It's the sort of story he will probably be telling the younger generation for years to come.
As head tracker, William often has to mentor younger, less experienced trackers. He continues to impart knowledge and skills to even the most experienced members of the team, both trackers and guides. One of his proudest moments has been teaching his nephew, Jacob Gaotsenwe, to become a tracker and earn a place on the guiding team at Tswalu.
Images of William by Kosie Lategan; top image by Barry Peiser.
Drag
Scroll