Guiding Team | Field Guide
Dave Potgieter
With 15 years of experience as a specialist field guide in some of South Africa's greatest game reserves, Dave Potgieter enjoys revealing the intricate wonders of the southern Kalahari to safari first-timers and committed naturalists alike.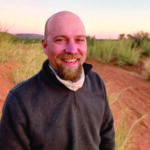 Growing up in the heart of KwaZulu-Natal in South Africa exposed Dave Potgieter to the beauty and riches of South Africa. From a young age, Dave visited numerous nature reserves and other wild places with his family. His uncle introduced him to the multitude of bird species in KwaZulu-Natal. Birds, mammals and trees began to interest him more and more, and every wild getaway became an opportunity to find something new. In particular, he remembers an extended family holiday to Zimbabwe and Mozambique, exposing him to even more natural beauty as well as different cultures.
After school, Dave decided to study a BSc Honours in Zoology and Grassland Science at the University of KwaZulu-Natal. With excellent resources, current research, determined professors and mentors, as well as like-minded fellow students, he knew that wildlife and conservation areas would become a huge part of his life. While at university, he visited Tswalu Kalahari Reserve in the winter of 2006 as part of a two-week practical course. Several trips to the Kalahari and surrounding areas interested him greatly.
Over the 15 years of Dave's guiding career, he says he has been privileged to work in some great game reserves, from Madikwe Game Reserve in the North West province to the Greater Kruger National Park. He has been a Lead Trails Guide since 2010 and rates walking in wildlife areas as one of his passions. Dave is currently a FGASA Professional Field Guide and SKS Birder with a Level 2 Tracker qualification.
His main interests and passions include exploring Africa, birding, animal behaviour, geology, history and working ecosystems.
"The greatest joy I get from guiding is exploring our piece of paradise with guests, both first-time travellers and the more experienced, showing them the wonders of our continent, especially the treasures found at Tswalu in the vast Kalahari," says Dave.
Drag
Scroll