TSWALU FOUNDATION
ARTISTS IN RESIDENCE
AN INTRODUCTION BY NICKY OPPENHEIMER
Tswalu Kalahari is a magical place with its ancient landscapes characterized by the magnificent Korannaberg mountains and rolling dunes. The clear night skies, pristine landscapes, and desert-adapted fauna and flora all combine to make Tswalu a spiritual experience that only the unique Kalahari can create. The vast areas of red sand, shrubs and tall trees are home to an amazing variety of wildlife, specially adapted to survive in harsh, dry conditions. The property significantly contributes to conservation of species and ecosystems in the Northern Cape, including numerous rare and endangered species.
The reserve has a strong community and conservation ethic, with numerous research projects that have been sanctioned by the Oppenheimer family. The Tswalu Foundation was created in 2008 to develop a platform upon which local and international visitors could contribute and become involved in community work and environmental research on the reserve. The Foundation has been fundamental in developing a greater appreciation for the beauty of the Kalahari and its diverse and abundant wildlife. Although Tswalu Kalahari and the Oppenheimer family support numerous research projects, the Foundation ensures that more researchers are afforded the opportunity to study this unique land.
One of the programmes managed through the Tswalu Foundation is the Artists in Residence Programme (AiR), which was initiated in 2015 with the idea of further supporting research on Tswalu through the generation of income for research as well as providing artists an opportunity to be inspired by Tswalu. The selection of the artists to join the Tswalu Foundation AiR programme is guided by Mark Read and his incredible team at the Everard Read Gallery in Johannesburg. Together we are showcasing the depth and talent of South African artists as well as uncovering new artistic talent. The importance of artists portraying and depicting this vulnerable landscape should not be underestimated. Art portrays the natural world in varying forms, from the intimate to the majestic, and evokes the mood and feeling of a place. The beauty, magnificence and, in some cases, hardships of an area are clearly reflected through art.
Nicky Oppenheimer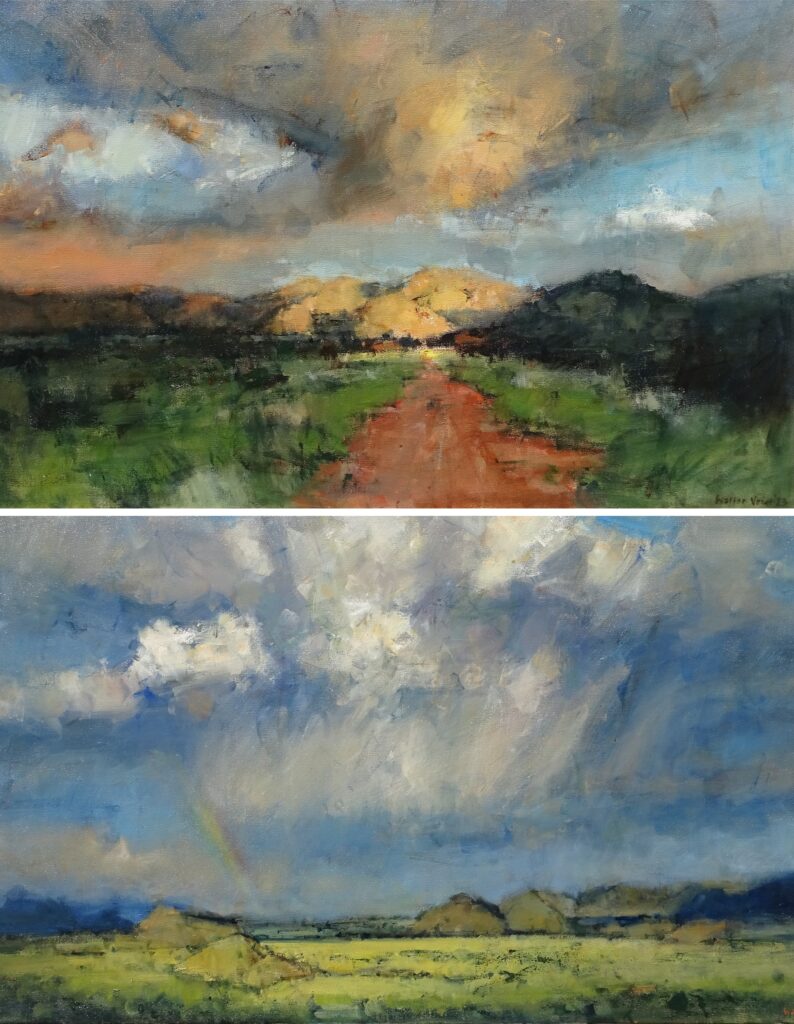 TSWALU, A WILDERNESS REVISITED
by Walter Voigt
In collaboration with the Tswalu Foundation's Artists in Residence programme, Everard Read is thrilled to present the second solo exhibition by the renowned landscape painter, Walter Voigt. Following Voigt's initial residency and subsequent sell-out exhibition, Voigt returned to Tswalu Kalahari Reserve to document the dramatic moods of this semi-arid wilderness following a couple of seasons of good rain in the southern Kalahari. 'Tswalu, A Wilderness Revisited' celebrates the artist's reacquaintance with this arid savannah that aptly portrays nature's extraordinary capacity for abundance and rejuvenation after rain.
This exclusive exhibition can be viewed by appointment only at Fireblade Aviation in Johannesburg, South Africa, where it will run from 7 October 2023 to 31 January 2024. Private viewings can be arranged by contacting Everard Read Johannesburg at [email protected]
DOWNLOAD CATALOGUE