Your Tswalu adventure begins in one of our three safari camps, the Motse, Tarkuni homestead or one of Loapi's luxury tented homes. This choice of accommodation, defined by understated luxury and an authentic sense of place, offers privileged access to a unique destination safari in South Africa's largest privately owned reserve. Each camp is perfectly positioned to take in the reserve's dramatic landscapes, characterised by savannah grasslands, red dunes and ancient mountains.
The Motse is where it all started. Nine spacious legae (Setswana for 'home') are private retreats for two or four guests, making these suites ideal for couples or small families. Tarkuni, a thatched homestead tucked into a secluded valley, accommodates up to 10 guests in five bedrooms. Designed for exclusive use, it's perfect for large families or a party of friends. Evoking the pioneering spirit of camping, Loapi is a luxury tented camp with six, individual, tented safari homes for the ultimate private wilderness experience. At all three camps, a private safari vehicle, guide and tracker is guaranteed with each booking. Your guide and tracker will take excellent care of you for the duration of your stay, arranging every aspect of your safari at a pace that allows for an unhurried, immersive journey of discovery into the southern Kalahari's rare and unusual treasures, from iconic wildlife to rock engravings.
The total number of beds across our camps represents the lowest ratio of guests to space in a privately protected area in South Africa. By choosing to stay with us, our guests are contributing directly towards the sustainable conservation of the Kalahari, protecting habitat and restoring biodiversity through nature-based tourism.
LUXURY ACCOMMODATION FOR THE ULTIMATE PRIVATE SAFARI EXPERIENCE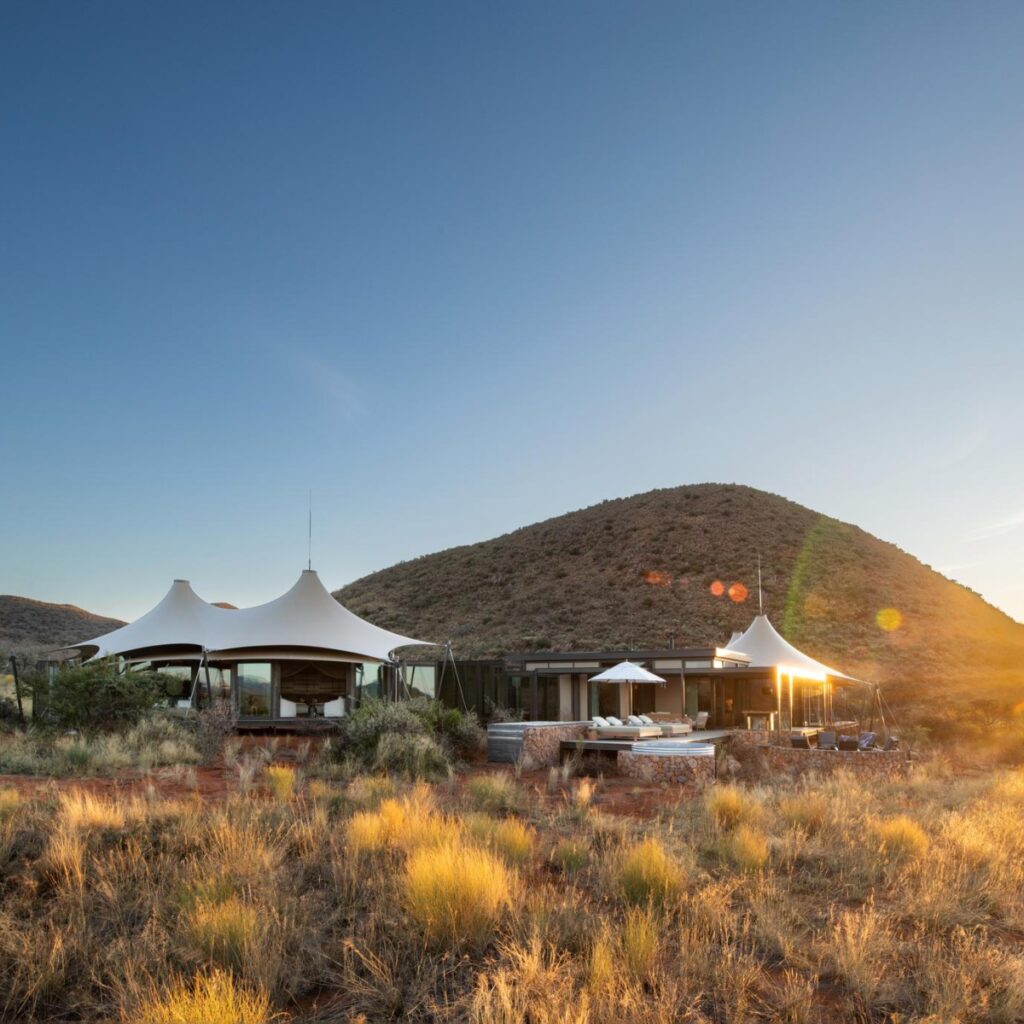 LOAPI TENTED CAMP
Backed by the foothills of the Korannaberg mountains, Loapi is set to become Africa's top luxury tented safari camp. Offering a true wilderness experience that is both private and exclusive, the camp's six private safari homes under canvas are positioned to make the most of unimpeded views south across the reserve's characteristic arid savannah. With at least 100 metres (330 feet) between each residence, guests are assured of solitude and seclusion with a dedicated Homathi (butler) and chef to take care of everything. In Setswana, Loapi means 'the space below the clouds', aptly reflected in the camps environmentally sensitive, modular design, combining canvas, glass and steel. Uncluttered, sculptural interiors, enriched by nature's colours, forms and shapes, optimise the sense of space and evoke the carefree, nomadic spirit of camping.
READ MORE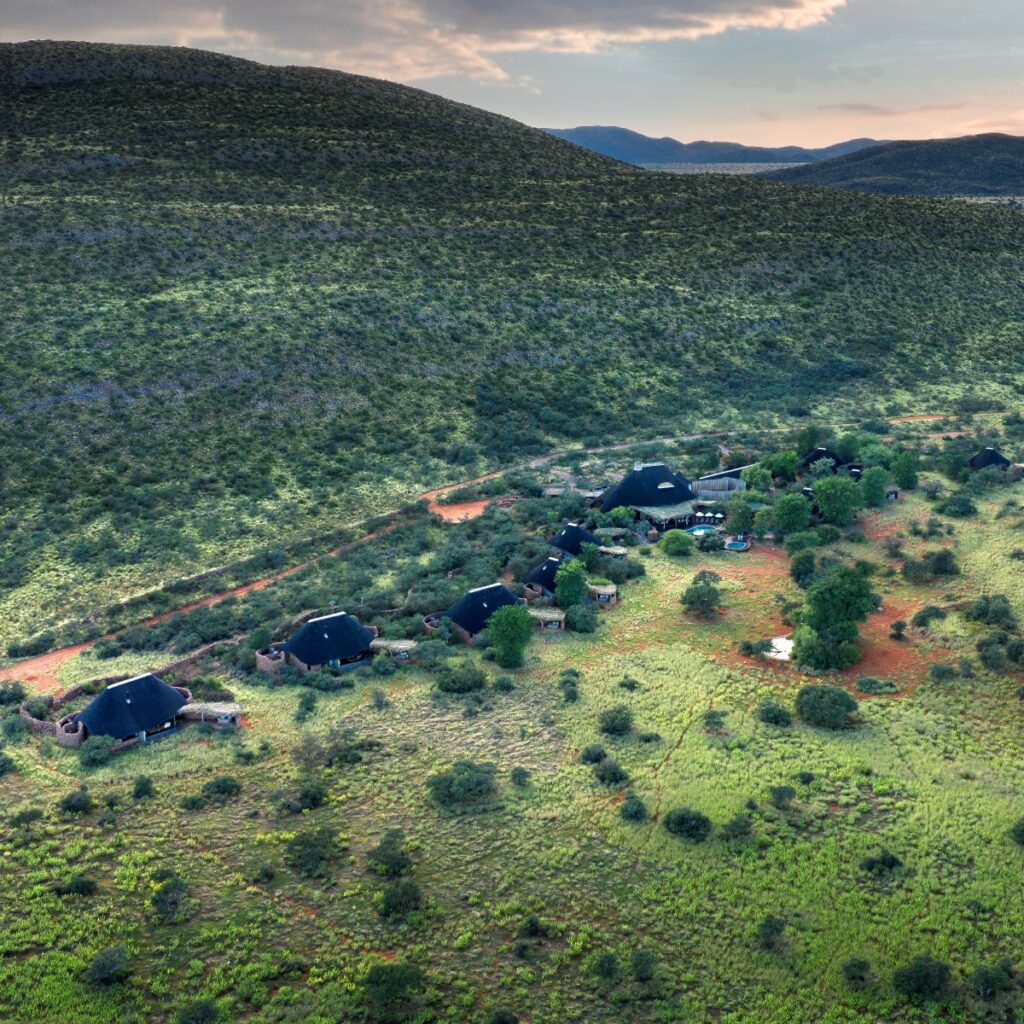 THE MOTSE CAMP
With uninterrupted views across the reserve towards the Korannaberg mountains, the Motse is Tswalu's original safari camp offering luxury accommodation that is at once sophisticated and rustic. In design, the camp echoes the Kalahari's dramatic beauty with earthy materials, organic shapes, richly textured interiors and nature-inspired tones. The camp has nine guest suites, or legae (a Setswana word meaning 'home'), each a private sanctuary set in gardens landscaped with indigenous southern Kalahari plants. The Motse welcomes children of all ages, and families are accommodated in three family legae, or suites, with two en suite bedrooms. Inspiring adventure while soothing the senses, the Motse is your home from home – comfortably luxurious, yet comfortingly familiar – with plenty of space and privacy for everyone.
READ MORE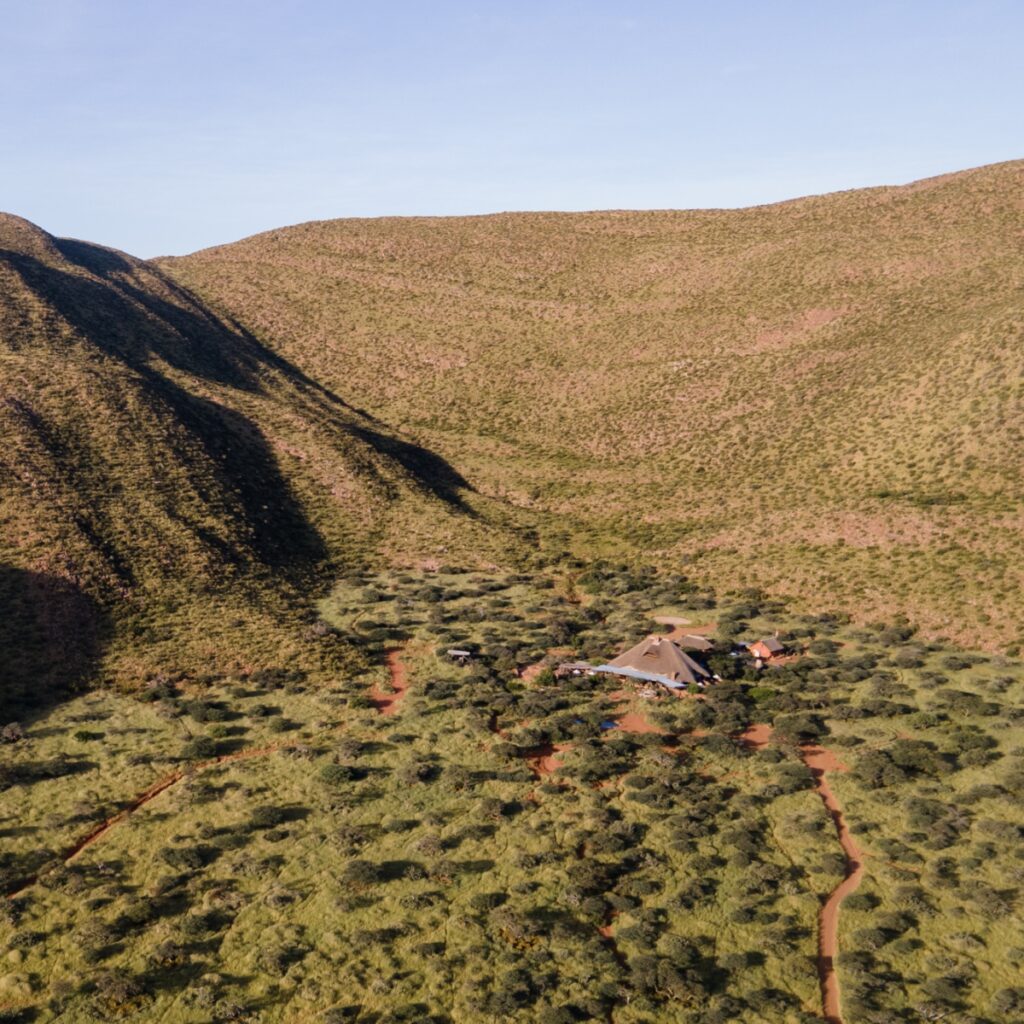 TARKUNI HOMESTEAD
Located in a secluded valley below the Korannaberg mountains, Tarkuni is our private homestead offering luxury accommodation for multi-generational families or parties of friends – up to 10 guests in five suites, all under one roof. An old, gnarled shepherd's tree creates a focal point at the entrance, welcoming guests to their private safari home where a dedicated team, including a private chef, takes care of everything. This exclusive-use, thatched homestead, redesigned to be sustainable and earth friendly, includes a graciously proportioned lounge and dining room, as well as an upstairs library and spa treatment room. A deep, shaded veranda, plunge pool, sundowner fire pit, small boma and a gazebo for massages or afternoon naps all lend themselves to easy, relaxed days in camp.
READ MORE
WHAT OUR GUESTS ARE SAYING
The persistence and patience of our guiding team tracking lion and cheetah were incredible, and we really enjoyed the ëxtra"antelopes, including Roan and Sable. Night drives also brilliant with sightings of Cape Fox, Aardvark, Bat-eared fox, African wildcat, etc.
Deceber 2022
Game viewing was amazing. An impressive amount of knowledge from our guide and tracker who were very involved and passionate. Dinner on the dune, Boma and Klein JAN restaurant being a real plus to the experience. The whole stay is very tailormade.
December 2022
This was my thrid visit to Tswalu and I never get tired of it! I will definately come back many time with my family and friends.
December 2022
We enjoyed 5 days of amazing care and experiences.
December 2022
The vastness if the reserve and its beauty made such an impression. The game was beautiful, different and majestic.
December 2022
Our guide and tracker shared so much knowledge! Not only did we have an incredible time exploring the Kalahari and seeing the animals, we also learned so much! Loved the adventure of tracking on foot!
November 2022
Everything from start to finish exceeded our expectations. A priceless emotional experience with unforgettable and lasting memories for a lifetime.
Noveber 2022
We had an incredible time. Our guide and tracker were tuly exceptional. They went over and beyond to make sure we fulfilled our wishlist.
November 2022
A wonderful, relaxed and flexible experience. Highlights included meerkat walking, sundowners on the dune, and our Klein JAN evening.
November 2022