Guiding Team | Photographic Guide
Trevor Kleyn
Wanting to improve his wildlife photography skills influenced Trevor Kleyn's decision to become a field guide. Through spending hours with guests on game drives and walks, he knew he would learn more about animal behaviour, which would enable him to take better photos. The rest, as they say, is history.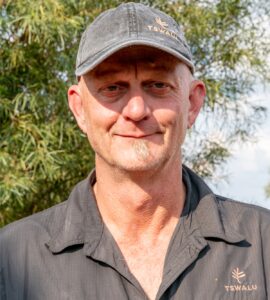 Trevor Kleyn is a full-time photographic guide, guiding guests with a special interest in wildlife photography. His depth of bush knowledge and varied experience as a FGASA-qualified nature and lead trails guide provides a solid foundation for imparting expert advice and hands-on tuition to guests who want to improve their photography skills.
Trevor grew up in Johannesburg, where he spent most of his time outdoors playing sport or exploring outdoors. He went on regular family trips to the Kruger National Park and the Drakensberg mountains as a youngster and this exposure to nature and wilderness areas definitely played a big role in his career path.
Trevor's interest in photography started from a young age, and he enjoyed taking and developing his own photos as a teen. Africa's wildlife is where his passion lies, and to gain a better understanding of this subject Trevor trained as a nature and trails guide.
He has a FGASA Lead Trails Guide qualification and several photography qualifications, but says that there is simply no substitute for spending hours and hours in the bush – especially on foot. If he was to give advice to someone starting out in this field he would encourage them to get out into the bush and learn. "The more you know, the better you understand, and the more you see."
For most of his career Trevor has worked as a freelance guide, leading walking trails in Kruger National Park and hosting private photographic safaris all over Southern and East Africa. He has travelled extensively in pursuit of photographic opportunities to destinations as diverse as Iceland, Argentina, New Zealand, and USA.
The emphasis on conservation work is what first sparked Trevor's interest in Tswalu. Working as a private guide, over the years he has always enjoyed bringing guests to Tswalu. He has lots of good memories from guiding on the reserve, but singles out his first pangolin sighting in 2013 as one that will stay with him forever.
"The light is  amazing in the Kalahari and, although I already have a good feel for it, I look forward to learning more about the conditions now that I'm based here. I now have the opportunity to immerse myself in the Kalahari ecosystem, and spend time with the animals and study their behaviour."
On the vital role played by trackers, especially at Tswalu, Trevor says: "I've always had a huge amount of respect for trackers. Drop them at any waterhole and they will read the surrounding area like a newspaper, interpret the signs and tracks and give you an update on all the latest news. Then, they single out an animal's tracks, out of all the crisscrossing, overlaid tracks, and they follow those tracks until they find that animal. How incredible is that? Tswalu's trackers are incredibly good at what they do, and it's so good to work with them."
All images by Trevor Kleyn
Drag
Scroll