Summer 2021 | Kerry-Lee Roberg
A special summer
Summer is a special season in the Kalahari and one that arrives rather rapidly. After months of wearing what felt like 13 layers, the temperature began to rise consistently enough to force the black thorns into bloom – always a sign that summer is well on its way. Before we know it, average daytime temperature soar well into the 30s.
Heat hopefully brings rain and Tswalu was certainly blessed this season. By mid-January, the reserve had received around 250mm of rain. A couple of weeks later, that figure had jumped to more than Tswalu's average annual rainfall with many areas exceeding all expectations. Coming after a period of drought, this abundance of rain has been very welcome and has done wonders for the landscape.
Many who have been lucky enough to visit the Kalahari this summer comment that they cannot believe that they are in a semi-arid environment. The usually ochre dune streets have been transformed by green vegetation, pans are overflowing with water and a chorus of frogs greet you on arrival – a sound we missed throughout the cold, dry winter months.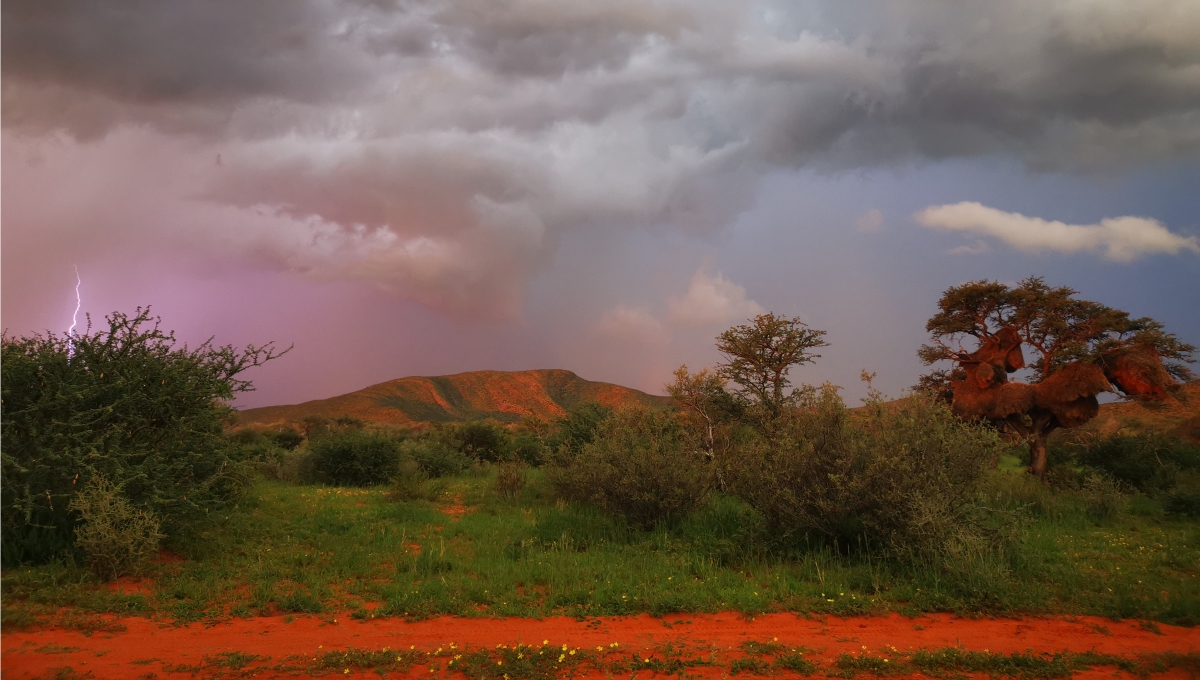 Being rained on while out on drive is not everybody's idea of fun, but there is something magical about getting caught in a proper thunderstorm – especially if this happens on the way back to camp where a hot shower and warm, fluffy towels await. Mother Nature doesn't always play along, though. Often the weather apps give us a rough idea of what the weather has in store, but those who have called the Kalahari home for some time know better than to place bets with the weatherman.
Big, billowing clouds build in the distance and creep closer as the afternoon hours tick by, low booming thunder seems to rattle the earth, the sun sinks a little lower and the first flash of lightning illuminates the sky followed by another and another. A large, cold, fat raindrop falls and bursts. Drops begin to fall slowly at first, but just as you've had enough time to grab your rain poncho (and figure out which hole to put your head through), the heavens open. At times, a solid sheet of water makes it difficult to navigate the road ahead as it turns into a temporary river.
The following morning the beautifully fresh, clean smell of Kalahari earth greets you. Those roads, which were rivers the day before, seem unrecognisable as the thirsty sand quickly absorbs the water. A few puddles are the only evidence of the torrential downpour.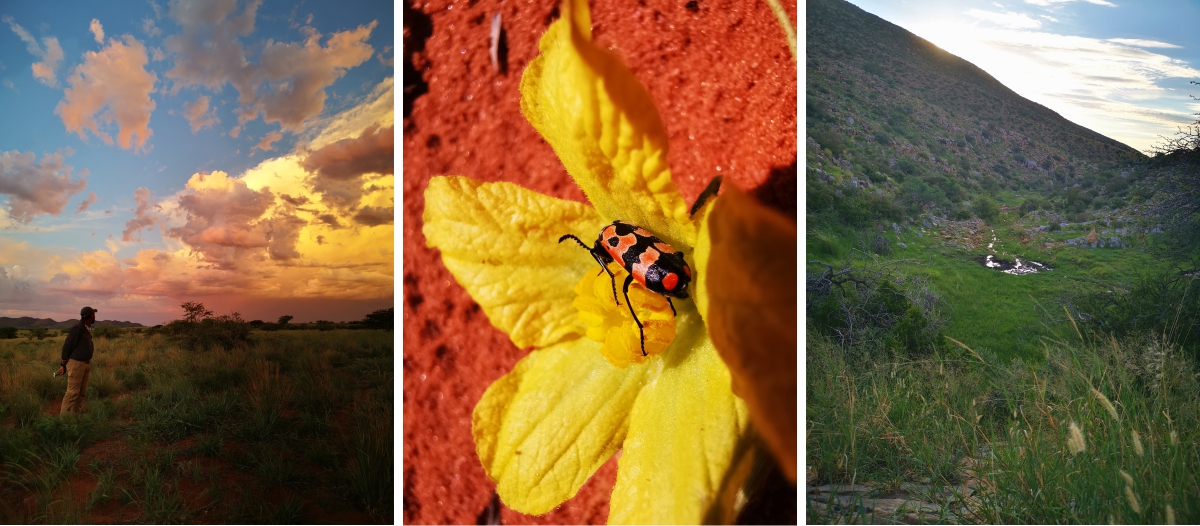 Within days the first shoots of grasses and bulbs, dormant throughout winter, poke through the earth's surface. Soon, a sea of green grasses is broken by splashes of colour from the wildflowers that attract beetles, moths, butterflies and other pollinators in their short blooming period. Carpets of yellow dubbeltjie flowers bloom – a sight to behold. It really is a beautiful time to experience the Kalahari.
The rainfall and rise in temperature also impact animals that call the Kalahari home. Herbivores, including hartebeest and blue wildebeest, suddenly have an abundance of food and start to reproduce. Although not strictly seasonal breeders, out on drives we do see many young springbok as well as oryx due to the favourable conditions. Insect numbers also increase in hot, wet weather, which is good news for meerkats. We have seen many meerkat pups this summer.
Species that tend to be more elusive elsewhere in southern Africa, such as pangolin and aardvark, attract many naturalists to Tswalu. Although there are more ants and termites in the summer months, these shy animals become more challenging to find as their time of activity becomes later and later due to the warm temperatures. Both species will seek refuge in a burrow during daylight hours and will emerge well after dark to forage.
While the world has been experiencing hardship, the Kalahari's life-giving rain has been greatly appreciated and instilled hope and the promise of good things to come.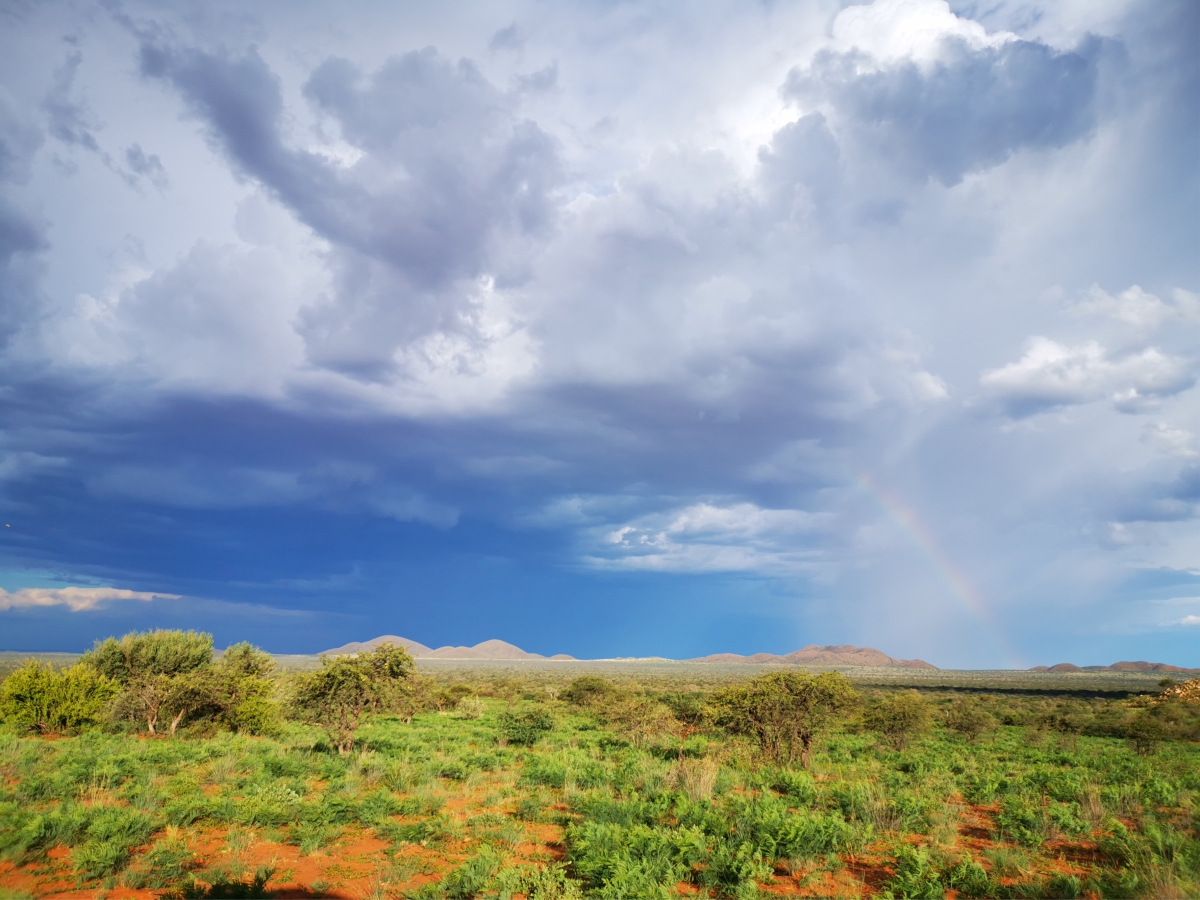 All images by Kerry-Lee Roberg
Drag
Scroll