ARTIST IN RESIDENCE │ TSWALU FOUNDATION
GILLIAN SARA CONDY
Born in Kenya, Gillian Condy went to primary school in Uganda before her family moved to the UK. She trained as a scientific illustrator with a Masters degree in botanical illustration from the Royal College of Art, London. Longing to return to Africa, she came to work in Botswana for four years, working for the International Voluntary Services and Department of Education. She was offered a job by The Botanical Research Institute (now the South African National Biodiversity Institute) as the resident botanical illustrator in 1983 and retired in December 2017 after 34 wonderful years.
Gillian has been an active freelance artist for over 40 years and a teacher for 25 of those years. She has participated in over 140 exhibitions worldwide, including the Royal Horticultural Society, London (seven Gold, four Silver-gilt medals); the Hunt Institute for Botanical Documentation 1992; Kirstenbosch Biennale (four Gold, four Silver medals); Shirley Sherwood Gallery, Kew; and 21st World Orchid Conference, Johannesburg, 2014, which she also curated. Five works are represented in the Shirley Sherwood Collection; in the Highgrove and Transylvania Florilegium for The Prince of Wales's Charitable Foundation; the Sydney Florilegium and Botanic Endeavour – Banks and Solander Collection; Chelsea Physic Gardens, London; Grootbos Florilegium; Brenthurst Library; and Royal Botanic Gardens, Kew. Gillian was awarded the prestigious Jill Smythies Award by the Linnean Society of London in 1990; Cythna Letty Award in 2001; and Certificate of Merit from the South African Association of Botanists in 2018.
She illustrated Geophytic Pelargoniums (2001); Grass Aloes in the South African Veld (2005) and contributed to Peeling Back the Petals: South African Botanical Art. She has designed 14 sets of postage stamps for Botswana and three for South Africa. She is a founding and Honorary Life member of the Botanical Artists Association of Southern Africa and has been an active member of the Gauteng committee for 21 years. She is also a member of the American Society of Botanical Artists.
Soon after taking retirement in December 2017, Gillian curated the South Africa leg of the first Botanical Art Worldwide Exhibition at the Everard Read Gallery in Johannesburg, in which 26 countries across the world held simultaneous exhibitions. In November that year she was appointed Artist in Residence at Tswalu Kalahari and made eight trips to the reserve to illustrate the plants over a period of 14 months. The Covid lockdown proved to be a blessing, as it offered the perfect opportunity to focus on completing artworks begun at Tswalu Kalahari before moving on to other works. Gillian's time as an Artist in Residence was very productive, and an exciting new chapter awaits.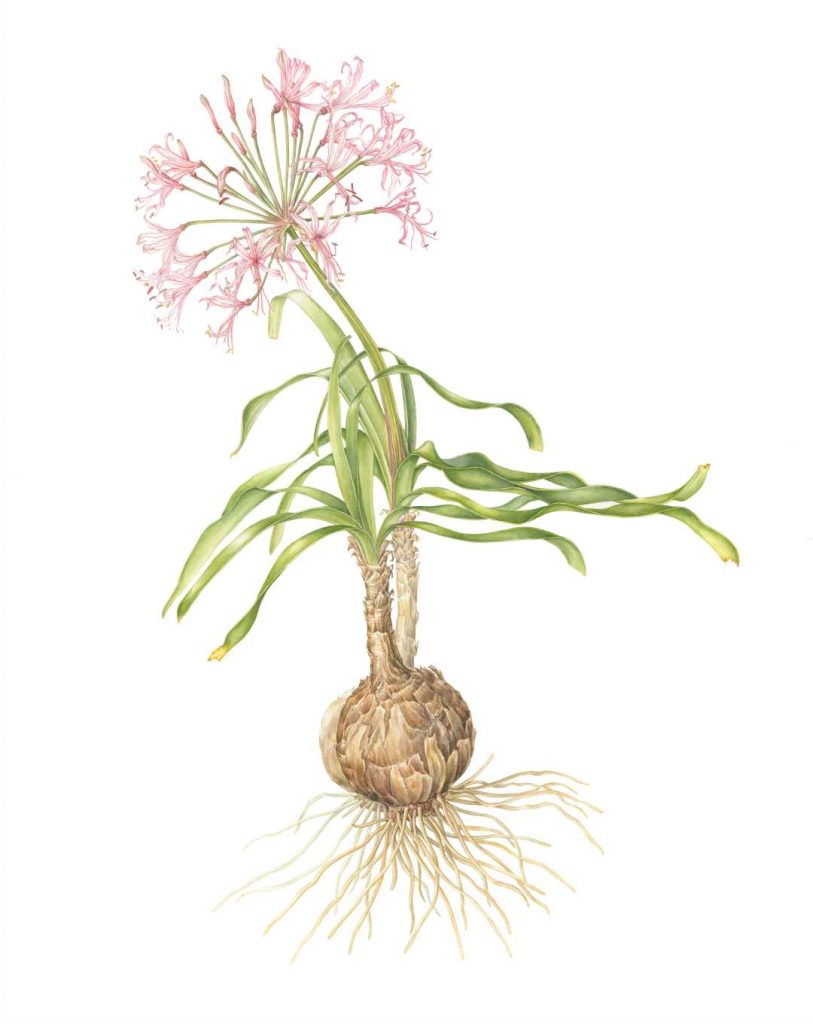 TSWALU – A NEW BEGINNING
Gillian Condy's solo exhibition at Everard Read's CIRCA Gallery ran from 2 February until 13 March 2021.
A digital catalogue of the complete body of work produced by Gillian Condy at Tswalu is available to view:
VIEW CATALOGUE