TSWALU FOUNDATION | CURRENT RESEARCH
Niche compression of a vulnerable equid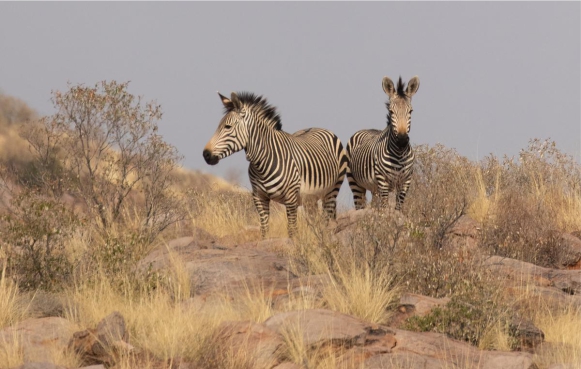 HARTMANN'S MOUNTAIN ZEBRA – NICHE COMPRESSION OF A VULNERABLE EQUID
Institution: University of the Witwatersrand
Faculty: Animal, Plant and Environmental Sciences
PhD student: Paulo Henrique Pinheiro Ribeiro
Supervisors: Dr Francesca Parrini; Dr Jason P Marshal
Biodiversity has suffered major losses, most of them irreversible, as a result of human development and the anthropogenic issues resulting from human expansion. Most of these losses are reducing the necessary and available areas for species survival which can affect species even at a molecular level. This research aims to evaluate how different characteristics, such as environmental changes, anthropogenic impact, and interspecific interactions cause spatial restrictions of a vulnerable herbivore, Hartmann's mountain zebra.
KEY RESEARCH OBJECTIVES:
– Predict the distribution of mountain zebra across Africa
– Evaluate the level of competition between zebra species through occupancy patterns
– Verify if the two zebra species in the area are hybridising
The multi-scale evaluation approach generates a better overview, allowing the prioritization of sites needing more conservation efforts in a more efficient form. For a landscape overview, species distribution modelling has the best cost-benefit since most of the data comes from online databases. This is also a reliable tool for a greater overview of any aspect of the species distribution. A specific habitat, like Tswalu, provides the scale that is essential to understanding the most refined factors that drive the species occurrence. Lastly, genetic assessment is the most accurate method to determine hybridisation. While some species present hybrid characteristics in their phenotype, the only reliable method to confirm the gene exchange is through a genetic assessment.
PROGRESS UPDATE AND KEY FINDINGS FROM 2022:
– Mountain and plains zebra (Equus quagga) locations were collected from online databases (GBIF). The locations were filtered to avoid oversampling and identification problems.
– Currently 1250 plains zebra locations and 818 mountain zebra locations recorded.
– During 2021 there were 101 herd encounters with plains zebras and 260 with mountain zebras. Considering each zebra an individual, this translates to 545 individual locations of E. quagga and 1371 individual locations of E. zebra.
– A total of 68 Burchell's plains zebras and 112 Hartmann's mountain zebras were captured (for relocation, as part of a game capture) and, of these, genetic material for assessment was collected from 24% of the captured Hartmann's mountain zebra and 19% of the captured Burchell's plains zebra.
– – – – – – – – – – – – – – – – – – – –
GET INVOLVED
Use our secure online portal to make a donation to the Tswalu Foundation Trust in support of the sustainability of ongoing research management of the many projects supported by the foundation, its researchers and various activities.
DONATE