Tswalu has become well known for its privately guided safaris that provide exclusive access to South Africa's biggest privately protected space and sustainably run conservation project. Tswalu reserve lies in a unique transition zone between the true Kalahari ecotype and arid savannah. Rolling red dunes are divided by the landmark Korannaberg mountains, contributing to greater habitat diversity than anywhere else in the Kalahari. Diverse habitats give rise to varied game viewing – over 80 species of mammals alone. The typical arid savannah further differentiates game viewing at Tswalu from elsewhere in the Kalahari. Many of the unusual or rare animal species are well adapted to the Kalahari's 'feast or famine' conditions, extreme temperature variations and unreliable access to water.
Immersive, interpretative game drives and nature walks with a dedicated safari guide and experienced tracker provide limitless opportunities to discover the Kalahari ecosystem's unique characteristics and the adaptations and resilience of the plants and animals that find protection here. An advantage of having a private safari vehicle, guide and tracker is the freedom to head out in a different direction every day to enjoy unhurried game drives and photographic opportunities without bumping into other vehicles or having to share special sightings with other guests. Tswalu's rolling savannah grasslands and ochre dunes create iconic backdrops for those perfect shots – a journey of giraffes, a magnificent male kudu silhouetted against the setting sun, or a lone leopard surveying the horizon from a rocky outcrop of the Korannaberg mountains.
Tracking rare or elusive animals is a bucket-list safari experience here. Most of our guests choose Tswalu not just to see a pride of Kalahari black-maned lions or a herd of buffalo but to have privileged access to some of Africa's rare and endangered species, such as the brown hyena, desert black rhino or cheetah. Tswalu is also one of the best places in the whole of Africa to see five shy, nocturnal species that often prove elusive elsewhere, namely the ground pangolin, brown hyena, aardwolf, aardvark and the bat-eared fox. Spotting less common antelope is another treat awaiting our guests, including that Kalahari icon, the oryx (or gemsbok), as well as eland, red hartebeest, roan, tsessebe, sable, and springbok.
All life forms in the Kalahari are affected by the presence or absence of water, which dictates the abundance or scarcity of food sources. Sightings are usually hard earned, due to the sheer size of the reserve and the limited number of safari vehicles traversing these expanses. Many animals have large territories, while leopard and mountain zebra find shelter in the foothills and valleys of the Korannaberg mountains. The value of a dedicated, experienced tracker and guide who have come to know the reserve and anticipate the movement and whereabouts of animals becomes very relevant here, compared to smaller reserves or private concessions in other parts of South Africa. Sometimes, though, it is just about being in the right place at the right time. Surrendering yourself to the unknown is part of the adventure of discovering the southern Kalahari.
SAFARI EXPERIENCES
No two Tswalu safari experiences are the same. That's because the way you see and touch this magical place will be shaped by your particular interests and will happen at your own pace. Tswalu is a generous landscape and as the sun rises above the Korannaberg mountains each morning, new opportunities to learn, play and explore come to life.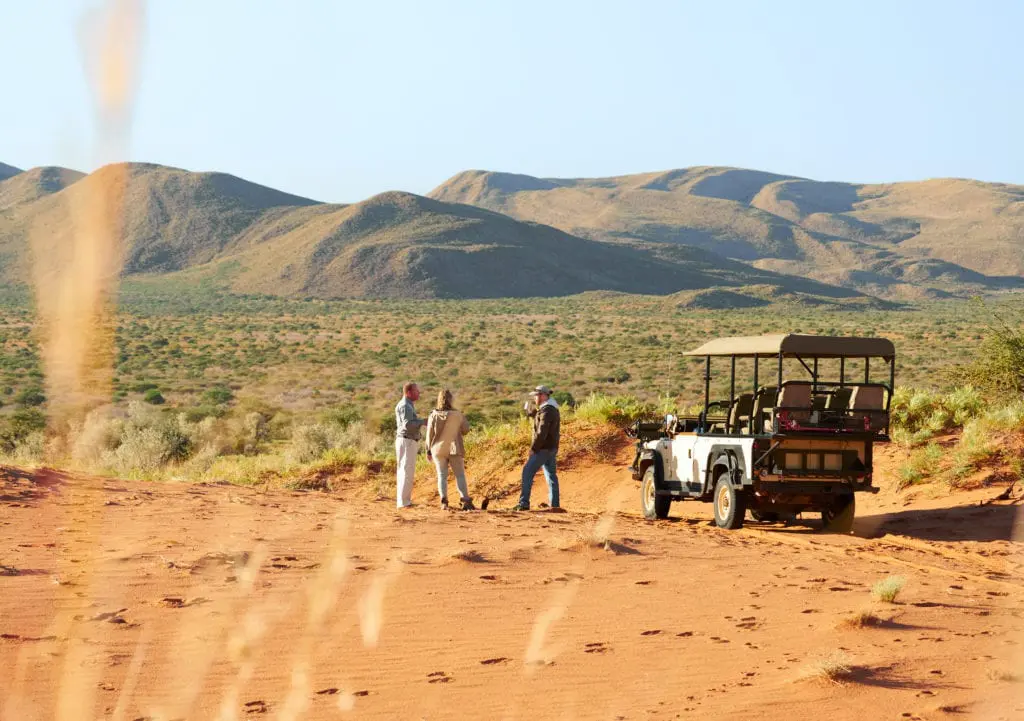 PRIVATE VEHICLE SAFARI
Your private guide and tracker, experienced and adept at navigating the reserve's network of dirt tracks and animal trails unblemished by tell-tale tyre tracks, are always on hand to interpret the signs of the wild and share the wonders of the southern Kalahari with you.
Read more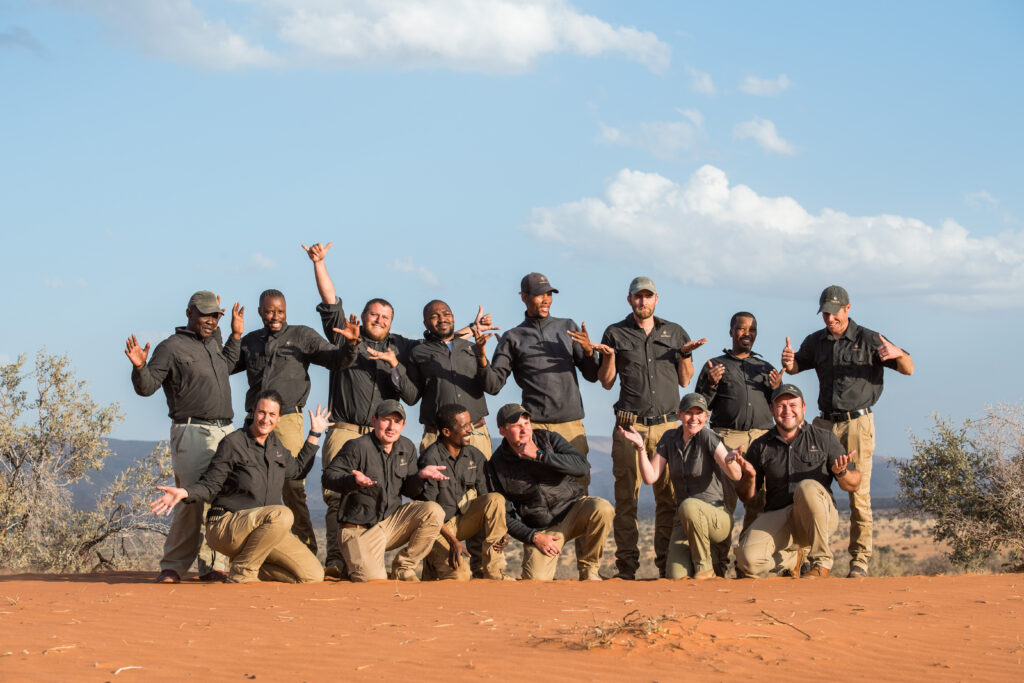 MEET THE GUIDING TEAM
Our field guides and trackers are the most important people you'll meet on a Tswalu safari, as you will spend more time in the company of this knowledgeable and experienced pair than with anyone else on your safari.
The guiding team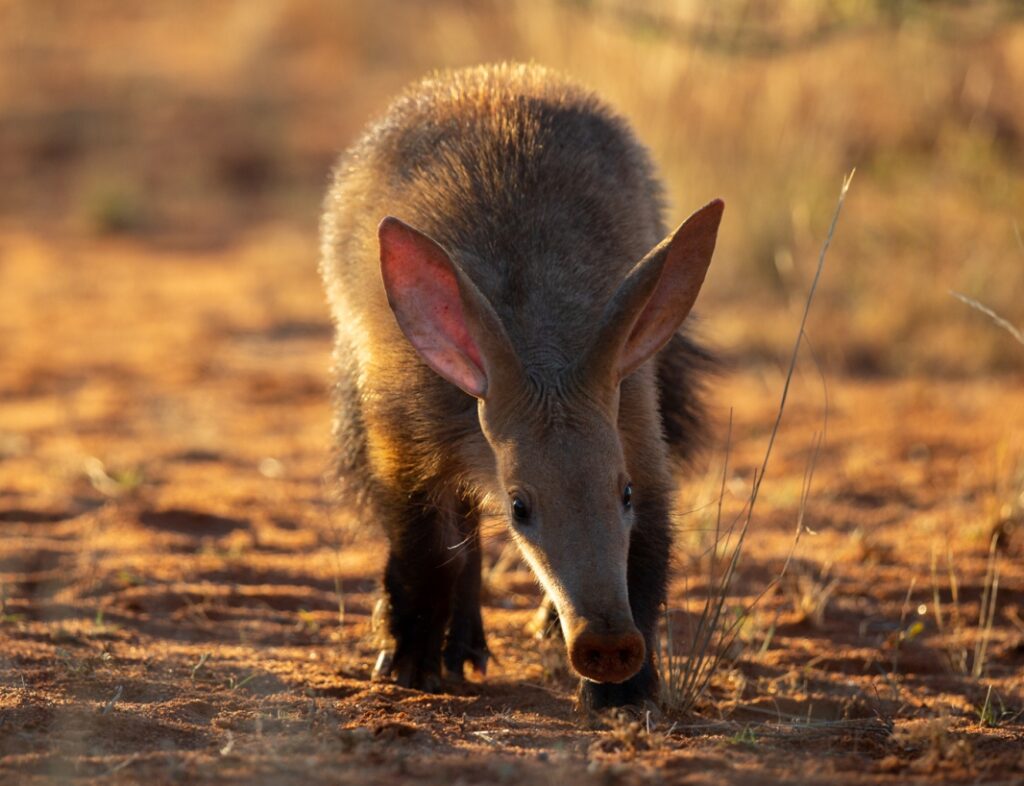 ELUSIVE SPECIES
You will have front-row seats on your wildlife safari experience for sightings of five of the most elusive species in Africa: pangolin and brown hyena (which are also rare and endangered), aardvark, aardwolf and bat-eared fox. The elusive five are all nocturnal species. In summer, the hot daytime temperatures force aardvark and pangolin to stay in their cooler burrows for longer and they only tend to come out late at night, so guests often go out on a drive after dinner. In winter, daytime sightings are more common as these animals come out to forage in the afternoon sunshine before it gets too cold.
Read more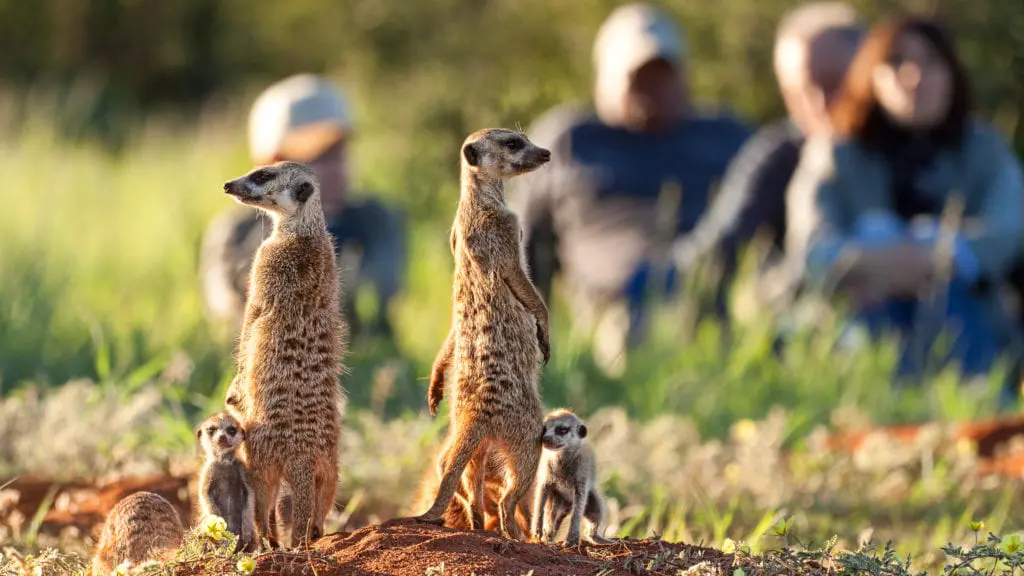 MEERKAT EXPERIENCE
Join a group of habituated meerkats as they emerge from their burrows and warm themselves in the rising sun or meet up with them as they return home at the end of the day and groom and play at dusk.
Read more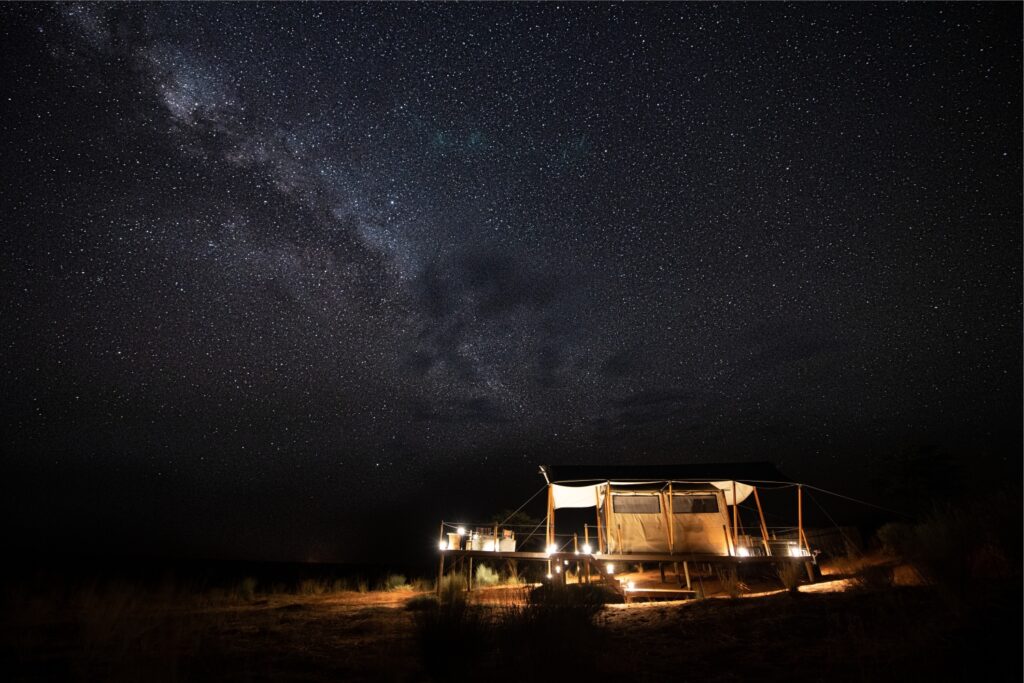 STAR BEDS
Spending a night in one of our star beds, either directly under the night sky or under canvas, is an adventurous way to appreciate the sights and sounds of the southern Kalahari after dark.
Read more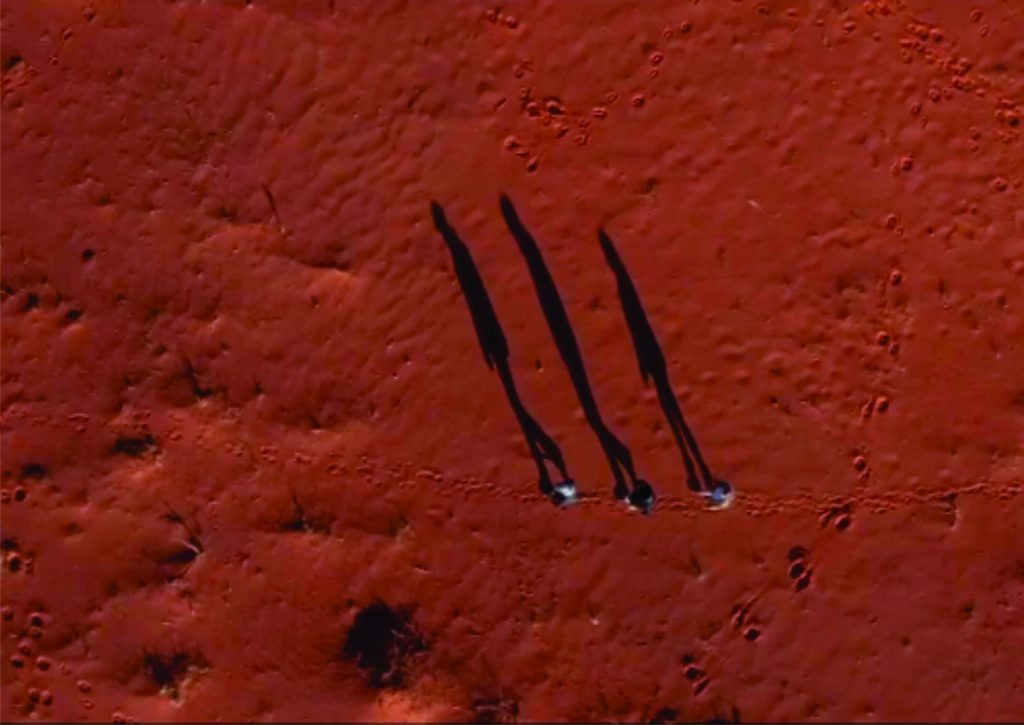 GUIDED WALKS
Much of Tswalu's beauty can be found in the smaller details, which is best appreciated by getting off the vehicle. Then you will get up close to the ripples left by the wind on the crest of a sand dune, notice a yellow flower opening to face the sun, or be able to trace the tracks left in the sand by a porcupine digging for roots. A walking safari makes it possible to see these and other signs left in the wild that add to our understanding of this fascinating wilderness. Following the tracks of iconic Kalahari species, including cheetah, brown hyena and aardvark, adds to the thrill of exploring on foot.
Read more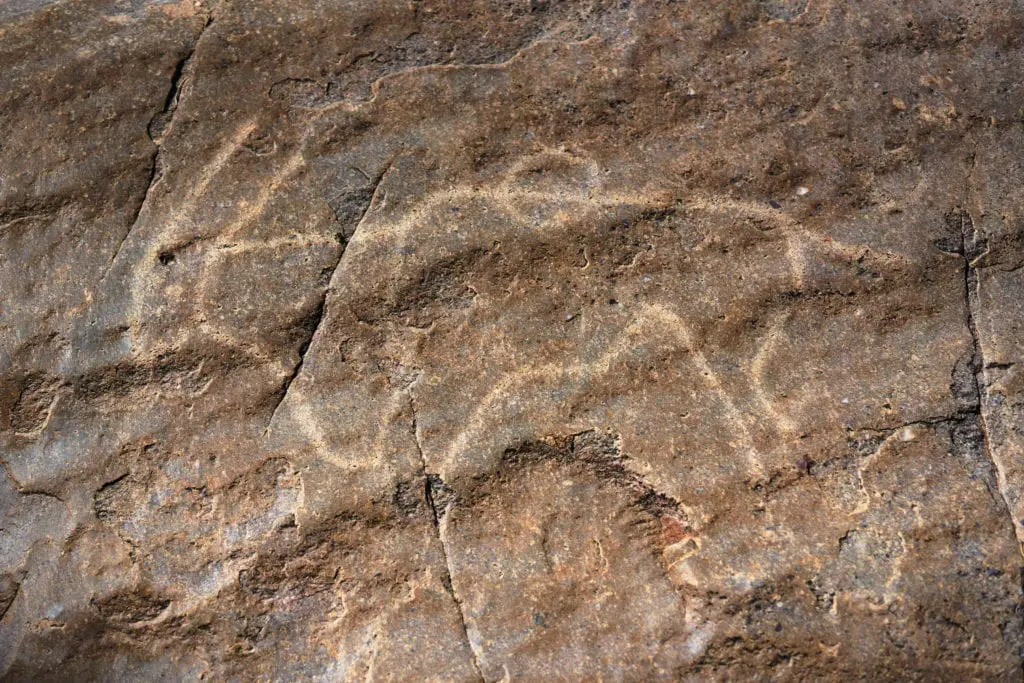 ROCK ART
Tswalu provides protection for many valuable rock art sites, featuring rock engravings, cupoles and paintings of people, animals, birds and abstract shapes that document the culture and history of the San and other early inhabitants of this place. Whether created as memories, maps or self expression, a visit to one of these sacred sites with your guide and tracker is bound to be thought provoking.
Read more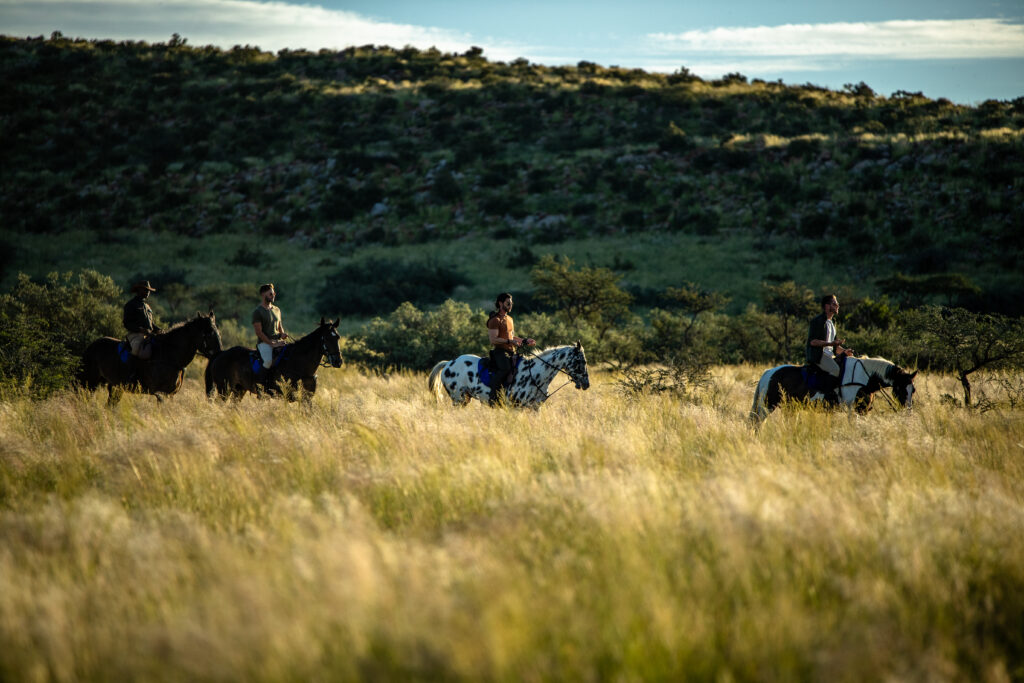 HORSE RIDING
Another wonderful way to appreciate Tswalu's landscapes and wildlife is from the saddle. A guided horse safari allows up-close animal sightings that are sometimes not possible from a vehicle or on foot. Regardless of your level of experience, follow game trails through the grasslands, head over the dunes for a picnic lunch or ride out to the Malori star bed before sunset.
Read more