EXPERIENCE TSWALU
SAFARI WITH PURPOSE
EXPERIENCE TSWALU
No two Tswalu experiences are the same. That's because the way you see and touch this magical place will be shaped by your particular interests and will happen at your own pace. Tswalu is a generous landscape and as the sun rises above the Korannaberg mountains each morning, new opportunities to learn, play and explore come to life.
Every Tswalu safari is a true journey to the heart of an inspired conservation vision, and a landscape that's dreamlike in its intensity and scale.
ALWAYS PRIVATE GAME VEHICLES
With your own dedicated guide and vehicle, you can experience Tswalu exactly the way you want to. There are no fixed schedules or time limits at special sightings – during your stay, the dunes and grasslands are yours to explore the way you want to, and each wildlife encounter can unfold at its own pace.
HELICOPTER SAFARIS
Viewing Tswalu from the air is the best way to appreciate the sheer scale of the southern Kalahari. The folds in the land reveal themselves as you look down on mountain peaks where quite possibly no-one has ever walked and trace intertwined game paths that wind through the grasslands.
HORSE RIDING
Bond with Tswalu and our specially trained horses and gain a different perspective as you follow game trails on horseback. A Tswalu horse riding experience is not about speed, but about gently exploring dry savannah and seasonal riverbeds and seeing the land anew from within a herd.
WALKING SAFARIS
Much of Tswalu's beauty can be found in the smaller details: the ripples left by the wind on the crest a sand dune, a yellow flower opening to face the sun, or the tracks of a porcupine digging for roots. Walking at Tswalu gives you the opportunity to see these and other signs of the abundance of the southern Kalahari, as well as following the tracks of larger species.
THE MALORI
Watching thousands of stars slowly spin through a black velvet sky as you fall asleep makes a night spent on our Malori sleep-out deck an unforgettable experience. Enjoy a glowing Kalahari sunset as you eat dinner, then see the world anew as birdsong and the strengthening light awaken you at dawn.
THE MEERKAT EXPERIENCE
Join a group of habituated meerkats as they emerge from their burrows and warm themselves in the rising sun or meet up with them as they return home at the end of the day and groom and play at dusk.
SAN PETROGLYPHS
Join your guide in trying to puzzle out the hidden meanings in millennia-old rock engravings of animals, birds and abstract shapes. Today, no one knows whether they were created as memories, prayers or maps, but their beauty and mystery endure.
RESEARCH AND CONSERVATION
Spending time with one of the many researchers whose studies are supported by the Tswalu Foundation provides additional insights into the finely balanced Kalahari ecosystem, and lets you see cutting-edge conservation at work.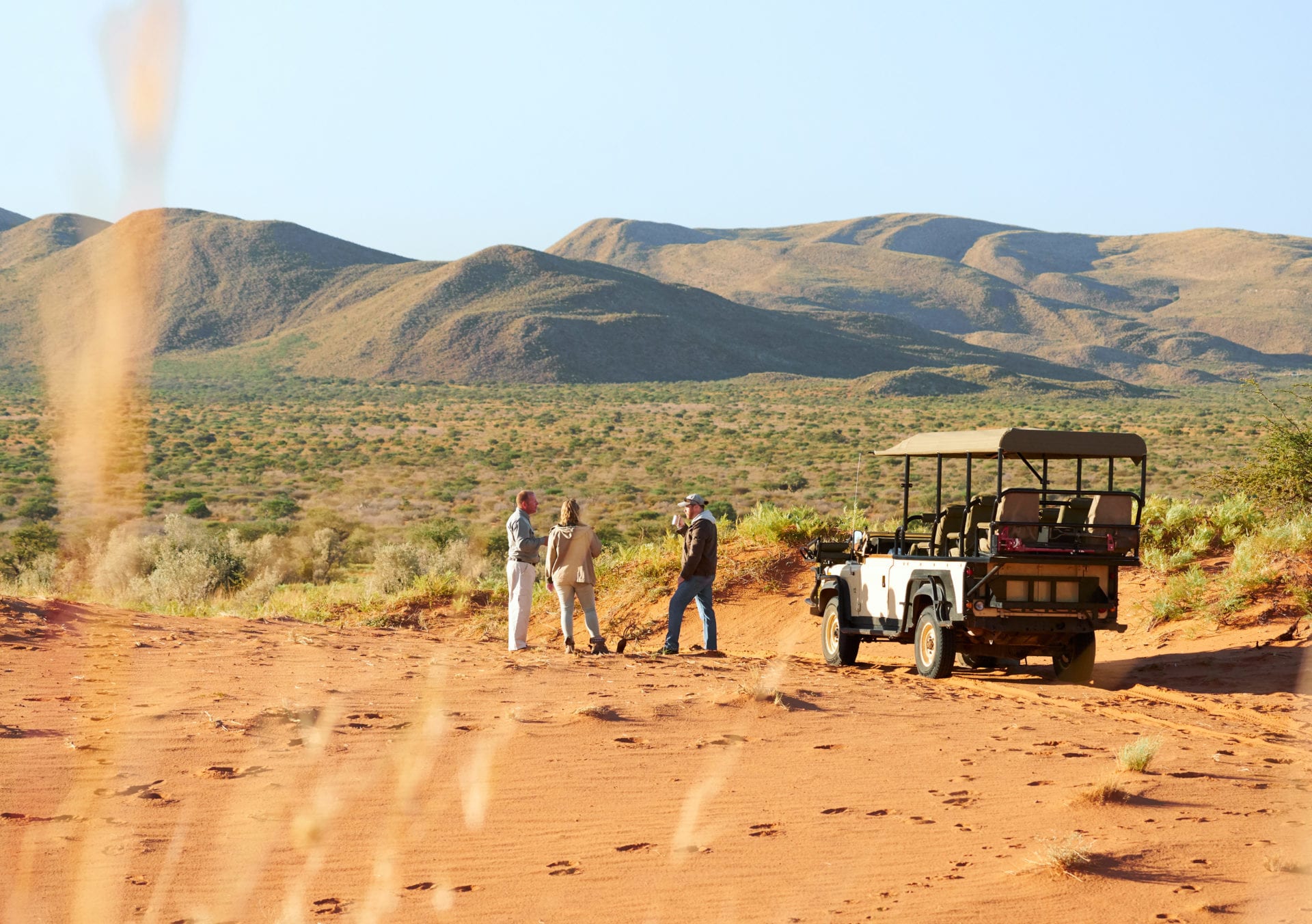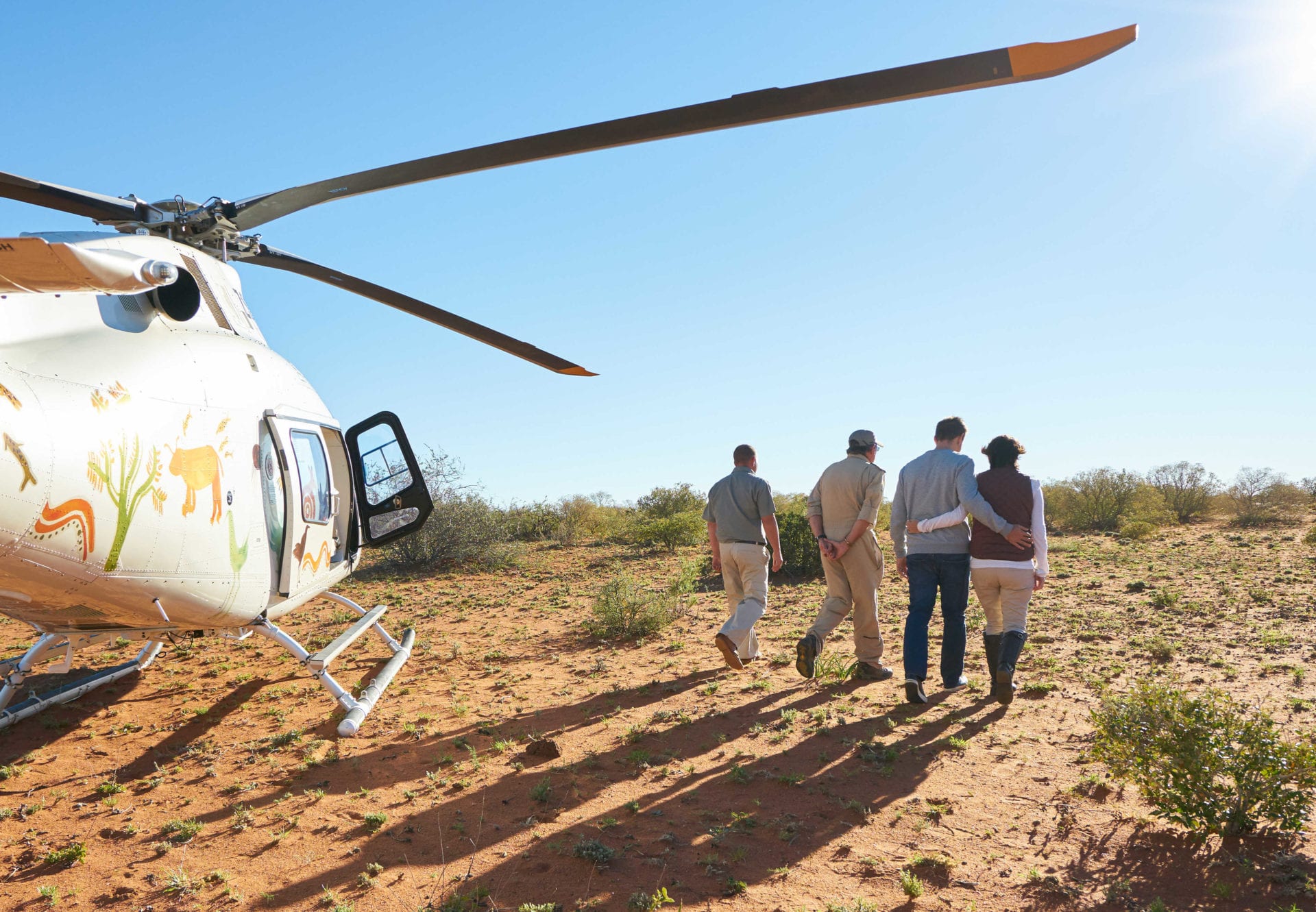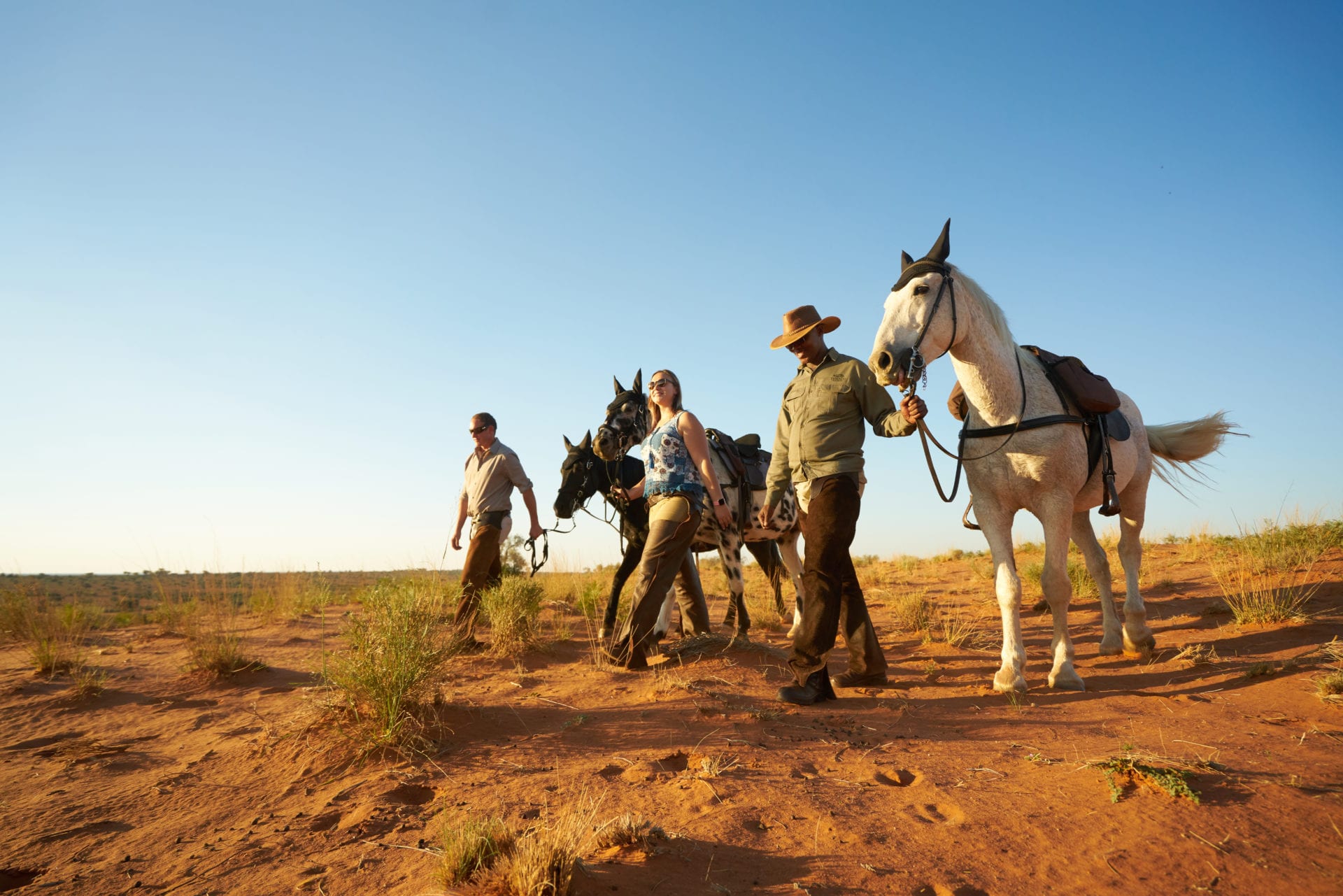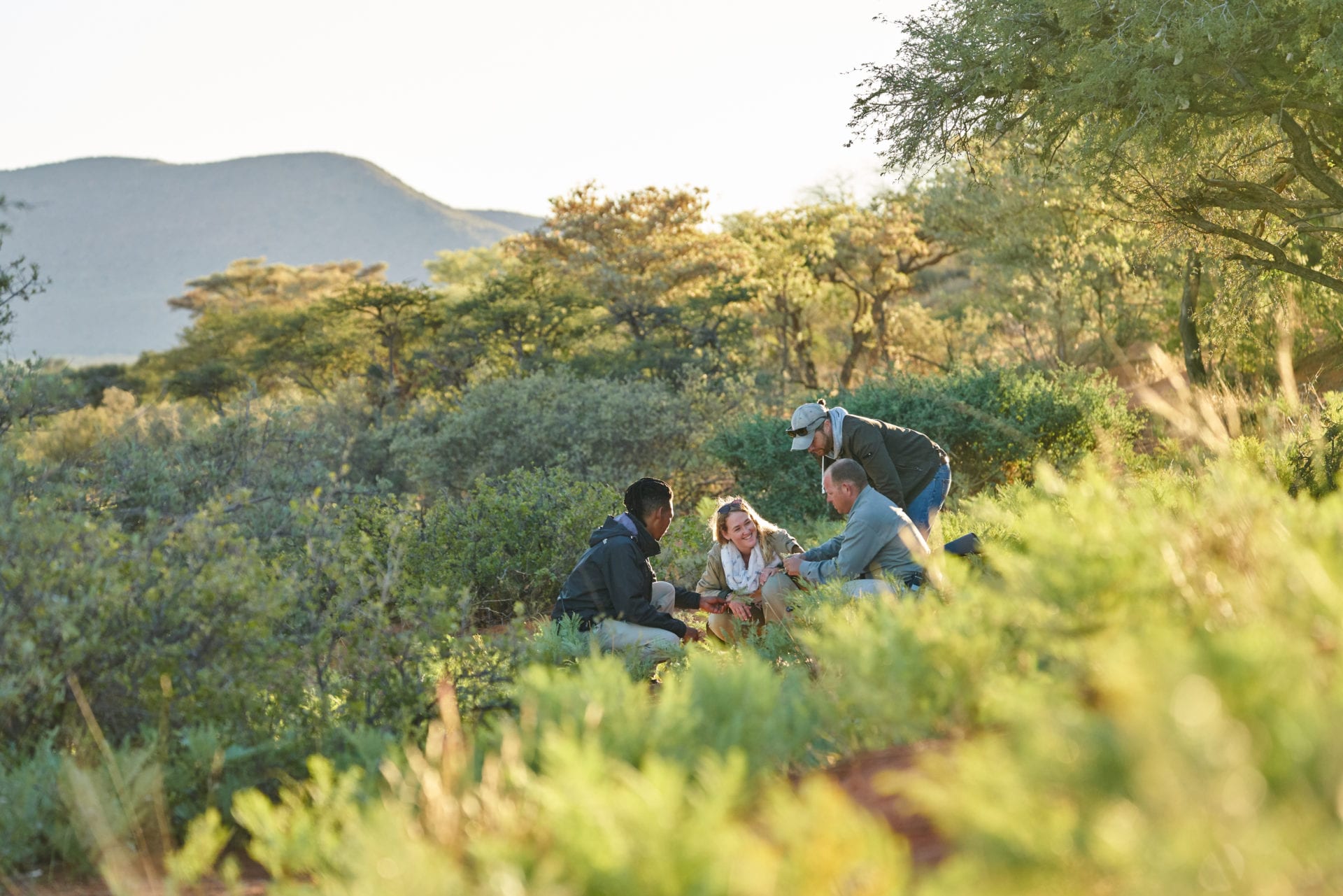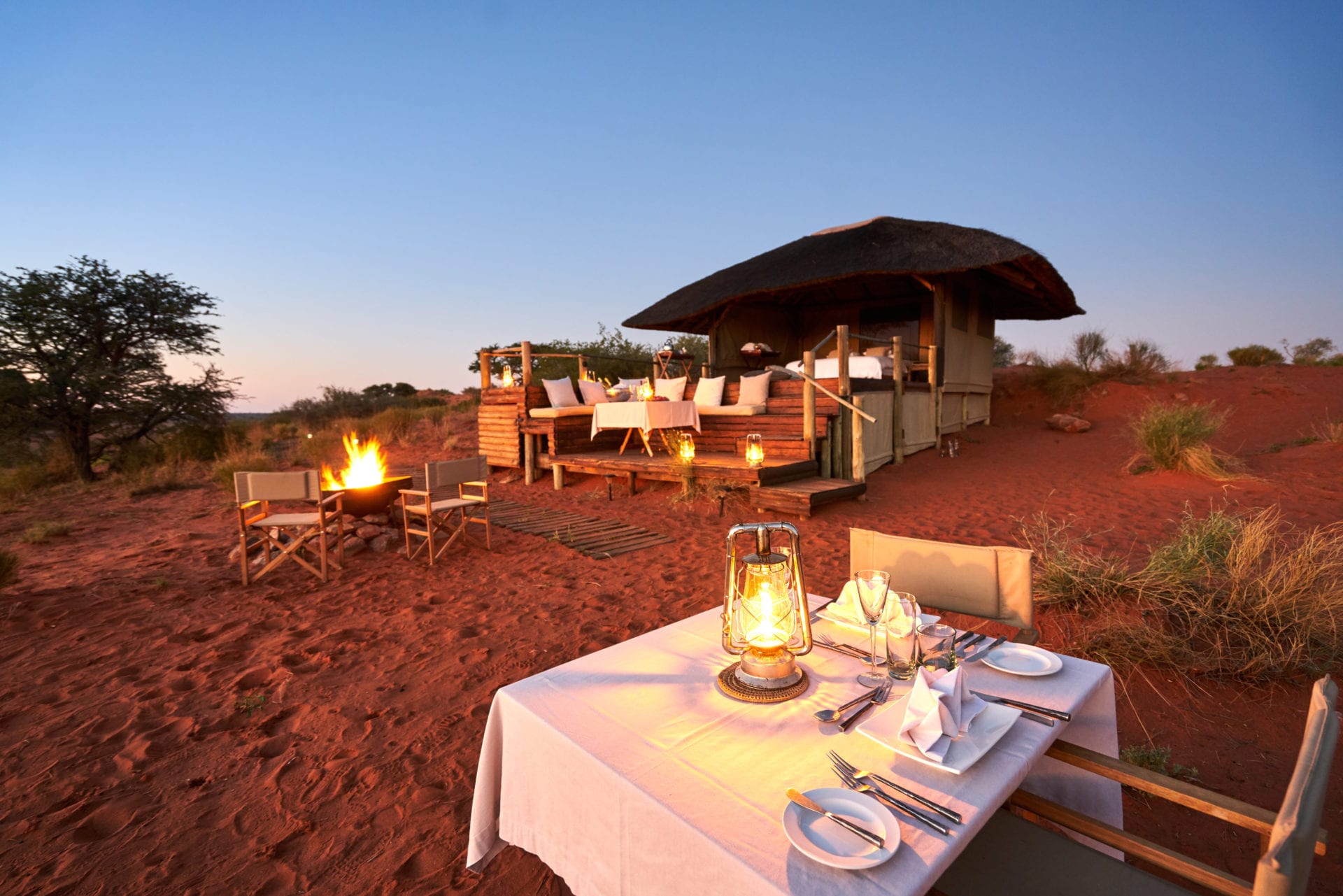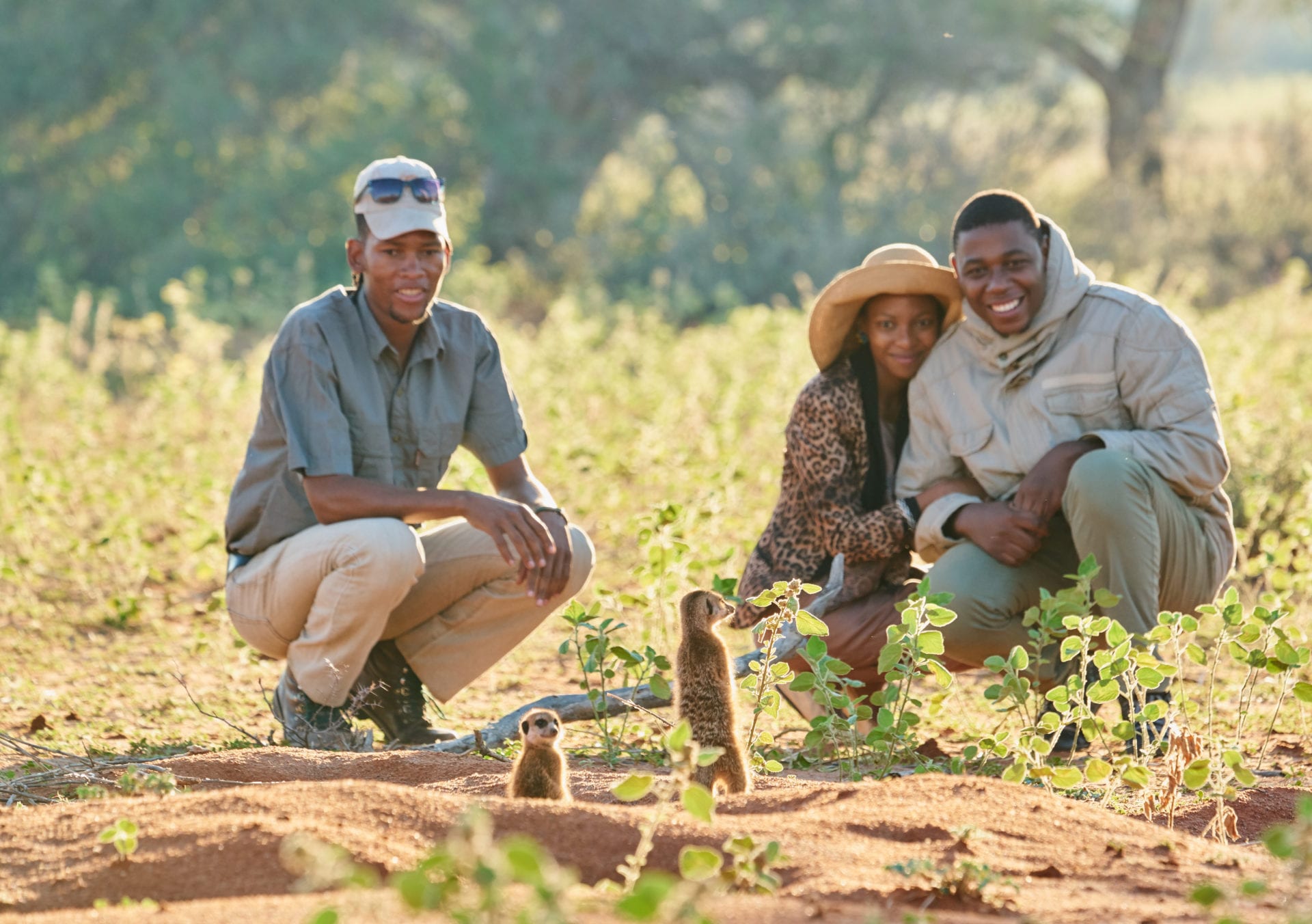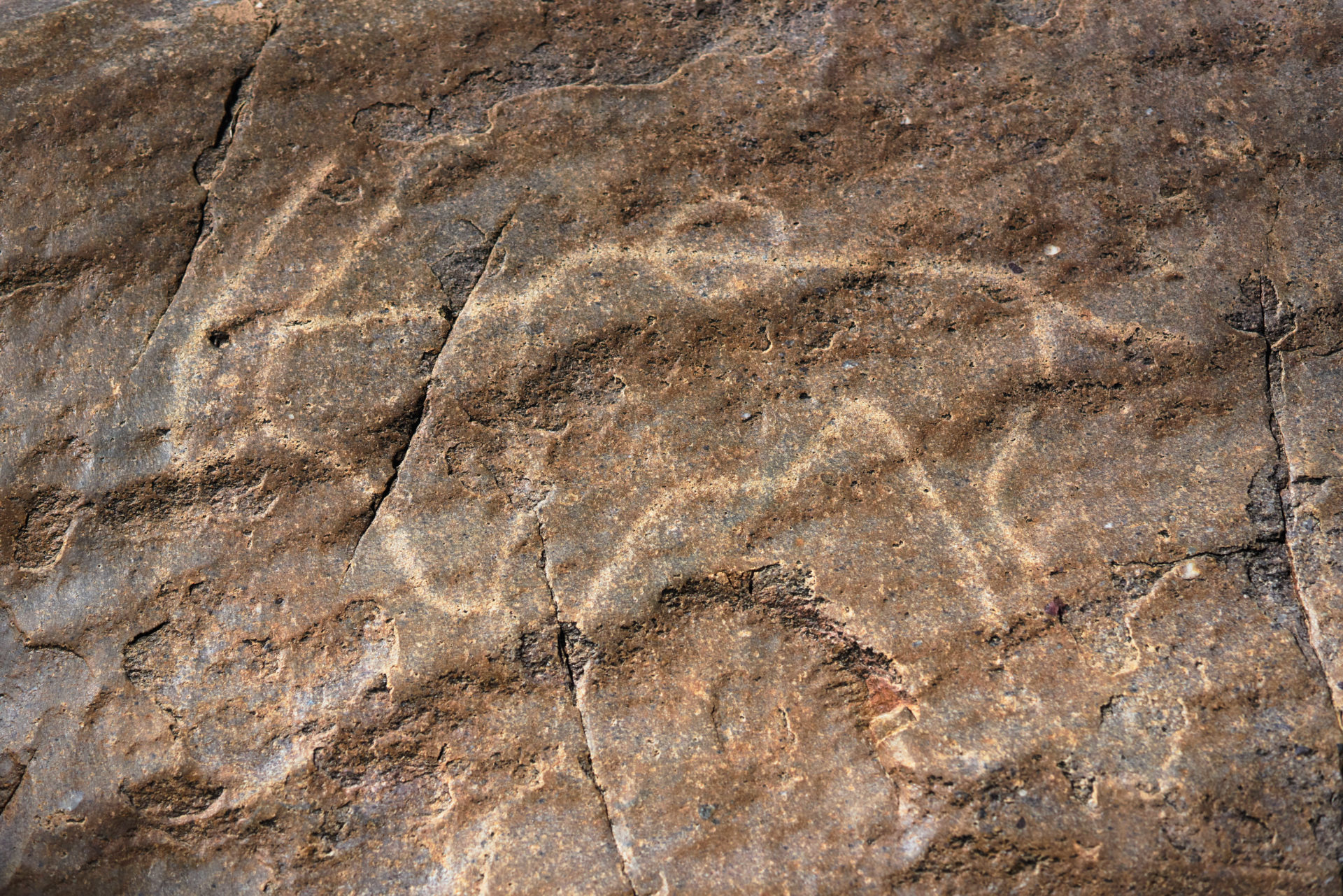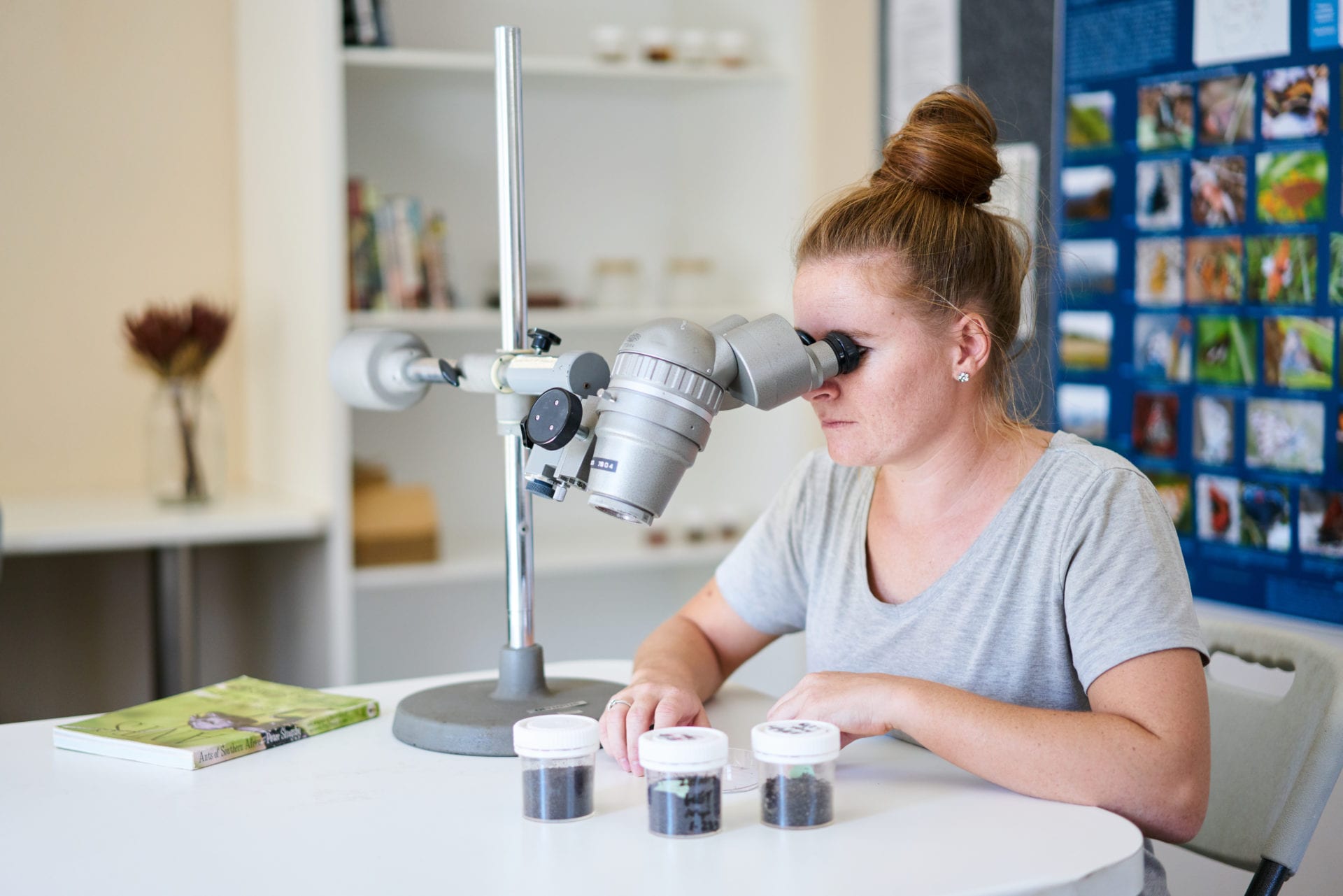 OUR FIELD GUIDES
Tswalu's team of experienced field guides and trackers all took different routes to reach the Kalahari. Despite that, they are united in their passion for conserving Tswalu and their eagerness to unravel its mysteries and share them with you. Their enthusiasm is infectious, and they are true ambassadors for the restoration of the grasslands and dunes of Tswalu.
back
Deirdre - Safari Manager
My guiding career spans over 20 years, I have worked in the Eastern and Western Cape, the Waterberg, and for over 8 years in the Kruger National Park, I spent just under 3 years travelling Africa for an overland company. I hold a degree in Nature Conservation and am a Level 3 guide, have a specialist knowledge and skills in dangerous game, birds and wild flowers. I also hold a tracker level 3 qualification and an on invitation level for senior track and sign. I am also a FGASA assessor and qualified trainer. My areas of interest are birding, the smaller things, including botany and wild flowers. What I enjoy most about guiding is that each day is different and you can never predict what you are going to see. At Tswalu the beauty lies in the landscapes and the uniquely adapted creatures which we find here. You get a true sense of wilderness, peace and tranquillity.
Kosie - Head Guide
Kosie completed his National Diploma in Game Ranch Management at the Nelson Mandela Metropolitan University. He did his field guide training through African Nature Training and started his career in the Sabi Sands. He has also worked on other private concessions in the Kruger National Park as well as hosting photographic safaris for a specialised photographic company. Kosie has been guiding for a total of about three years at Tswalu. He is working towards level 3, full trails as well as his advanced birding qualification. Kosie loves helping guests with their wildlife photography and enjoys the wide open spaces and freedom guides have working at Tswalu.
Juan
I grew up in the outskirts of the Green Kalahari, on a family farm. This is where my love for nature started to develop trough my childhood. My grandfather teaching me about nature and how we should look after it for our future generations. My passion for nature even grew bigger over the years and I completed my diploma in nature conservation. So my career started in the Pafuri area of Kruger National Park, were I was mostly on walking safaris. Then my path went on to the Eastern Cape, in the Albany ticked environment, building myself up to a Level 2 nature guide. I had 3 years in this gorgeous part of South Africa with fantastic experiences with tusk-less elephants and a wide range of birdlife and many more. A big dream I have always had, was to be working in the Kalahari, and so in 2014, my dream became a reality. Tswalu Kalahari became my new destination. I have always wanted to be part of this massive conservation movement that does so much, in the recovery of nature especially for species that has only been a dream for generations long to encounter on safari, specifically species so critically endangered such as the African Wild dog which is a very big passion for me as they represent so much of the Kalahari ecosystem. I have been working in this area for a long time and not a single day is the same, this is for sure one of the most amazing ecosystems in the world.
Kalie
My given name is Moatlhodi, but I prefer to be called Kalamari. I have been at Tswalu for over 5 years. I am a FGASA level 3 lead trails guide. My specialities are human history, storytelling and birds. I really like to identify signs of animals in the reserve and be able to follow their tracks on foot. I also enjoy doing astronomy. I have previously worked in Kapama, close to the Kruger National Park
Kyle
Professionally guiding on Tswalu Kalahari Reserve for the past three years has been truly remarkable. The in depth knowledge that one can accumulate from being in such a conducive environment is a special thing. Having the availability to explore with people from across the world in an area that holds so much diversity is truly a dream come true. This dream of guiding became a reality in 2011, since then a life drive to understand all aspects of this amazing blue planet has evolved. Exploring nature on foot, understanding tracks and signs, birding and all the tiny things that make everything tick is what drives me on a daily basis
Barry
I initially started off at Tswalu as a nature conservation student, became a full time guide and have worked at Tswalu for six years, I also did three years at Singita Lebombo. I enjoy traveling, photography and being outdoors. I grew up camping, fishing and spending time with my parents in multiple game reserves sharing an appreciation for wildlife and I hope through my passion and photography to educate and share moments with family and friends.
Mark
My passion for wildlife started as a child visiting the Kruger National Park for many years with my family. It was such a privilege to start my guiding career in the heart of the Kruger. After spending over three years in the Kruger I had the opportunity to advance my career further by moving to the Kalahari. This has been an amazing experience to work for such a prestigious company and guide in a completely new environment, which for me it has been an amazing learning experience
Mauritz
True farm boy working as a field guide and loving every moment. Over the past 6 years of my career, I have qualified myself as a professional field guide (FGASA Level 2) and am also a lead trails guide. I am particularly passionate about wildlife photography and take it very seriously. I also love doing walking safaris with my guests and getting up close and personal with some of the more dangerous animals out there, but also to enjoy the small things like tracking which we do not always do on a game drive. I love guiding at Tswalu for its uniqueness and pure natural beauty. It provides for excellent photographic opportunities as well as being able to enjoy a piece of South Africa which is unlike any other private game reserve in our country.
Obakeng
Obakeng Medupe also referred to as "OB" by many, is a qualified field guide at Tswalu Kalahari Reserve where he creates and conducts guided desert experiences and safaris. Born a rural boy of Mabeskraal, a village on the outskirts of Rustenburg and raised everywhere else across the country... This gave raise to his passion of conservation and wildlife. Obakeng has now been in the industry for over a decade and currently titled as a FGASA Level 2, Full trails with advanced rifle handling, tracker 2 and further qualifications underway. His interests outside the above mentioned lifestyle choice includes cricket, rugby, poetry and photography
Kevan
have had quite an interesting start to my career in this field/industry. Firstly, I started out by studying a B-tech Degree in Nature Conservation in Pretoria followed by my practical internship and further conservation and ecological related work for the Sabi Sand Wildtuin. After that I then moved across to Sabi Sabi Private Game Reserve where I spent four years and worked my way up to Assistant-Head Ranger and Social Media Manager. After leaving the Sabi Sand area, I explored the Timbavati and settled in the Northern Timbavati at a smaller lodge known as Motswari Private Game Reserve. I then realized my will to see our beautiful country, take my knowledge to a new level and explore different areas, with that came my move across to Tswalu Kalahari Reserve. I am a keen photographer and enjoy educating everyone with my photos especially while guiding guests during their safari's so they can take back memories that will last a lifetime that they can capture themselves. I have a strong passion for animal behaviour especially focusing on carnivores, and a keen interest in rare and endangered species on top of an ecological approach. I have a keen interest for birding, and really enjoy the dry arid environment at Tswalu Kalahari Reserve I'm searching for new additions to my life list. I also have acquired my walking trails and enjoy guiding on foot viewing the less seen aspects and a sensory approach to a safari
Kerry-Lee
After studying design in Cape Town for 4 years I decided to close that chapter and follow my heart. I packed my bags and set off to live and study in the great South African wilderness. After a fantastic year living and learning in the bush I went on to start my career as a field guide at Sabi Sabi within the Sabi Sands before moving on to explore the Timbavati. Fast forward a few years and I now find myself living and working in this breath-taking area that is the Kalahari. I always welcome change and the adventure and excitement that has been getting to know a totally new environment. I appreciate every aspect which Mother Nature has to offer and am always in awe of this beautiful slice of earth. I enjoy photography and through it have found a way of exercising my creative urge... capturing all scenes, moments & memories. Building meaningful relationships with people from every corner of the globe, imparting knowledge and being able to provide them with memories to last a lifetime is really what my job is about. I am so lucky to live this life and being at Tswalu taking in the vast vistas, sunsets and incredible sightings reminds me of this every day!
Josh
Growing up outdoors and in and out of Game reserves, I always knew I wanted to work in one. I did my training at Campfire Academy in the Greater Kruger and as well as my first few years of guiding there, before moving to Madikwe and finally now, Tswalu. I moved to Tswalu in search of a new challenge, and to learn. As Tswalu sits in the southern Kalahari, it is a completely different ecosystem to all I know. In learning about my new desert home, I am constantly amazed as I start to see how truly complex it is. From learning how species survive without the aid of permanent water to new species of fauna and flora that I have not experienced before, the Kalahari is full of exciting and new things each day. Be it on foot or in a game viewer, I live to share the big and small things that constantly occur out in nature. From tracking to photography and astronomy, Tswalu has so much to offer. I am currently working to complete professional guides' qualification before hopefully specialising in wild flowers and walking trails
Veronique
A farm girl by heart, one who rescued every orphan animal she could find and always somewhere out in the veld exploring. I grew up on a farm in the Northern Cape, where the Kalahari, Karoo and Bushmanland comes together. That is where a small girl fell in love with nature and wanted to be part of conservation. Most of my knowledge I have about nature doesn't came from a book, but from what my father and grandfather taught me as a young girl. As I grew older my love for nature just kept growing, so I went to do a field guide course in the Kruger National Park, and so my dreams came true to go back to my roots and in work in the beautiful Kalahari since 2016. My career started as a Meerkat habituator and later on expanded to be a Guest Relations Manager, welcoming our guests arriving at the airstrip and making them feel at home. I am also part of the special moments and life changing memories spent and created at Malori sleep-outs, where the blood red sunsets are building some of the prettiest night skies in the world. Being out in the field is still one of my biggest passions, as so I still spend time with the meerkats building their trust so that guests can view them in their natural environment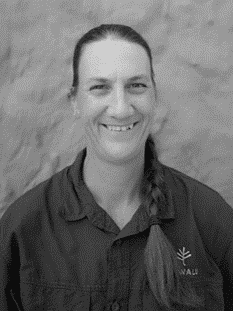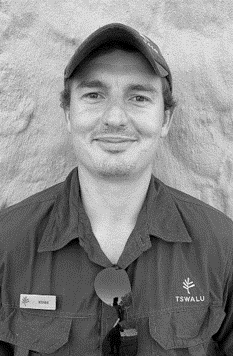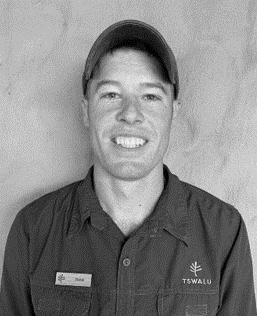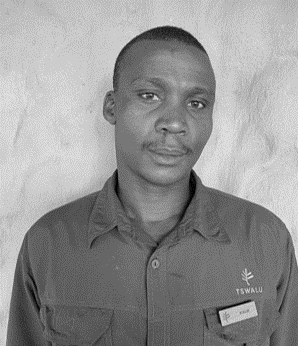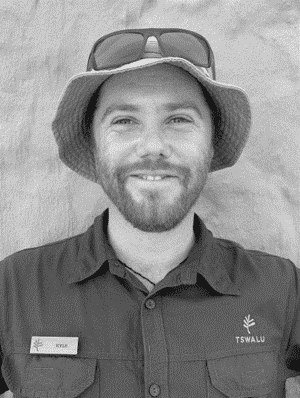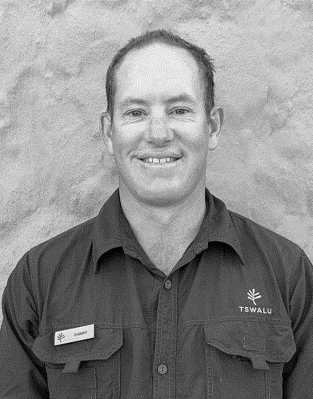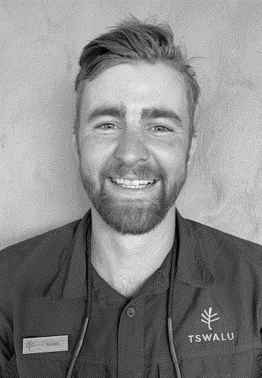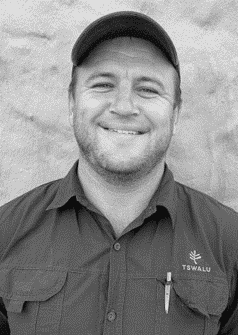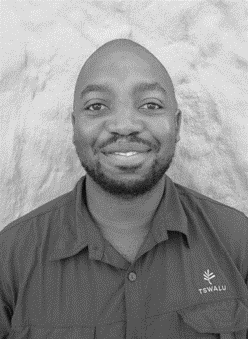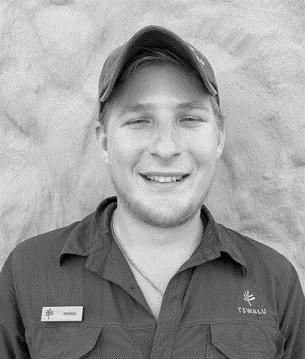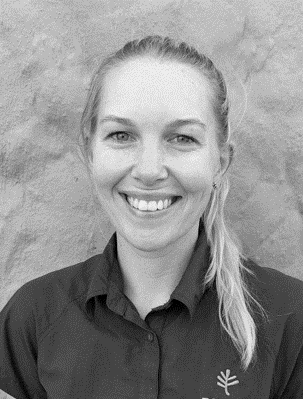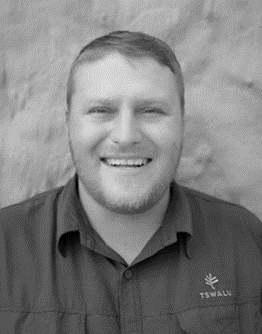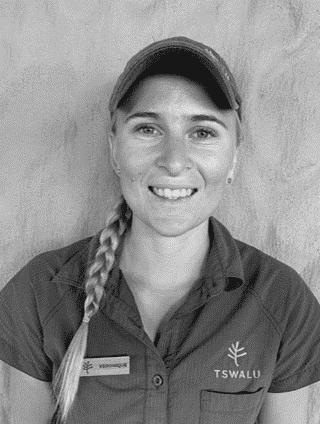 AFRICAN ITINERARIES
Our African itineraries perfectly demonstrate the ease with which Tswalu combines a safari itinerary to create the ideal Southern African experience.