Conservation | Jan 2023
LIFE BENEATH THE KALAHARI
Here in the arid savannah of the southern Kalahari, many creatures depend on the salvatory space beneath the sand to escape from temperature extremes in summer and winter. Whether it is to escape the blistering summer heat or the freezing cold in winter, species in the Kalahari have adapted to escaping these temperature extremes by spending at least part of their life underground.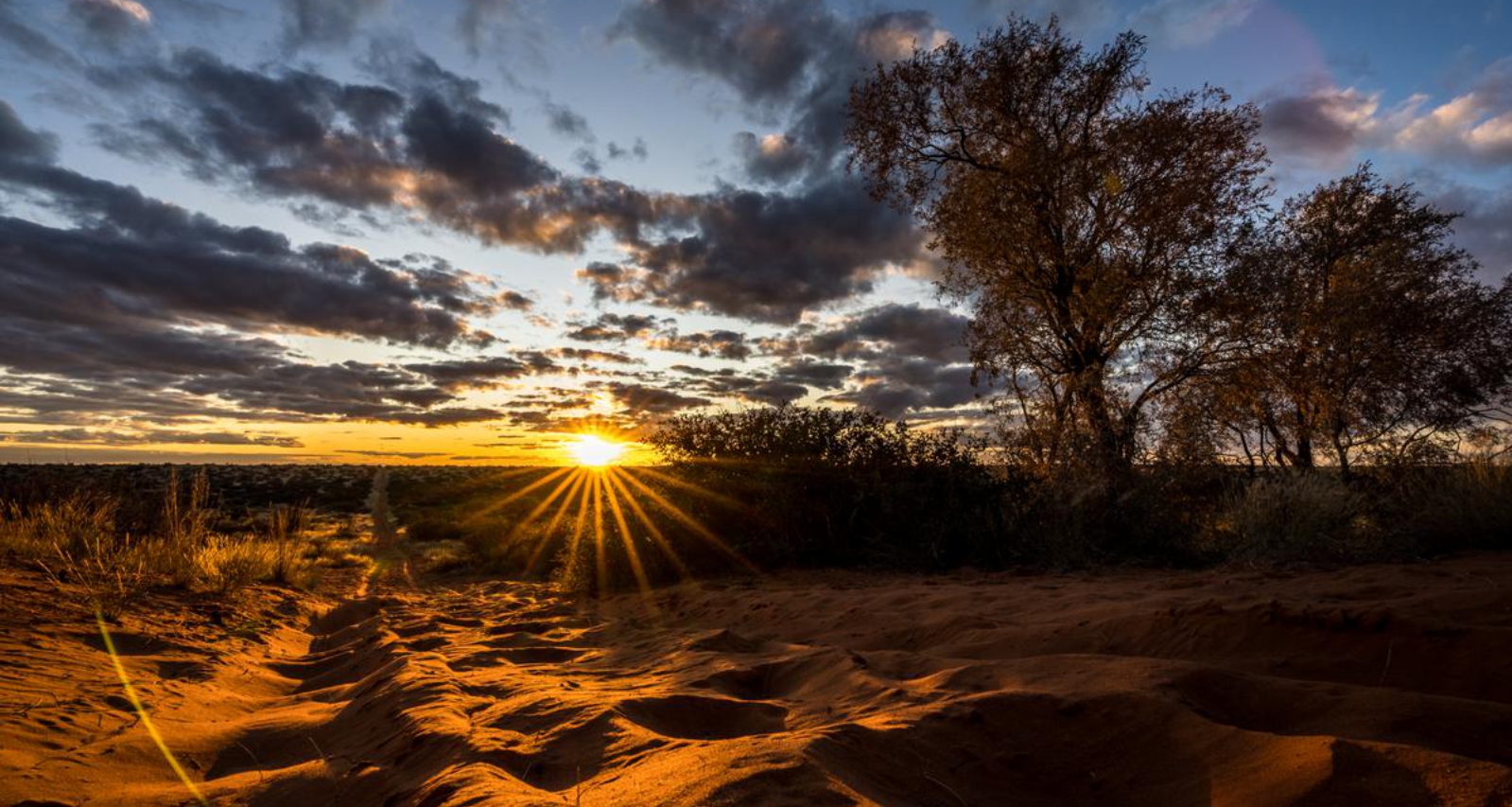 SUNRISE OVER THE DUNES THAT ARE CHARACTERISTIC OF THE SOUTHERN KALAHARI; BY MARCUS WESTBERG.
Above ground, at times the ecosystem can appear empty, even lifeless, to the casual observer, save for large animals, such as antelopes and the big predators, hiding in the shade of boscia or camel thorn trees or dense thickets to avoid the baking sun. Yet, a mere 60 centimetres (two feet) below the surface, there is a relatively thermostatic, subterranean world that hosts a plethora of life. While the air temperature above ground at Tswalu ranges seasonally between -10°C/14°F (on a cold winter day) and +48°C/118°F (on the hottest summer day), below the surface a far more comfortable range of temperatures prevail – anywhere between 15°C/59°F and 30°C/86°F. Furthermore, while temperatures above ground can vary dramatically throughout the day, temperatures below ground hardly fluctuate. Animals that burrow, or make use of existing burrows, waste far less energy, as they avoid having to deal with radical temperature fluctuations.
In addition to the advantage of this thermostatic environment, numerous studies have suggested that relative humidity in burrows is high and, in many instances, exceeds that on the surface. Thus, evaporative water loss is reduced inside burrows too. [1.] This means that the animals that make use of this microhabitat waste less water and therefore require less water intake, a massive advantage in an area where that particular resource is scarce and its replenishment not always guaranteed.
Of course, the effectiveness of the humidity retention and thermostatic qualities of a burrow also depend on the burrow size, depth, shape and structure itself. Large entrances and chambers will allow more humidity and heat to enter and escape, leading to larger fluctuations than in a narrow burrow with a small entrance. But these differences are usually compensated by larger animals (requiring larger entrances, tunnels and chambers) simply digging deeper to achieve the same thermo- and hydrostatic effect.

LEFT: MONITORING A PANGOLIN BURROW, RIGHT: A MEERKAT PUP SNOOZING ABOVE GROUND; BY MARCUS WESTBERG.
Further stories in this series about burrows will go into detail about the many different uses of burrows, depending on the species and the seasons. It will show how many species are interconnected through their use of burrows and the underground world. It will also look at whether these burrow-dwelling animals may have a competitive advantage when it comes to climate change.
The focus will be on animals that only live underground for part of their life cycle or as part of their daily routine. The Kalahari has many species that live underground full time, but that is a topic in its own right to be discussed in the future. There is indeed a fascinating world below the ground about which we still have much to discover!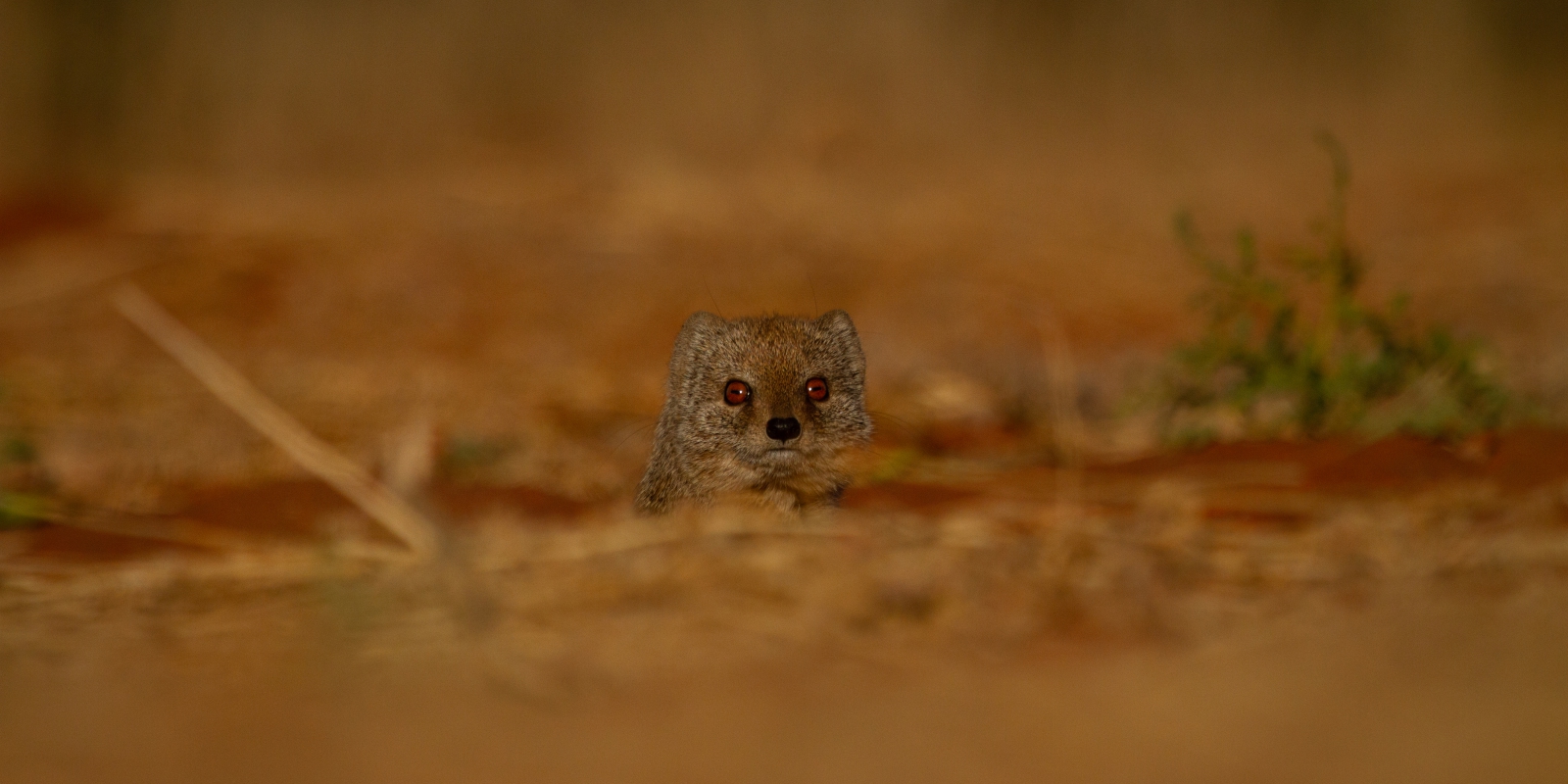 A YELLOW MONGOOSE WILL OFTEN SHARE A BURROW SYSTEM CREATED BY SQUIRRELS OR MEERKATS; BY KYLE ANSELL.
Bibliography:
Whittington-Jones, GM, RTF Bernard and DM Parker, 2016, Aardvark burrows: a potential resource for animals in arid and semi-arid environments.
Authors note: Helen Mertens drew on the expertise of Grace Warner and Wendy Panaino while researching this story.