Experiences | Nov 2019
PACKING FOR YOUR SAFARI AT TSWALU
If you've never been on safari before, here are some useful tips on what to pack for your holiday at Tswalu.
During the day you will need comfortable, casual clothes in neutral colours. Khaki is a natural choice and cotton is recommended for the heat of the African sun. In the summer months, pack shorts, light cotton shirts or T-shirts and vests, a lightweight jacket, chinos for cooler mornings or evenings, caps and sun hats. Hats that tie under the chin are a good idea so that they don't blow off when you are riding in an open game viewing vehicle.
In winter, when the early mornings and evenings can get quite cold, pack long cotton trousers, hiking pants or jeans, sweaters, warm jackets, scarves and a beanie. During the day, however, temperatures soar, so pack your summer safari gear as well.
You will need comfortable shoes, pumps or open sandals, and hiking or walking shoes if you intend to go on bush trail, as well as socks. Leave your heels at home!
The dress code at Tswalu is casual and this includes dinner. For ladies, a pashmina or shawl is never out of place and is ideal for coolers evenings.
It goes without saying that you will need sunblock during the day, winter or summer. Try to find one with a built-in insect repellent. And don't forget to pack your bathing costume.  You'll no doubt be spending some of your downtime at the pool which overlooks the wildlife watering hole at The Motse!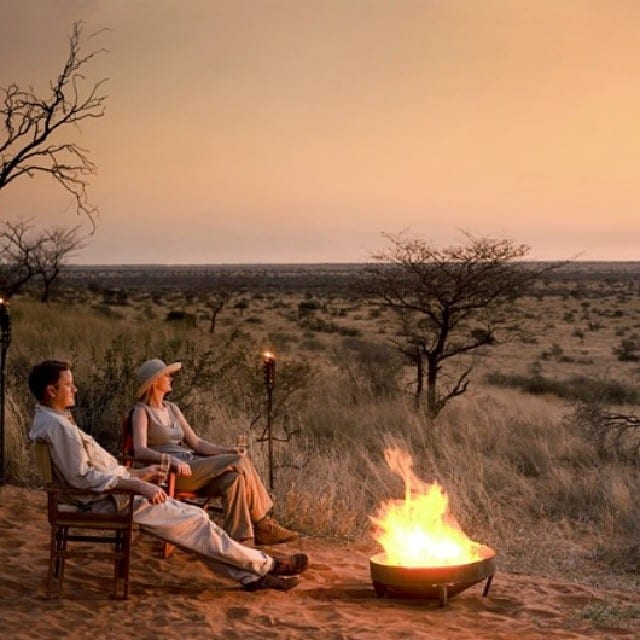 Jewellery, except for basics, will be out of place, and you are not encouraged to wear perfume on a game drive as animals have a very well-developed sense of smell. If you are planning a horseback safari at Tswalu, you will be provided with everything including helmets and riding boots.
Last, but not least, don't forget your sunglasses, binoculars and camera! Virtually everything else is supplied by Tswalu, including bath robes, bathroom amenities, insect repellent, birding books…. and, of course, complimentary Wi-Fi in your room so that you can post all your wonderful safari pics on Facebook!