TSWALU FOUNDATION | CURRENT RESEARCH
Reptile Ecology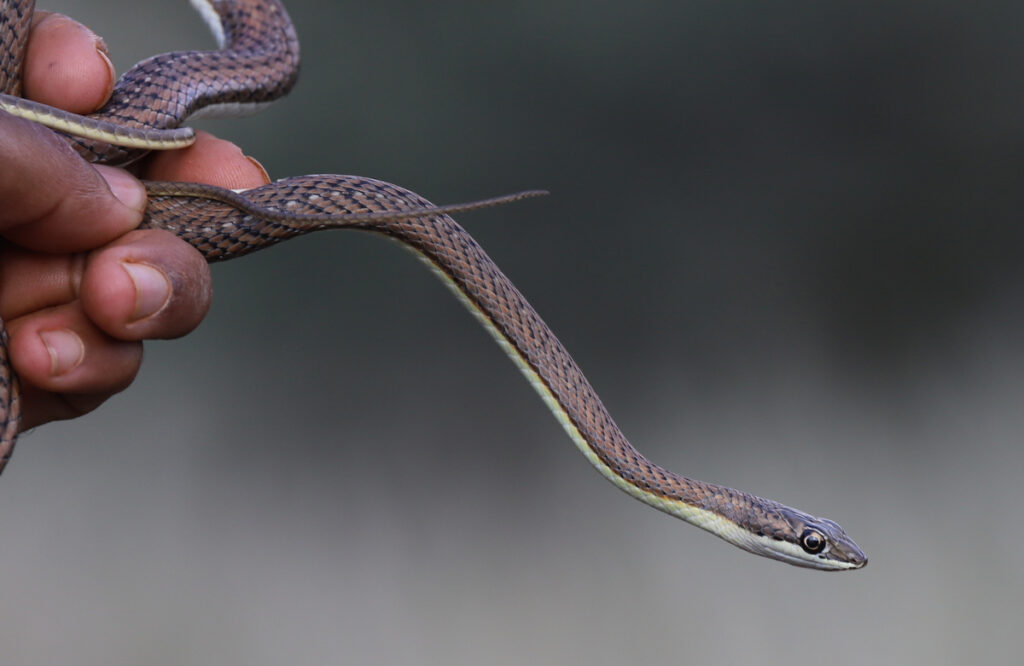 REPTILE ECOLOGY
Principle Researcher/s, Supervisors and Primary Academic Affiliation:
Bryan Maritz, PhD; Graham Alexander, PhD
University of the Western Cape and University of the Witwatersrand
KEY RESEARCH OBJECTIVES:
Despite the apparent importance of snakes as predators in ecosystems, hardly any research in Africa has examined the ecological links between snakes and their prey species in a quantitative framework. This project, started in 2017, focuses on the interaction between snakes, predominantly Cape cobras (Naja nivea) and Boomslang (Dispholidus typus), and a Kalahari ecosystem engineer, the Sociable weaver (Philetairus socius). Dr Bryan Maritz, from the Department of Biodiversity and Conservation Biology, University of the Western Cape, and Graham Alexander, Professor or Herpetology, University of the Witwatersrand, use radio-telemetry, mark-recapture, and genetic techniques to quantify the importance of Sociable weavers and their colonies to the snakes in terms of energy gain, spatial ecology, territoriality, reproductive biology, and interspecific competition. The work focuses particularly on issues related to interspecific competition between snake species.
The spatial ecology of the two snake species is of great interest. Specifically, the team is examining how spatial patterns of resource availability (including food, mates, oviposition sites, and thermal refugia) vary in space and time. Snakes are considered important indicator species, and thus imbalances in the system may be determined early through the study of these incredible animals.
– – – – – – – – – – – – – – – – – – – –
GET INVOLVED
Use our secure online portal to make a donation to the Tswalu Foundation Trust in support of the sustainability of ongoing research management of the many projects supported by the foundation, its researchers and various activities.
DONATE