Culture | Dec 2022
IN CONVERSATION WITH RINA STUTZER
Fresh from participating in a female group show in London, Rina Stutzer left the known parameters of her Pretoria studio behind to embrace her 'Air Year', as she refers to her 2021 Tswalu residency. She said that regular trips of up to three weeks afforded her the luxury of time to inhale and exhale the Kalahari air, often working en plein air – literally taking her studio into the veld.
GIVEN THAT THIS WAS A SHARED RESIDENCE, HOW DID IT WORK OUT?
The work-stay experiences at Tswalu varied, as they were partially shared with my life partner, Angus Taylor. We worked alongside each other in the art studio at Dedeben Research Centre, but also enjoyed periods of separation, solo excursions, and stillness in the veld and at the studio. Both ways of working were advantageous, as we had the opportunity to share collected insights as a team, but also, when alone, it offered valuable time to consider the shape of our own work.
HOW DID YOU FAMILIARISE YOURSELF WITH THE LANDSCAPE?
I took many walks in the veld and across the smaller koppies of the Korannaberg mountains, safe from roaming buffalo and black rhino. I documented what I observed via photographic and sketch sessions, taking in and taking down and soaking up, as much as I was able to, to rework at a later stage in studio. I also took the opportunity to observe and learn, by accompanying researchers from Tswalu Foundation's Kalahari Endangered Ecosystem Project (KEEP) while collecting data from transects or monitoring study animals.
DID YOU FEEL A STRONG CONNECTION TO THE KALAHARI?
I connected with the landscape by driving for hours across the reserve in every direction. Besides Dedeben pan, I zig-zagged to Picnic Valley, Gosberg, Stofberg and Steenkamp pan, spent many hours around the beautiful trees surrounding Boscia pan, and frequented the end of the district road. On a group outing we drove across the dunescape to Rogella pan, to collect mud samples for potential ceramic experimentation. Here we had the most memorable encounter with a crash of rhinos cautiously approaching the water. Being on foot, at eye level, awakened my senses with a dose of adrenaline.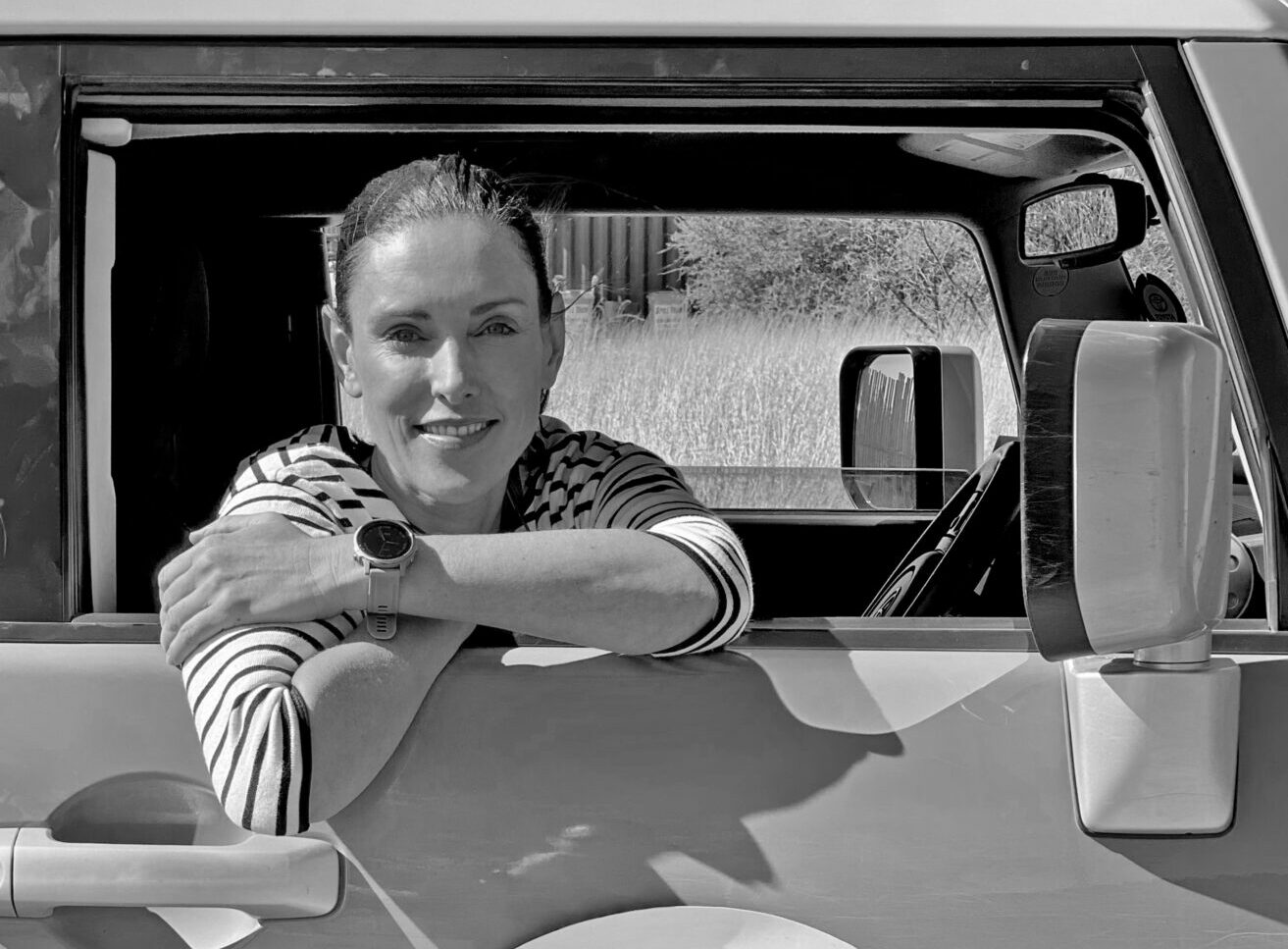 WHERE DID YOU BEGIN?
Early in the residency, Angus and I decided to move the studio into the veld, as one should if given this opportunity, to be as close and immersed in nature as possible. Our 'en plein air' (in the open air) sessions had many wild 'models' traversing the foreground, willing to pose for a while, with scattered clouds frequently crossing overhead, changing, and challenging the palette and composition. Sitting, exposed to roaming passers-by in a wilderness area, made us feel more alert, 'present', and focused, thanks to this heightened awareness. The in-situ experience is valuable as it invites an altogether fuller sensory awareness. As the sun set, the rhythmic clattering of barking geckos echoed our 'time-out', creating a memory to bank in the 'sacred file'.
More in-situ sessions followed, accompanied and unaccompanied. Where to spend my time is an ongoing dilemma of mine during residencies – to be productive in studio or to attend to exploratory fieldwork? This dilemma was especially difficult at Tswalu, with all the wildlife right outside the studio door 24/7! The art studio at Dedeben Research Centre is a world-class space, with good light and ample workspace, as well as introspective space. It was a forgiving refuge from the warm, dry landscape and a stone's throw from our living quarters.
WHAT BECAME THE THEME OR FOCAL POINT OF YOUR WORK?
I had been looking at the *Boscia albitrunca tree for years, contemplating its form from a distance, travelling between South Africa and Namibia on annual, year-end vacations to visit family. I found myself surrounded by a concentrated formation of these trees at the beautiful Boscia pan, dotted in a sea of soft yellow suurgras (sour grass), stretching to the horizon. They captured and held my attention, suggesting a more careful consideration of the species as subject matter to explore within my artwork.
Regardless of all the other memorable experiences during the residency, such as releasing snakes with researchers, and dodging buffalo while cycling on the district road, it was not the fauna but the flora that stayed with me. Being among the plethora of Boscia albitrunca trees returned to me in memory most often. I admire the tree's formal qualities, which show evidence of adaptation to the environmental pressures over time, such as the Kalahari heat, fires, drought, flooding, browsing and perhaps lightning. A highly specialised yet 'hidden' reason for the tree's resilience is the plasticity of its roots combined with its deep root water uptake. Its taproot system is among the deepest of all tree species, penetrating deep, subterranean groundwater layers to draw from waterways not accessible to other species.
TELL US MORE ABOUT THE BOSCIA TREE AS A SUBJECT MATTER?
To familiarise myself with the trees, I worked in-situ doing plein air oil painting, watercolour sessions, and charcoal sketches. I also filled a hard drive with photos of boscias from almost every viewpoint, except that of an eagle's aerial view. Moreover, due to the start-up of an in-house printmaking studio at our studio and foundry back home, with the assistance and guidance of a professional printmaker, I plunged into the processes and experimented with an array of materials which I'd acquired in France, including delicate, handmade Japanese and Korean rice paper. After numerous monotype-based experimentations, I found a process that offered interesting visual feedback with many surprising rewards. It also meant a high risk of possible ruin or loss, as I was unable to know what the combination of elements might bring forth on the day. There is very little control over the materials, as the temperature and viscosity of the ink, the pressure of the print, all play a part in the outcome and quality of the day's endeavour.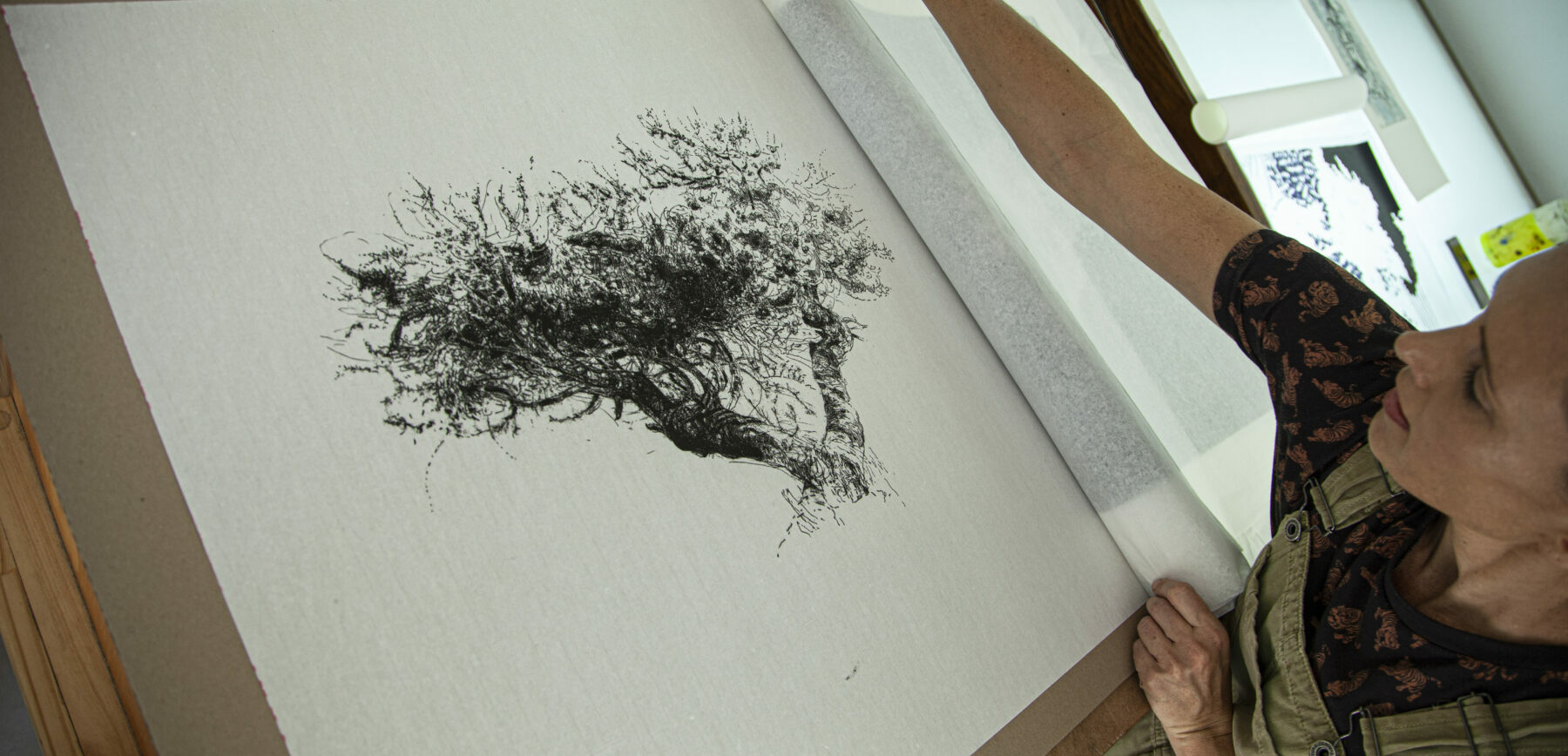 EXPLAIN THE INTRICACIES OF YOUR CHOSEN PRINT-MAKING PROCESS?
The series of tree prints revealed an honest and 'plain-speaking' directness in the chosen process. Whatever happens during the drawing session is captured and recorded on the image face and remains invested in the print. Furthermore, because there is no margin for error, no erasing or post-editing possible, with the production offering only a once-off edition, there was much anticipation as the prints were pulled at the end of each lengthy work session. In creating the monotype images, I had to start with a mirror-image of the ideal. I only saw the result of the right-way-round image after the paper was lifted off the ink tablet.
Once the drawing has been completed on the back of the rice paper and the thin sheet is carefully lifted off the ink tablet, a clean off-white rice paper sheet is carefully laid over the residue of the drawing on the ink slab, from which a ghost print (or reduction print) is produced by rolling the surface through the etching press. Even here, one is kept guessing at the outcome of the print, all dependant on the combination of temperature, ink, paper, pressure, and the tree spectre. Nobody knows if the print will reveal the desired sharpness of line and a rich range of tonal value variation in areas invested with mark. This kept me ensnared, fully present with a constant level of slight anxiety or excitement, at times not knowing the one from the other.
As a line is laid down it will absorb, in its vicinity, a certain amount of ink, because of the drawing pressure onto paper above the slab of ink. In this way the process reveals a subtle atmospheric surface quality, with a fine residue of ink swellings around drawn marks.
The result of this process led to the study of a tree captured by day and by night. To me there is a calm, repetitive, cyclic, even meditative feeling emanating from the series as seen in an arrangement of rhythmic day and night, day and night. The starkness of black and white and simplicity relates to the silent and calm subject matter.
WHAT IS THE SIGNIFICANCE OF THE NAMES OF THE WORKS ON PAPER?
I decided to title the monotype representing day, 'Lightbearer', due to the fact that boscia trees embrace and 'bear' the blazing Kalahari sun by turning the 'light', through photosynthesis, into growth. They present themselves as lightbearers, with a white-washed trunk, appearing illuminated and radiating in their 'reflective light' if seen in the context of the Kalahari desertscape. Thirdly, the trees were proverbial 'lightbearers', or teachers, to me, inciting me to learn about them.
Trees have been contributing to our existence from our beginnings. They extend the human mind, they helped shape our cognitive development and supported our evolution as they offer us shelter, medicine, food, tools, and technology. The tree gave the blind man his stick, the tree gave the draftsman his pencil, the tree gave the painter her brush, her easel, and her muse. But, most importantly, trees were part of creating the conditions for life on earth. How then, are we not yet able to recognise them more vividly, how are we still uninterested in their existence, not being able to understand their processes, and not value their natural lifespan. The importance of trees are undermined. Trees make us think, and trees are good to think with.
The night version of the printed monotypes, I titled 'Until the trees bring me to mind'. After every day's veld excursions, I took time to consider what I saw and learnt, which brought me to pose a question to myself, but also to a wider group: "When do we take time to consider the mammoth supportive role that trees play in our lives?" My works are odes to these species and pose the idea that humans are unable to yet fully understand the significance and importance of a tree's life. When will we consider the recompense of trees?
"If what a tree […] does is lost to you, you are surely lost/ Stand still" ('Lost' by David Whyte)
The residency offered me a 'window' to peer through and gain knowledge of boscias.
The natural sciences of ecology and conservation are outside of my realm of arts and humanities. My blocks of time and research on the reserve became fragmented interpretations, or views, rather than a fuller, more holistic understanding that one would be able to develop over a longer period of research. This idea underpinned the larger diptych, 'They change the shape of time I & II', that presents a Boscia albitrunca through fragmented 'windows' onto tree branches connecting and disconnecting in places.  When I look at this work, I recall the words of the Nobel prize winner, Wangari Maathai, saying "trees represent a reach beyond our human histories into the saeculum of time".
A tree is a fractal reach beyond memory, it may represent a little bit of the future, and may stretch into the past (as a tree might have been present before me and will still be present when I'm gone). This work was further informed by the idea that different measures of living, and tempos of growth, define both human and tree life. We only see trees 'frozen' or paused at stages or phases of growth, yet they are continuously changing albeit slowly. These smaller paper fragments of disconnect show my grappling with these differences in tree 'slowness, longevity (which I like to call 'life-lengthiness'), and our 'briefness', and the inability to see their full evolution, expanse, or the fuller trajectory of their growth phases in our lifetimes. This might be why we do not fully comprehend them yet.
The tree's slowness of growth is made specifically physically evident in the boscia's 'lived' appearance, the wear and tear, the points of fracture with unexpected places of regrowth and new shoots – lyrical and battered forms that are ragged, flood swept, drought pinched, and animal grazed. Its branches twisted, contorted, bent, and shaped by the harsh extremities and life-threatening challenges that semi-arid life forms endure.
It makes me aware of my short-lived 'span' of life, in comparison to its slow, unfolding reach beyond centuries. If I can possibly try and imagine a life of 500 years, it notes my existence as fleeting and ephemeral, as that of a Pioneer Caper White butterfly that feeds from the boscia tree. In a sense, this awareness offered consolation and, on a metaphorical level, turned out to offer me a temporal shelter from my ephemeral nature.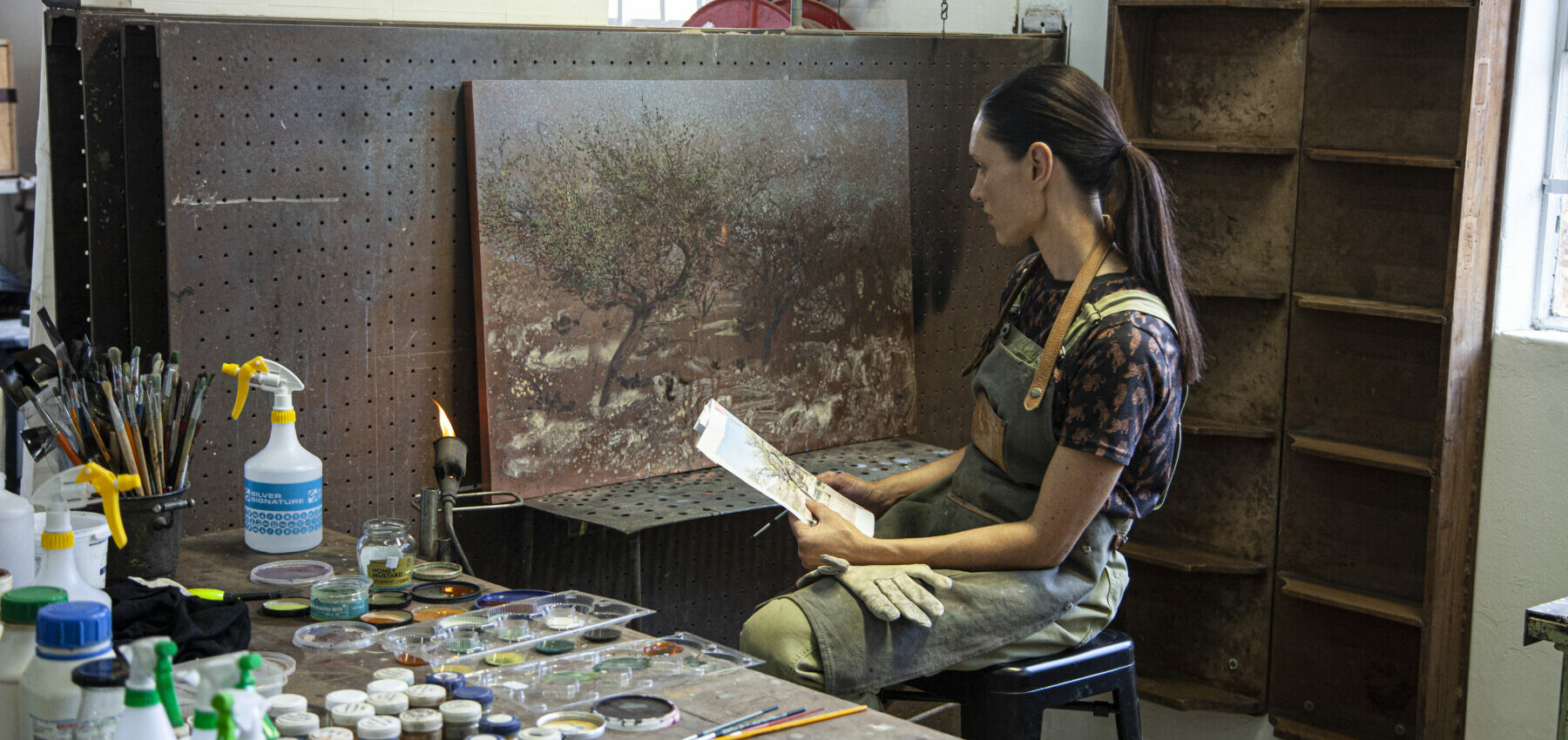 HOW DO YOU CREATE THE COPPER-PLATE PATINA PAINTINGS?
The patina on copper is unfixed and of a shifting nature in that the material changes over time, reflecting and referring to an ever-changing landscape, as nature goes through cyclical and seasonal reshaping. I considered the material and method appropriately fitting to the natural environment of Tswalu. The patina paintings are the continuation of a body of work that I started some years ago. The paintings are made up of rolled copper plate, which becomes the surface or ground on which the painting is painted by applying intense heat from a gas flame and moisture (with chemicals) from water spray or brush application, thus producing an image that 'grows', by manipulating the oxidation process with different chemicals. The background, and ground surface, which is the copper plate, provides a match to the Kalahari sand hue, that forms the underlining base layer of the 'treescapes'. The shrubs, grasses and trees painted on the copper, will change, grow or decay (depending on how one views the accumulative oxidation process), as the rust will continue to develop, just as the trees, shrubs and grass will grow and alter as time passes. Like the randomness and unpredictability of nature, the image captured is unfixed and in an ever-changing cycle.
WHAT WAS THE TAKEAWAY FROM YOUR RESIDENCY?
I realised that to understand where the source lies, to know how to find and access sources of sustenance, which are invisible to you, is deserving of praise. This metaphor is referencing the boscia's searching tap root and Tswalu. In the words of Hermann Hesse, "trees are the most penetrating of preachers".
I am in praise of Tswalu's philosophy and protective outlook, and there should be more places in this world where boscias, or shepherd's trees, may sprout freely and help shepherd the lost folk to a grounding wilderness.
Angus and I decided to title our branched bodies of work individually, and my show is therefore titled: "A Parallel World of Slowness and Light". The title for the exhibition is a line from the poem, 'Tamarind Tree', by the poet E. V. Ramakrishnan, taken from 'Terms of Seeing: New and Selected Poems' (Konark Publishers, New Delhi).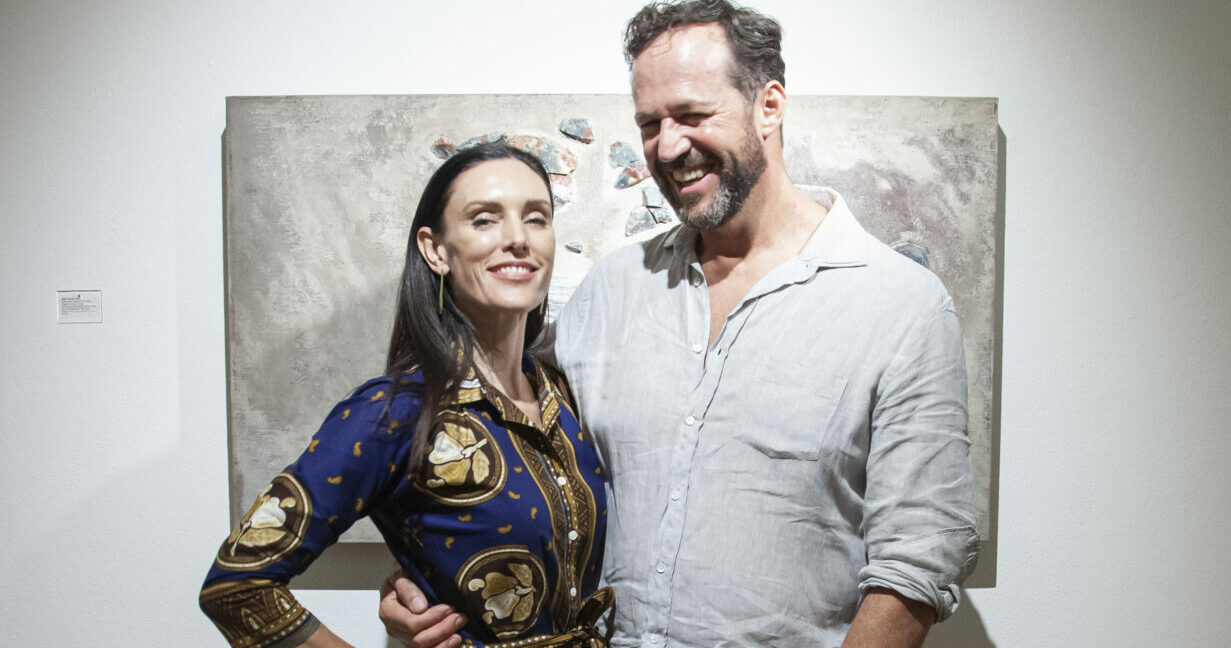 Images of Rina Stutzer taken by the artists. Image of Rina Stutzer and Angus Taylor taken at the opening of their TSWALU RESIDENCY EXHIBITION, Everard Read Johannesburg.  
Footnote:
*Boscia albitrunca's common names are: Shepherd's tree, White-stem tree, and Coffee tree (English); Witgat, Witstamboom, Matoppie (Afrikaans); umGqomogqomo (Xhosa); umFithi (Zulu), molthopi (Tswana); mohlopi (North Sotho); muvhombwe (Venda) and omutenderereti (Herrero).