Experiences | Nov 2020
SLEEPING UNDER THE STARS AT NALENDI
Naledi, which means 'star' in the local Tswana language, is Tswalu's back-to-nature star bed experience in the Korannaberg mountains. Elevated above a valley with wraparound views, Naledi is for the true adventurer who yearns to sleep beneath the southern Kalahari's brilliant blanket of stars in safety and seclusion. Spending a night in a star bed, with nothing between you and the night sky, has become increasingly sought after as travellers search for authentic, unfiltered experiences immersed in nature. Naledi has purposely been kept very simple so as not to detract from its private and remote setting in the southern reaches of the reserve. Sleeping in the open, under the stars, is as old as time.
Naledi is designed as a romantic sleep-out experience for two adults, but is also ideal for a family of four. Everything has been carefully considered so that guests have everything that is needed for a comfortable stay. Camping stretchers are layered with luxurious bed linen and there are extra throws and blankets should the night turn chilly. Your summer dinner is a cold picnic-style supper of your choice. In the morning, wholesome breakfast treats accompany warming mugs of coffee, tea or hot chocolate. A few steps from the main Naledi deck is an open-air shower, basin and toilet on its own timber platform, providing comfort throughout your stay. Your private guide will leave you with a fully charged, two-way handheld radio for remaining in contact should you need assistance at any time.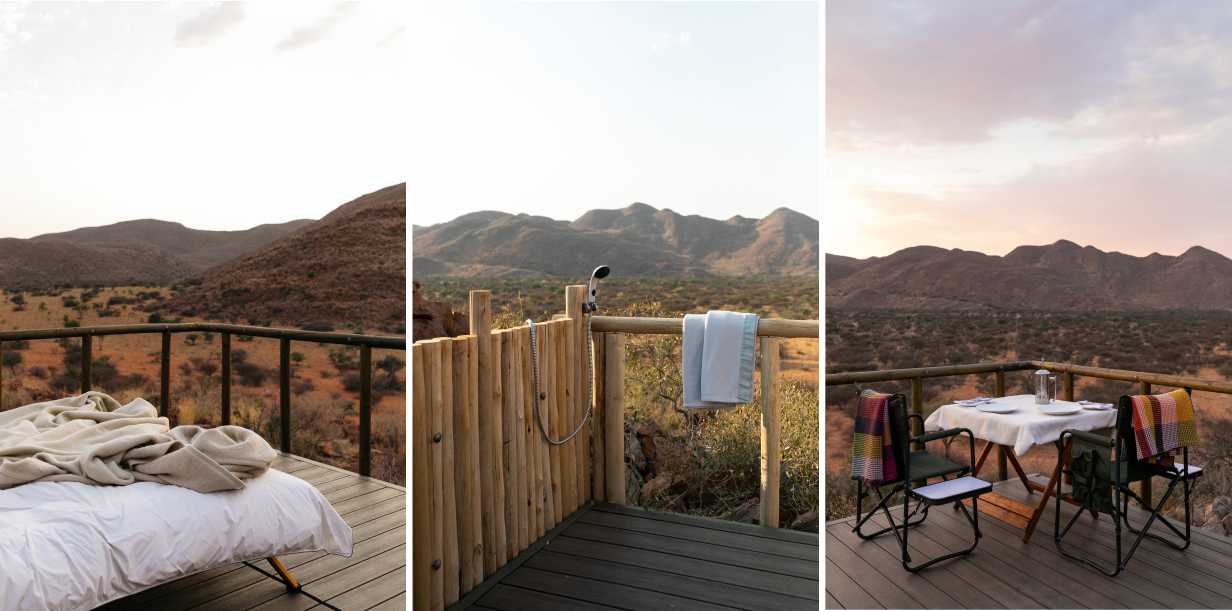 There is no doubt that the solitude of being marooned in the middle of the southern Kalahari without noise or light pollution, wifi, mobile reception or any other modern-day distractions, is bonding time at its best for couples and families. Rebecca Ward, the Motse's guest relations manager, and her partner, field guide Kyle Ansell, were thrilled to be the first to spend a night at Naledi. Rebecca reported back on their stay.
'We drove out to Naledi in the late afternoon, parked the vehicle and climbed up between the rocks to the elevated timber deck that is Naledi. A deafening silence was my first impression of being there. It was only much later, once we had poured ourselves a glass of red wine to toast our good fortune at being the first guests, and settled into our camping chairs to enjoy the sunset, that we noticed that it was not silent at all! A cacophony of barking geckos punctuated the air as the late afternoon faded into evening, encouraging us into silence as we watched the setting sun's intensity fading and slipping below the mountains. Earthy Kalahari scents hung on the breeze and a chorus of birdsong lingered with the last of the light. For supper, we tucked into a cold spread of delicious, locally sourced cheeses, charcuterie, fresh dates – a Kalahari speciality – and dried fruits. Later we climbed into our stretcher beds and gazed up at the stars. Our daily cares and concerns faded as the vastness and brilliance of the night sky nudged everything into perspective. Infinite and unfathomable, the stars were way more significant than us or our earthly concerns. A bright, almost full moon kept me company as Kyle drifted off to sleep. In the morning, the sun rising over the Korranaberg mountains served as a natural alarm clock! Although I didn't sleep deeply, alert to the after-dark sounds, I absolutely loved spending the night at Naledi and can't wait to hear what our guests have to say about it. Kyle and I both felt as if we came away having gained far, far more than we had expected or gone in search of – I'm sure it will become a highlight of a Tswalu safari for many of our guests.'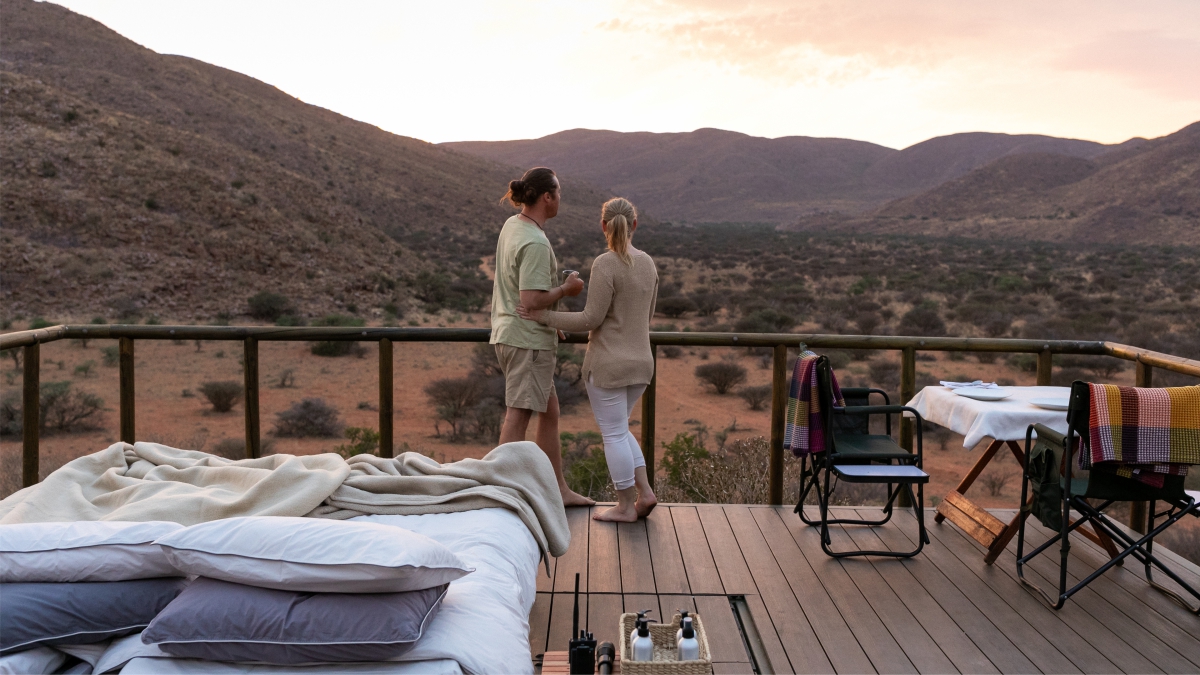 The Naledi sleep-out experience is Tswalu's newest guest activity and does not need to be booked in advance. It is offered subject to availability and prevailing weather conditions. Children are welcome, but at the discretion of the guide in consultation with the parents.