TSWALU FOUNDATION | CURRENT RESEARCH
Small mammals as an indicator of habitat change in the Kalahari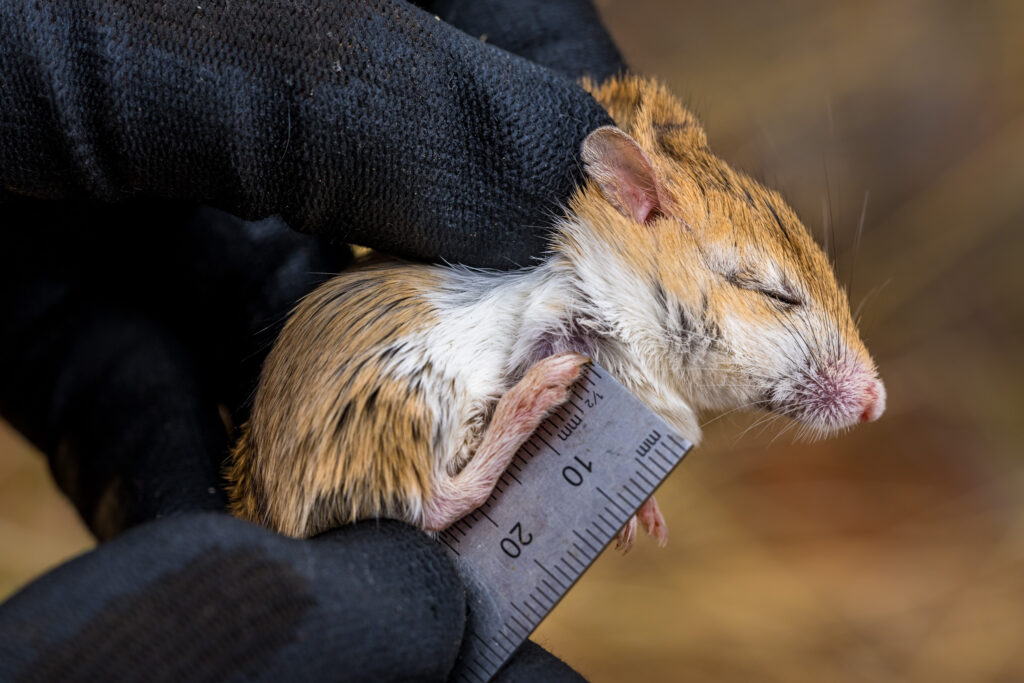 SMALL MAMMALS AS AN INDICATOR OF HABITAT CHANGE
Principle Researcher/s, Supervisors and Primary Academic Affiliation:
Dr Nico Avenant; Dr Duncan MacFadyen (Head of research and conservation, Oppenheimer Generations); National Museum, Bloemfontein; Centre for Environmental Management, University of the Free State
Small mammals, specifically mice, shrews and sengis, are recognised as important bio-indicators. They are key components of terrestrial ecosystems, often contributing greater than 30 percent of the total mammal species constituent. With high densities of up to 300 animals per hectare, small mammals are a major component in the diet of carnivores, raptors and reptiles. This long-term project repeatedly investigates small mammal species' richness, diversity, density, biomass, presence, or absence, of indicator species on a number of transects in a variety of habitats at Tswalu Kalahari. The work forms part of the extensive Kalahari Endangered Ecosystems Project (KEEP), a programme that aims to address the impact of climate change on the Kalahari ecosystem. Information from KEEP, as well as this specific part on the small mammal species and communities, is expected to make a significant contribution to species and ecosystem conservation at Tswalu and the larger Kalahari. Improved understanding of the ecosystem processes, coupled to environmental and habitat change, and the intricate food web of Kalahari organisms, will assist researchers to better predict future scenarios, and will be included in the biodiversity monitoring protocols and management plans of the reserve.
KEY RESEARCH OBJECTIVES:
-To study the small mammal community structure and composition (≈ species richness, diversity, density, biomass, presence/absence of indicator species), over a relatively long term, in each six habitats, in the relatively pristine Tswalu Kalahari Reserve.

-To correlate all of the above to various abiotic, substrate, vegetation and insect variables (in the quest to better understand and interpret observed changes in this Kalahari ecosystem and or specific populations or communities).
PROGRESS UPDATE AND KEY FINDINGS FROM 2021:
– Two field trips were completed, in March and in May 2021. The trip in March was to make up for May 2020, which was cancelled due to Covid-19 lockdown. This data was valuable as it confirmed that late-autumn (May) is indeed the preferred time to sample small mammals; and we will from now on stick to May field trips for the long-term study.

– Higher trap success and species richness in comparative habitats inside Lekgaba (were lions are present) than Korannaberg.

– At the two comparative dune street sites to the west of Dedeben (one on Tswalu and the other on one of the 'new farms') we could find some differences in species composition, but hypothesize that small mammal community structure will become more similar with time.
– – – – – – – – – – – – – – – – – – – –
GET INVOLVED
Use our secure online portal to make a donation to the Tswalu Foundation Trust in support of the sustainability of ongoing research management of the many projects supported by the foundation, its researchers and various activities.
DONATE