Experiences | Aug 2019
FIVE REASONS TO VISIT TSWALU
A great read by guest blogger James Bainbridge  from SafariBookings.com
Tswalu Kalahari is South Africa's largest private wildlife reserve, covering a vast area of open plains and classic Kalahari dunes at the foot of the Korannaberg mountains. The few visitors to this pristine swathe of the Green Kalahari have a once-in-a-lifetime experience of seeing African wildlife from mighty lions to scaly pangolins framed by the reserve's famous red sands. Taking part in Tswalu's mission to 'restore the Kalahari to itself', guests enjoy the simple but electrifying pleasures of seeing crystal-clear night skies and watching weather fronts sweeping dramatically across the savannahs.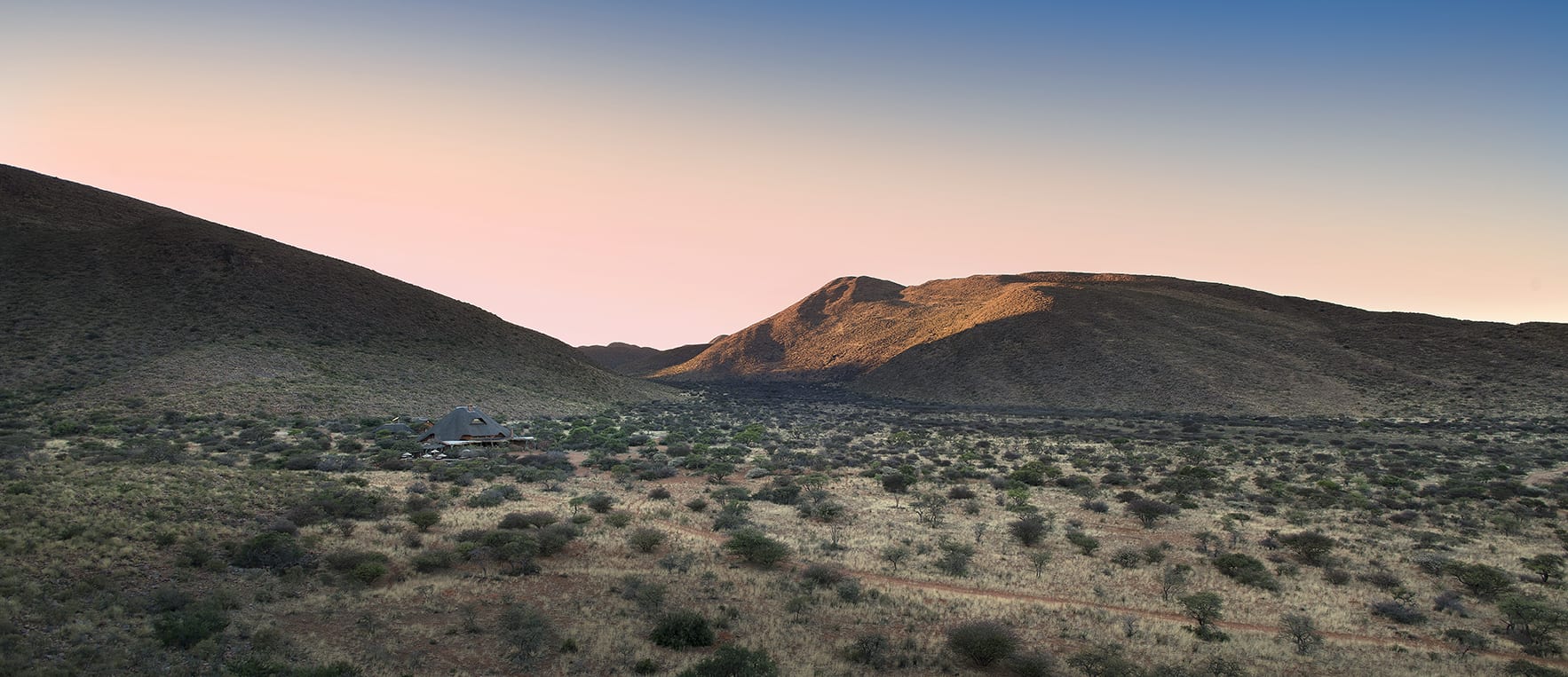 A major draw of Tswalu Kalahari is that it is a malaria-free reserve; five other top reasons to visit are listed here.
Rich Wildlife
The Green Kalahari is a semi-arid grassland with habitats including open savannahs, rolling dunes and the Korannaberg, the southern Kalahari's only mountain range. The shelter provided by these towering hills increases biodiversity, with more than 80 species of mammals and 240 bird species found at Tswalu. There are more butterfly species than you'll spot in the whole of the UK. Animals here range from the magnificent to the rare, including black-maned Kalahari lions, cheetahs, black and white rhinos, buffaloes, zebras, giraffes and herds of endangered sable and roan antelopes.
With Tswalu boasting unusual creatures such as meerkats, aardvarks, pangolins, aardwolves, bat-eared foxes and African wildcats, guests often enjoy wildlife-watching 'firsts'. Visitors benefit from both field guides and local trackers. Tswalu is home to the Tracker Academy, which trains the Kalahari's Khomani San (Bushmen) communities to be professional trackers.
Conservation Success
Meaning 'new beginning' in Tswana, Tswalu was founded by South African diamond heir Nicky Oppenheimer on a former hunting estate consisting of 35 farms. Hunting was stopped, breeding programs established, academic researchers invited, buildings demolished and more farms purchased to add more natural habitats. Tswalu was declared a nature reserve in 2014. In an eco-tourism success, visitors contribute to the reserve's sustainability, by both providing a livelihood and career opportunities to the local community and funding conservation projects.
Driven by the Tswalu Foundation, the reserve's main aims are:
To restore the natural environment
To re-establish and protect biological diversity
To maintain the Kalahari's natural ecological processes
Guests can meet the experts brought to the Kalahari by the foundation, who range from artists in residence to researchers examining the impact of climate change on semi-arid environments.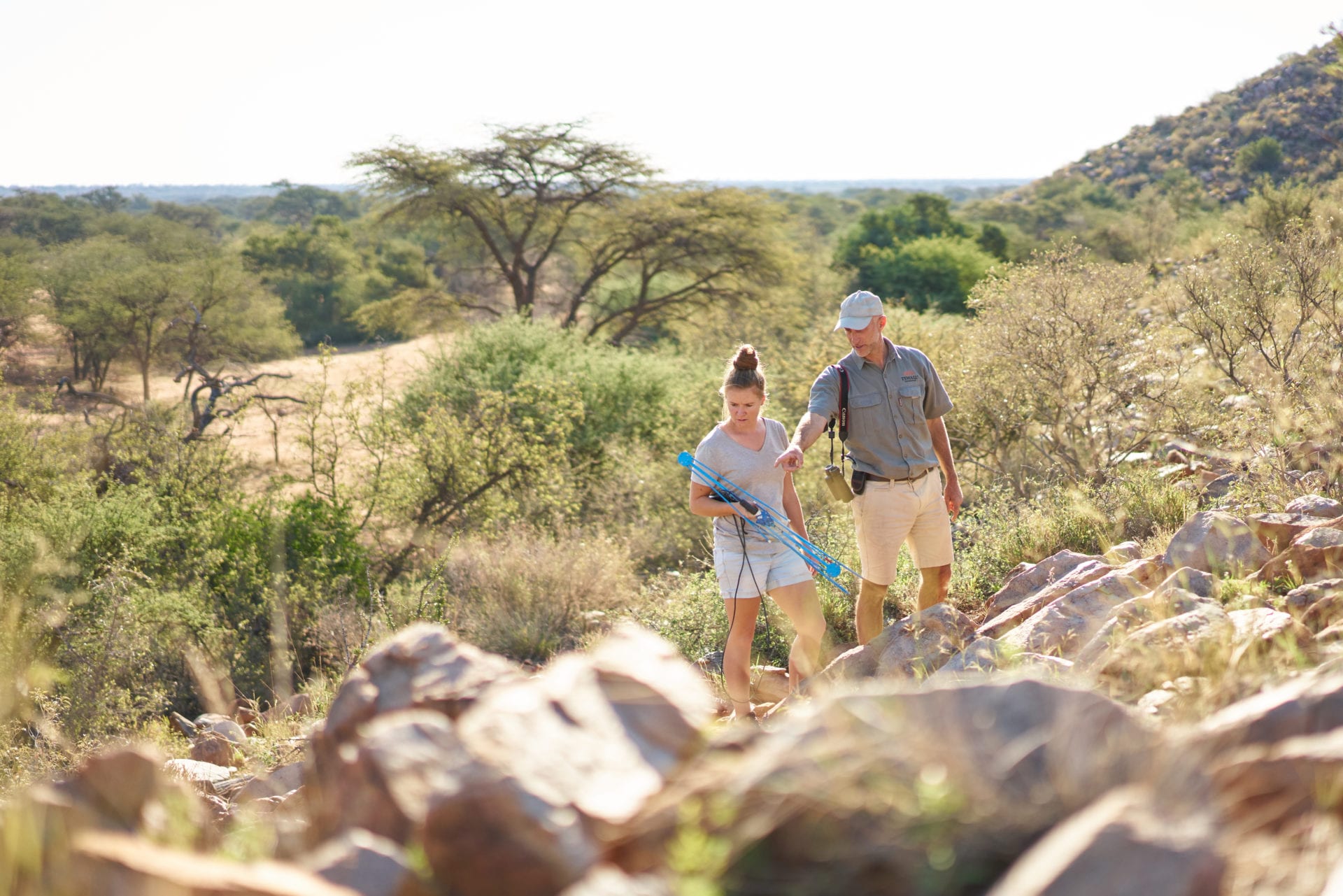 Barefoot Luxury
With only 10 safari vehicles exploring the vast reserve and a maximum of 30 guests allowed, Tswalu aims to provide serenity and privacy in the wilderness. Accommodation options are luxurious and include:
The Motse ('village' in Tswana), a recently upgraded collection of nine secluded sand, stone, clay and thatch legae (little houses) around a pool at the foot of the Korannaberg
Tarkuni homestead, with five en-suite bedrooms, a private chef and safari vehicle, two lounges with open fireplaces, and an outdoor pool and walk-in showers
Malori ('dreamer'), where you sleep on a raised platform beneath Egyptian cotton and either a thatched overhang or the Kalahari's starry night sky
You know where to find us – out on the deck with a million twinkling stars overhead.
Activities for All
While the slow pace of wildlife watching can have young kids squirming impatiently in their seats, Tswalu is designed to be an enjoyable getaway for all the family. Its Junior Ranger program is designed to both entertain and introduce conservation principles and practices to the next generation. Children are welcomed with a backpack full of tools and guides, before discussing their interests with staff and experiencing traditional Kalahari activities, such as archery, bow-and-arrow making and bush walks featuring tracking and a picnic. Apart from wildlife drives, adults can enjoy bush walks by day and night, horseback rides, the spa and gym, a heated outdoor pool, the mezzanine library with satellite TV, and a walk-in South African wine cellar.
Cuisine in the Bush
Apart from comedian Trevor Noah, chef Jan Hendrik van der Westhuizen has been South Africa's most famous export in recent years. He became the first South African to win a coveted Michelin star with his restaurant JAN in Nice, France, which serves gourmet Gallic interpretations of classic South African dishes. Now this farm-born foodie sensation is opening a restaurant at Tswalu, Klein Jan ('Little Jan'), which promises to create world-class cuisine based on the Kalahari's culinary heritage.
Working with Jan Hendrik's new JAN Innovation Studio (a training academy in Cape Town) and biannual Jan the Journal, Tswalu's restaurant will ensure a flow of culinary ideas and influences between this remote corner of the Kalahari and the world. "I always knew I would one day return to the bush, to the campfires and open skies of my beloved South Africa," Jan Hendrik said on Instagram. "My incredible new project will celebrate the unexplored culinary territory of the Kalahari."