Research | Jul 2023
HOW A CHANCE DISCOVERY TOOK TSWALU'S BUTTERFLY COUNT UP TO 83
Dylan Smith of the Tswalu Foundation was walking in the rocky Korannaberg hills when he spotted what he believed to be a Pale Ciliate Blue, Anthene livida, a butterfly not identified or counted before on Tswalu Kalahari Reserve. He wasted no time in sending a photograph of the specimen to lepidopterist Reinier Terblanche, who unequivocally confirmed the butterfly's identity as a Pale Ciliate Blue. The discovery of this unexpected resident brings Tswalu's species count to 83 butterflies, which is a remarkable tally for a semi-arid area in the southern Kalahari, as Reinier explains below.
Currently writing up his PhD thesis on the subject, Reinier Terblanche is the principal researcher of a butterfly study that was initiated 10 years ago on the reserve by the Tswalu Foundation. Initially, the study focused exclusively on Brown-veined Whites, but soon expanded into a butterfly biodiversity and landscape ecology project.
"One photo can change your week!" recalls Reinier, describing the moment when Dylan sent him the photo via Whatsapp and he realised what he was looking at. 
"I was combating the morning chill, a typical winter's morning in Potchefstroom in South Africa, with a cappuccino in hand, when I glanced at my Whatsapp in between writing. Suddenly … not that I want to use that wonderful Billy Ocean song in the wrong context … but, suddenly, my day took on new meaning and I was transported back to the warmth of the Kalahari, thanks to a single image. I was staring at a beautiful image of a Pale Ciliate Blue, Anthene livida, on my phone! It was unmistakable, we had a brand-new addition to the Tswalu Kalahari Reserve butterfly species list!"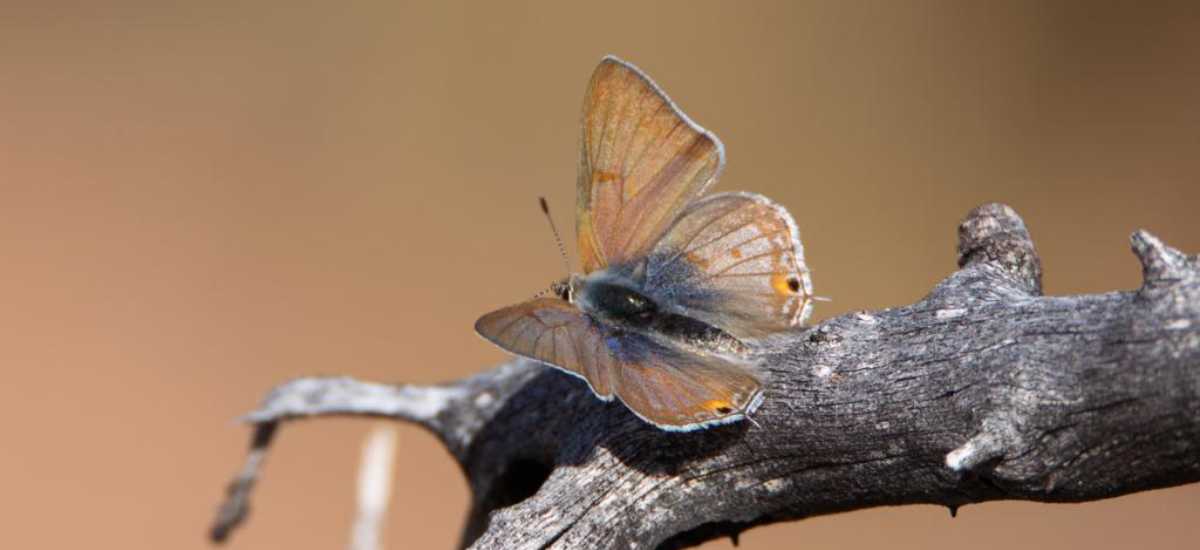 THE TSWALU FOUNDATION'S DYLAN SMITH PHOTOGRAPHED THIS PALE CILIATE BLUE (ANTHENE LIVIDA), A BUTTERFLY NOT IDENTIFIED BEFORE ON THE RESERVE.
During all Reinier's hilltopping counts at Tswalu over the years, he had never come across this butterfly species before. According to him, the Pale Ciliate Blue is widespread in the eastern parts of South Africa, but poorly known in any Kalahari landscapes in the western parts of southern Africa.
"It shows that not all hilltops on the vast Tswalu Kalahari Reserve are the same," explains Reinier. "It also shows that exploring every hilltop in this vast wilderness is worth the effort. It helps my butterfly research tremendously to have the eyes of someone like Dylan Smith on the ground, with his immense collective knowledge of the reserve and its habitats."
How there can be 83 different butterflies resident in this semi-arid region with its fascinating spells of dry and wet cycles is part of the mystery that Reinier hopes to dispel through studying host plants.
"One of the keys to unlocking this mystery is the fact that most butterfly species are very host plant-specific. The caterpillars of Anthene livida (the Pale Ciliate Blue) are known to feed on succulents of the genera Cotyledon and Kalanchoe in the eastern parts of South Africa. So now the challenge will be to find their Kalahari host plant species! Habitat, such as rocky hills where these succulent plants grow, will be preferred by this species. The correct microclimates also need to be present for the butterfly to survive. It is a never-ending challenge to solve the multi-dimensional puzzle of why each butterfly species favours a specific habitat."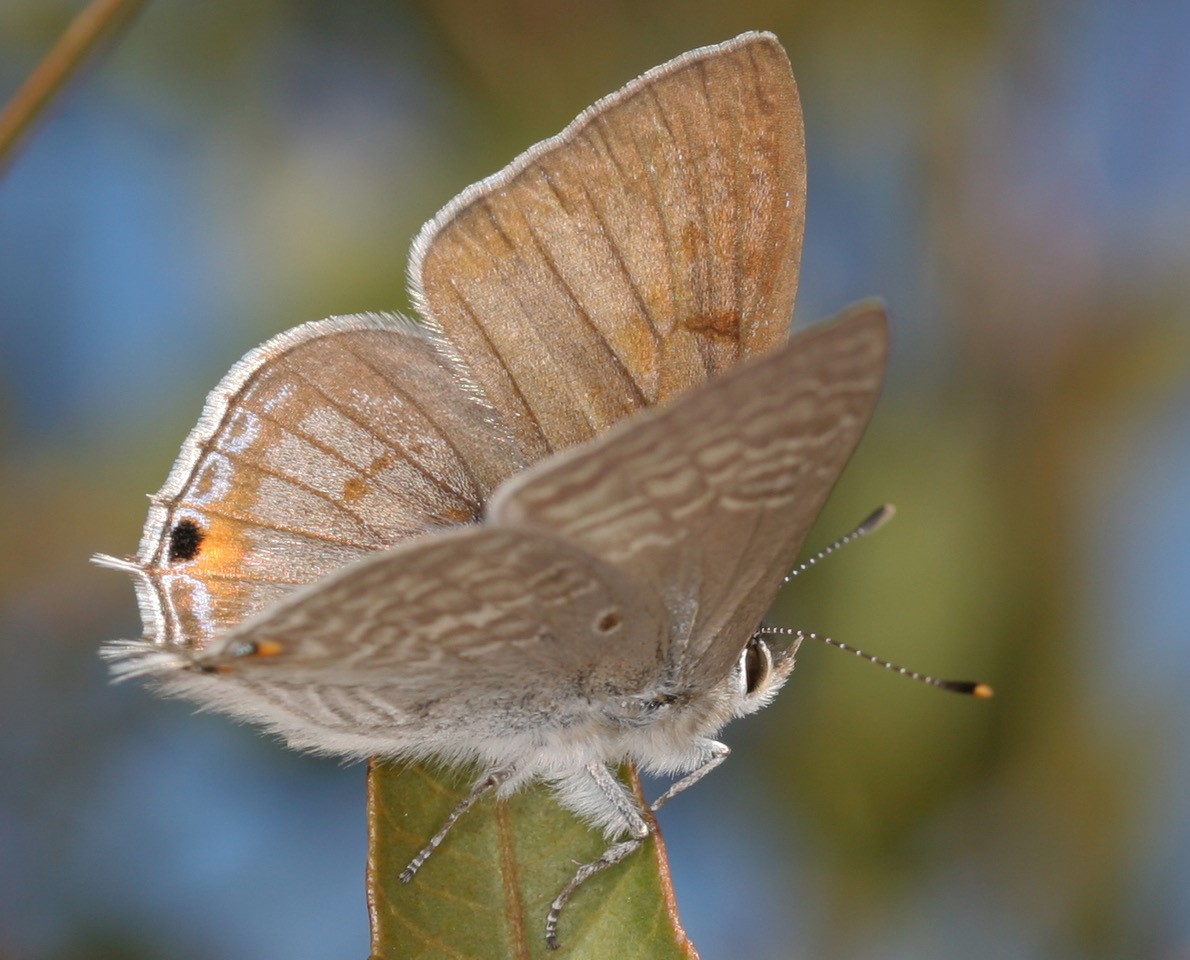 A MALE CILIATE BLUE (ANTHENE LIVIDA) PHOTOGRAPHED BY REINIER TERBLANCHE AT VREDEFORT DOME WORLD HERITAGE SITE, NORTH WEST PROVINCE, SOUTH AFRICA.
The caterpillars of some of Tswalu's butterflies live underground in ant's nests during the day and feed during the night on their host plants. The host plant species and, in some cases, the associated ant species needed by each butterfly for survival, also prefer specific habitats. These findings underscore the importance of habitat conservation for butterfly conservation. There need to be certain micro-habitats, such as gullies in the mountains and rocky patches, to provide for butterflies and their host plants during dry spells in the Kalahari.
"It is the reserve's wonderful mosaic of mountains, plains and sand dunes that provides the diversity of habitats to sustain this rich butterfly diversity," explains Reinier.
"Tswalu's butterfly list includes species that are cosmopolitan (with almost world-wide distribution), many typical savannah species, a few that are well known from grasslands, and some that have distinct Karoo affinities. Because habitat conservation is the key to butterfly conservation, there is currently a research focus on the landscape ecology of these butterflies on Tswalu."
The restoration and conservation of such a vast tract of the southern Kalahari is truly commendable," concludes Reinier, "as it enables indigenous butterfly species to abound in a diversity of suitable habitats. I am honoured to be part of this research and conservation community working towards leaving the Kalahari better than how we found it."
Images by Reinier F Terblanche and Dylan Smith.