Experiences | Dec 2021
IN THE KITCHEN: SPRINGBOK, SAMP AND BEANS
Dining at Tswalu Kalahari is rooted in local heritage and cultural diversity. Every plate illustrates an important aspect of our journey towards greater sustainability, which is to reduce our carbon footprint, source locally from the Northern Cape and support our growing network of excellent farmers, producers and makers.
Venison is the ultimate organic meat. All the meat on our menu, including the springbok used in this recipe, is sourced from our trusted butchery, Upington Slaghuis, a third-generation family business. As springbok is a small antelope, our chefs are mindful of utilizing as much of the animal as possible so that nothing goes to waste. In this delicious dish, springbok loin is teamed with an African staple, samp and beans, bringing together South Africa's rich culinary heritage but with a modern twist.
"The samp croquettes add a lightness to the dish, opening the door to more flavour." – Executive chef, Marnus Scholly.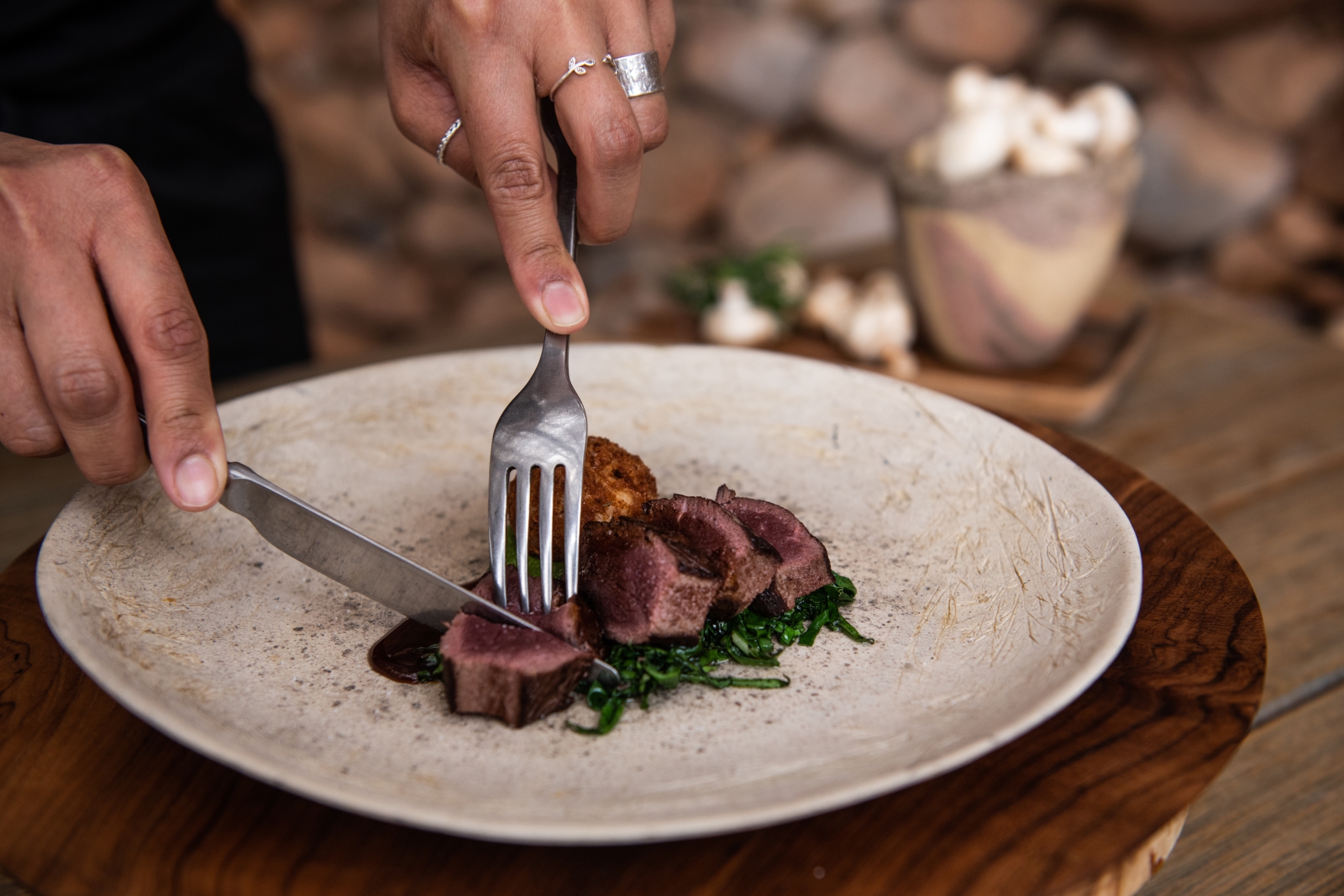 SPRINGBOK WITH SAMP AND BEANS
Serves 4
Don't be put off by the long list of ingredients and steps in this recipe – when you break it down, it's not as complicated as it seems. Gather friends and family and cook up a storm together this festive season!
PICKLED MUSTARD SEEDS
Ingredients
½ cup yellow mustard seeds
¾ cup apple cider vinegar (plus ½ cup extra)
2 Tbs honey
½ tsp dried red chilli flakes
Salt and black pepper to taste
Make ahead by rinsing mustard seeds, then soaking in ¾ cup vinegar for 8 – 10 hours (or overnight).
Place the mustard seeds plus soaking liquid in a pot with the extra vinegar and cook for 5 minutes. Finish off by adding the honey, chilli flakes, salt and pepper. Add extra honey if it is too acidic, or to taste.
Refrigerate.

SPINACH PUREE
Ingredients
500g fresh spinach, thoroughly washed
1 onion, finely chopped
500ml cream
Salt to taste
Caramelise the onion in a little oil and butter. Blanch and refresh the spinach leaves, then add to the onions. Add cream, reduce for 2-3 minutes, season and blend until smooth and silky.

SAMP CROQUETTES
Ingredients
¼ cup boiled red sugar beans
2 cups cooked creamy samp (retain 20 percent of cooking liquid)
¼ cup milk slurry (equal parts milk and cake flour)
½ cup grated Parmesan cheese
Salt to taste
Seasoned flour
1 egg, beaten
Fine breadcrumbs
Ensure all cooked ingredients are at room temperature (cooled) before starting. Lightly mix together the beans, samp, milk slurry, and Parmesan cheese, and season with salt. Mold the mixture into balls (50mm x 15mm). Refrigerate for at least 30 minutes or until firm. To make the croquettes, dip into seasoned flour, then egg, and end off with the breadcrumbs. Deep fry the croquettes when ready to serve.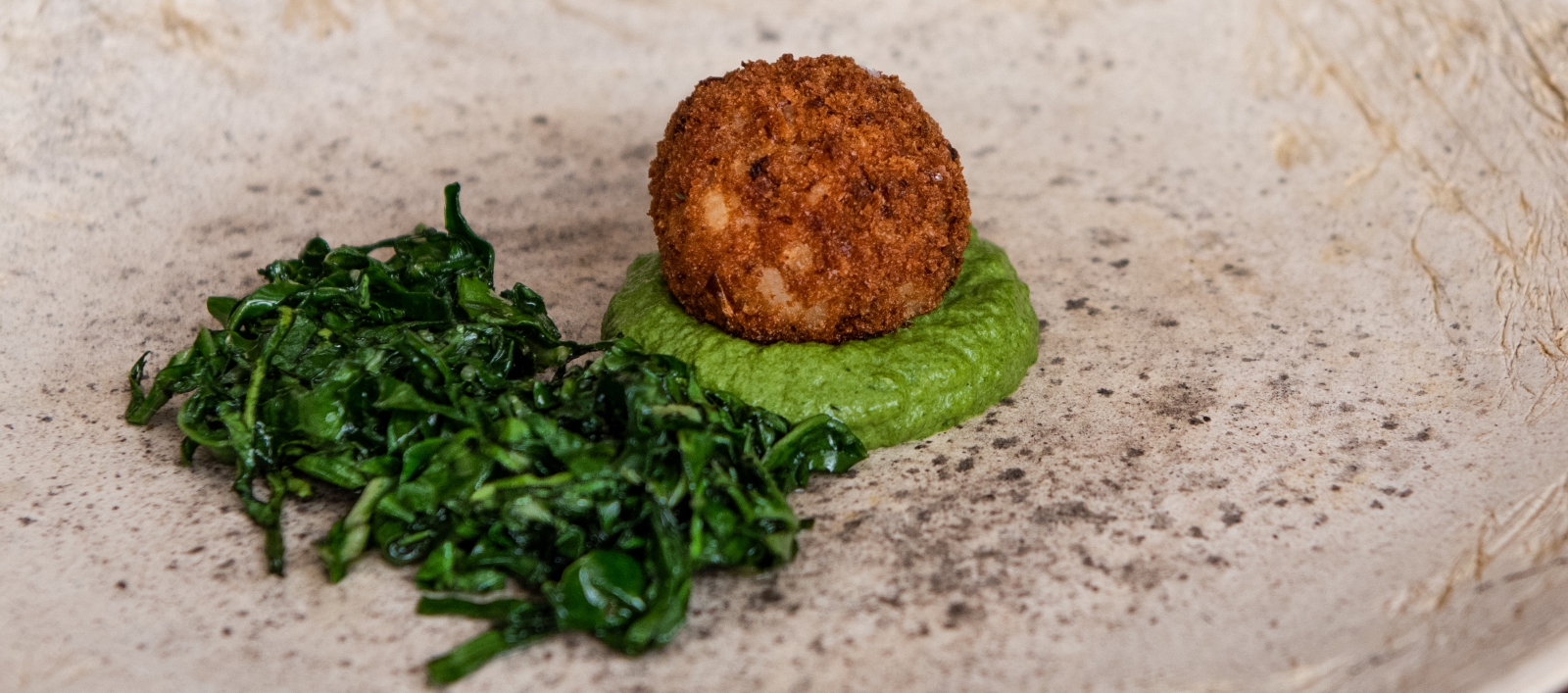 WILTED SPINACH
Ingredients
250g fresh spinach, washed and finely chopped
10g butter
Salt and pepper
Melt butter over medium-hot heat in a pan, quickly sauté the spinach and season.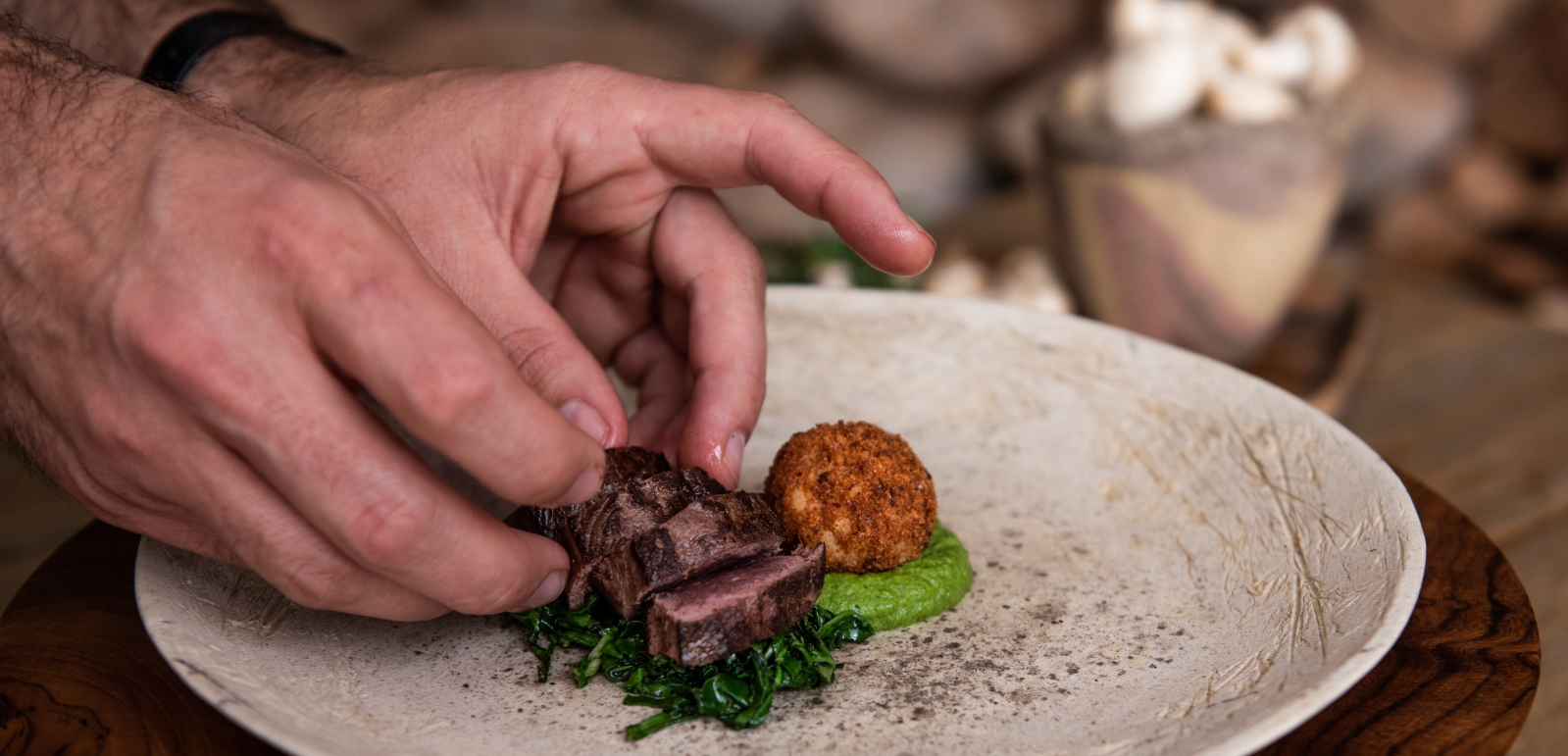 SPRINGBOK LOIN
180 – 200g springbok loin per person
Fresh, aromatic herbs, such as rosemary, sage and thyme
Vegetable oil
Butter
Salt
Pepper
Remove meat from the fridge at least 30 minutes before cooking.
Heat oil in a medium-sized pan over medium-high heat.
Season the meat, then place in the hot pan.
Allow to cook on one side for 2-3 minutes, turn over and repeat.
Add the herbs and butter to the pan. Tilt the pan and spoon the herb-infused butter over the meat, repeating the process a few times
Cook for an additional 2-3 minutes. Remove from pan and allow to rest before slicing.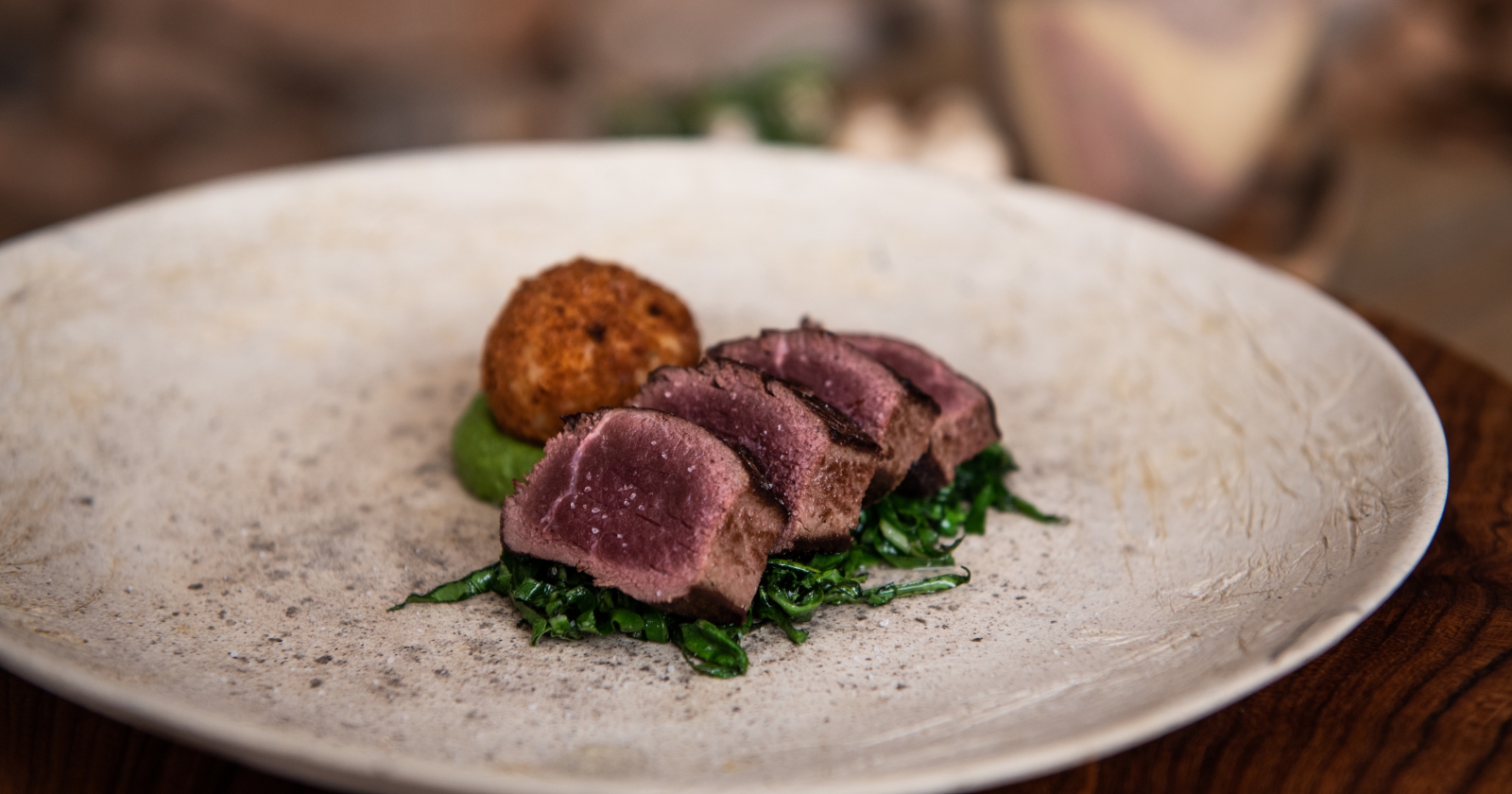 To serve, arrange meat slices on wilted spinach, spoon some spinach puree onto the plate and top with a croquette. Add pickled mustard seeds to finish.