Experiences | Jun 2022
OUR RELATIONSHIP WITH THE NATURAL WORLD
In this thought-provoking essay, photographer Marcus Westberg writes about the value of human intervention in nature so that wild places and creatures can be protected. Read our Q&A with Marcus Westberg here.
HANDS ON OR HANDS OFF NATURE?
Growing up in Sweden, my sisters and I spent a lot of time in nature. Lacking large predators, we even walked to and from school through the forest. My parents taught us many things, like how to make a fire, which plants to collect for a delicious soup, and how to use tree lichen to find our way home.
Most importantly, we were told to respect life. Moss takes a long time to grow, they explained, so be careful and tread lightly. Don't step on ants. And, if you can, always help an animal in need. Hedgehogs were provided with an occasional meal, rabbits were taken to the veterinarian, squirrels were nursed, and injured birds put out of their misery.

LEFT TO RIGHT: A BAT, UNINJURED BUT IN SHOCK, UNDER MARCUS'S WATCHFUL EYE; A SELF-FUNDED BIRD REHABILITATION CENTRE IN STOCKHOLM, SWEDEN; A PANGOLIN, RESCUED BY RANGERS AND RELEASED IN GARAMBA NATIONAL PARK, DRC.
Fast forward three decades, and it doesn't always seem quite so simple. While injured squirrels in affluent suburbs probably still receive plenty of care, in the conservation and nature photography community, opinion tends to differ. Many will argue that we should always let nature run its course. There are often non-interference policies in national parks unless the damage is caused by humans. A wild animal with a leg caught in a snare might receive veterinary attention, but not one injured by hyenas. We are merely observers, visitors who should not get involved.
Is one side right and the other wrong? Should we be hands-off or hands-on?
The strongest argument in favor of keeping our hands off is that, well, this is the wild. It is survival of the fittest. Besides, the natural world is complex beyond our understanding. Our actions, no matter how well intentioned, can have unforeseen consequences. Plus, one animal's suffering can be another's sustenance. This is undeniably, inescapably true.
Even so, there is a significant flip side to this coin. Let's begin by zooming out.
HABITAT LOSS
Whether we like it or not, human interference in the natural world is simply a fact. Whenever hunter-gatherer societies arrived on a new continent, landscapes were transformed and much of the megafauna driven to extinction. For thousands of years, agriculture chipped away at natural habitats. Industrialization did the same, but faster. Given the amount of damage we have already done (and continue to do), a hands-off conservation approach would mean the end of the road for countless species and habitats. Things have simply gone too far. A recent study concluded that less than three percent of the earth's land surface can be considered functionally intact, which requires "wholly intact ecological communities, comprising the composition and abundance of native species and their interactions" (www.frontiersin.org). Even the most pristine wilderness areas are vulnerable to climate change.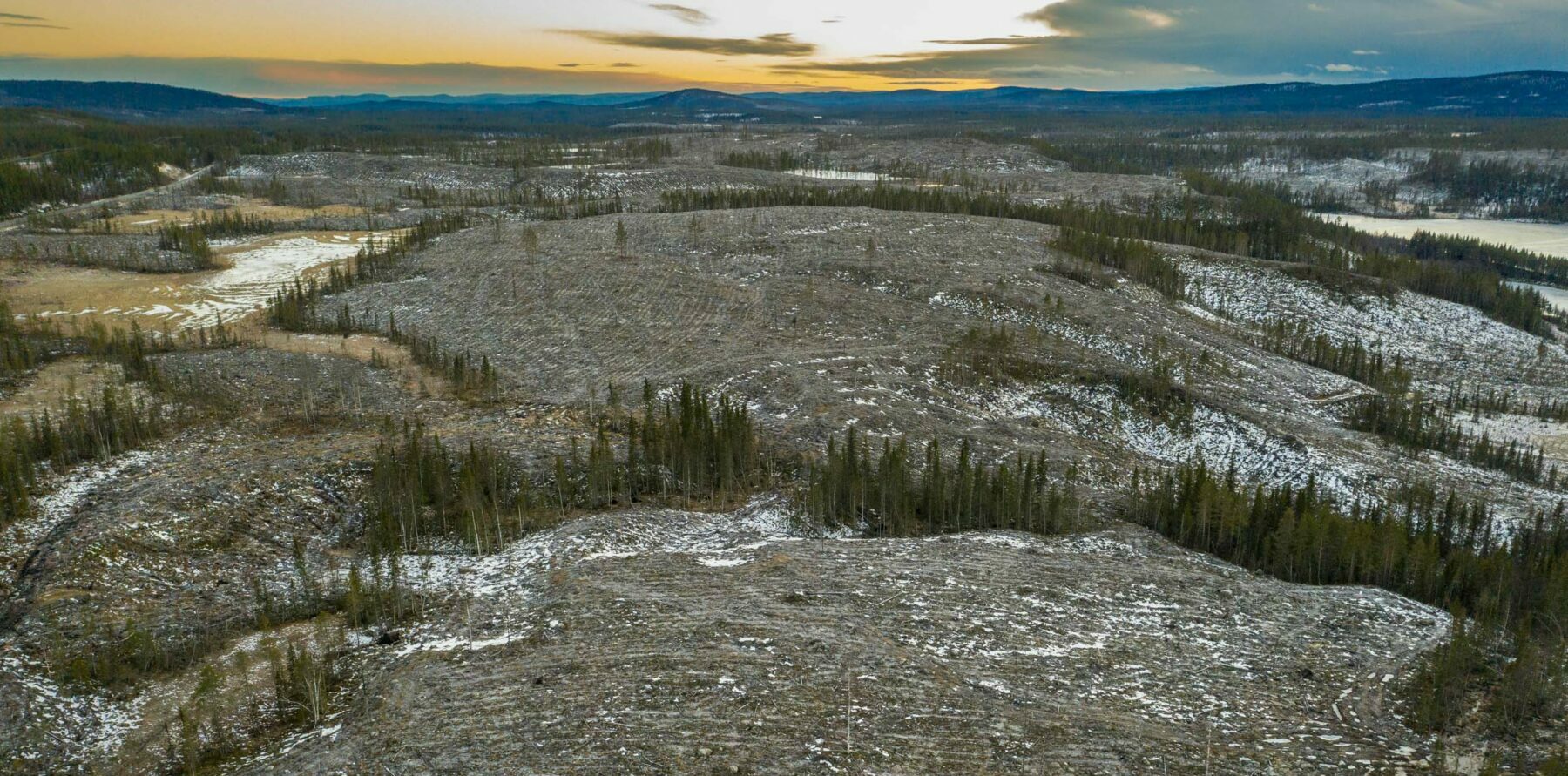 IN THE AUTHOR'S NATIVE SWEDEN, THE REMAINS OF OLD-GROWTH FORESTS ARE BEING CLEAR-CUT AT AN ALARMING RATE.
CONSERVATION MANAGEMENT
This, in turn, has made further human intervention an absolute necessity. Fences are erected to reduce conflict and keep wildlife safe. Waterholes and salt licks are created to compensate for reduced habitat sizes. Animals are moved between protected areas to ensure genetic diversity and repopulate places where they were once abundant. We habituate wild animals to the presence of people to facilitate wildlife tourism, which is a crucial source of conservation funding.
To be clear, these are wins. Without them, there probably wouldn't be much wildlife left to protect. For all the damage our species has caused, there are many people working tirelessly to give nature a chance. Every time someone travels to see gorillas, leopards, elephants, or tigers, the chance of survival for these animals increases.

LEFT TO RIGHT: AN ORPHANED PUTTY-NOSED MONKEY IS CARED FOR BY A RANGER IN ODZALA-KOKOUA NATIONAL PARK, CONGO; RESEARCHERS WEIGHING AND FITTING A YOUNG PANGOLIN WITH A TRACKING DEVICE AT TSWALU; A SEDATED RHINO DURING AN EAR-NOTCHING SESSION AT TSWALU.
In fact, according to that same study, the less than three percent of functionally intact land could be increased to 20 percent if key wildlife species were reintroduced. With increased land restoration, that percentage could rise even further. But all that requires active management. For as long as the damage we do is hands-on, the remedy must be, too. Without proactive interventions, would we have any rhinos left today? Mountain gorillas would most likely have gone extinct in the 1980s, lions would certainly not be roaming the plains of Rwanda, and Tswalu would be a collection of overgrazed farms, not a wildlife haven.
Interventions at that level are one thing, one might argue; the kind I started out talking about, quite another. In some ways, I agree. There are certainly many situations where we should not get involved, either because it is too dangerous or because, though helping one animal, we do harm to another. Hunts are perhaps the most obvious example. We might not enjoy the buffalo's suffering, but the lions need to eat.
Beyond that, however, the line quickly becomes more blurred, and the principle of non-interference tends to be applied with frustrating inconsistency. When a BBC film crew ensured that several unwell lions received veterinary treatment a few years ago, they were initially subjected to fierce criticism for breaking the industry norm of non-interference.
Why is this an issue? Well, if they had been mountain gorillas instead of lions, there would not have been any controversy, as mountain gorillas receive veterinary treatment in the wild for all their ailments, regardless of what caused them. Mountain gorillas are rarer than lions, true, but is that the only valid reason for helping them? Should we stop providing veterinary assistance once their population is deemed safe?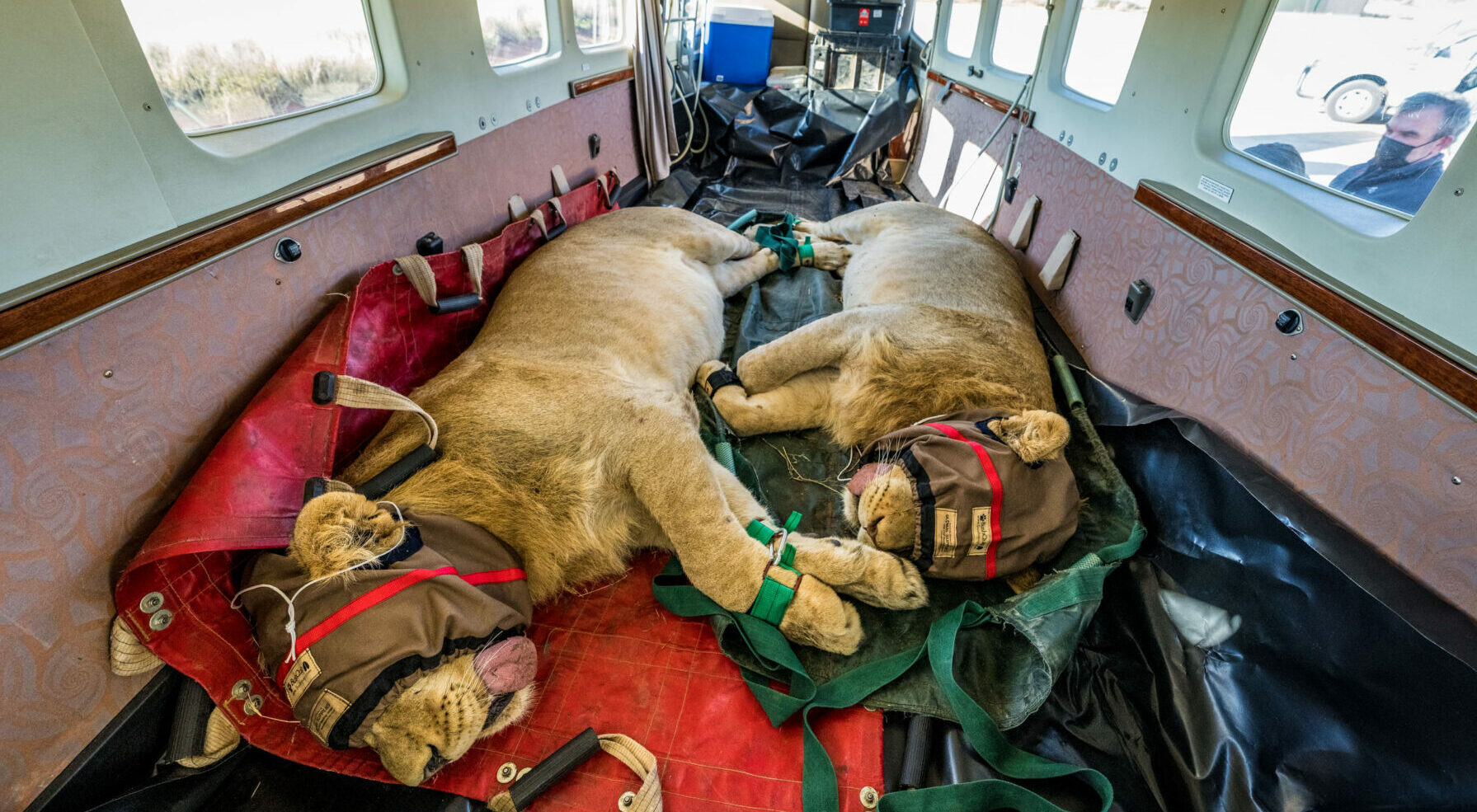 TWO YOUNG MALE LIONS, BORN AT TSWALU, BEING TRANSPORTED TO MADIKWE GAME RESERVE. PART OF ACTIVE CONSERVATION MANAGEMENT IS ENSURING THAT POPULATIONS REMAIN HEALTHY AND THE GENE POOL STAYS DIVERSE.
This brings us back to our injured, suburban squirrels, birds, and hedgehogs, usually not in danger of extinction. Still, would you tell your five-year-old child – or your five-year-old self, for that matter – to leave them to their suffering? On the contrary, such concern and evidence of empathy is something we tend to encourage, and for good reason. Our innate desire to help and protect others is a beautiful, natural thing. At the very least, this is a more nuanced question than it is sometimes made out to be. Most of what we find between hindering a hunt (bad, not to mention dangerous) and helping a beetle onto its feet (hard to argue with that one) arguably falls inside a vast, grey area where what is right and what is wrong might not be as clear-cut as we first think.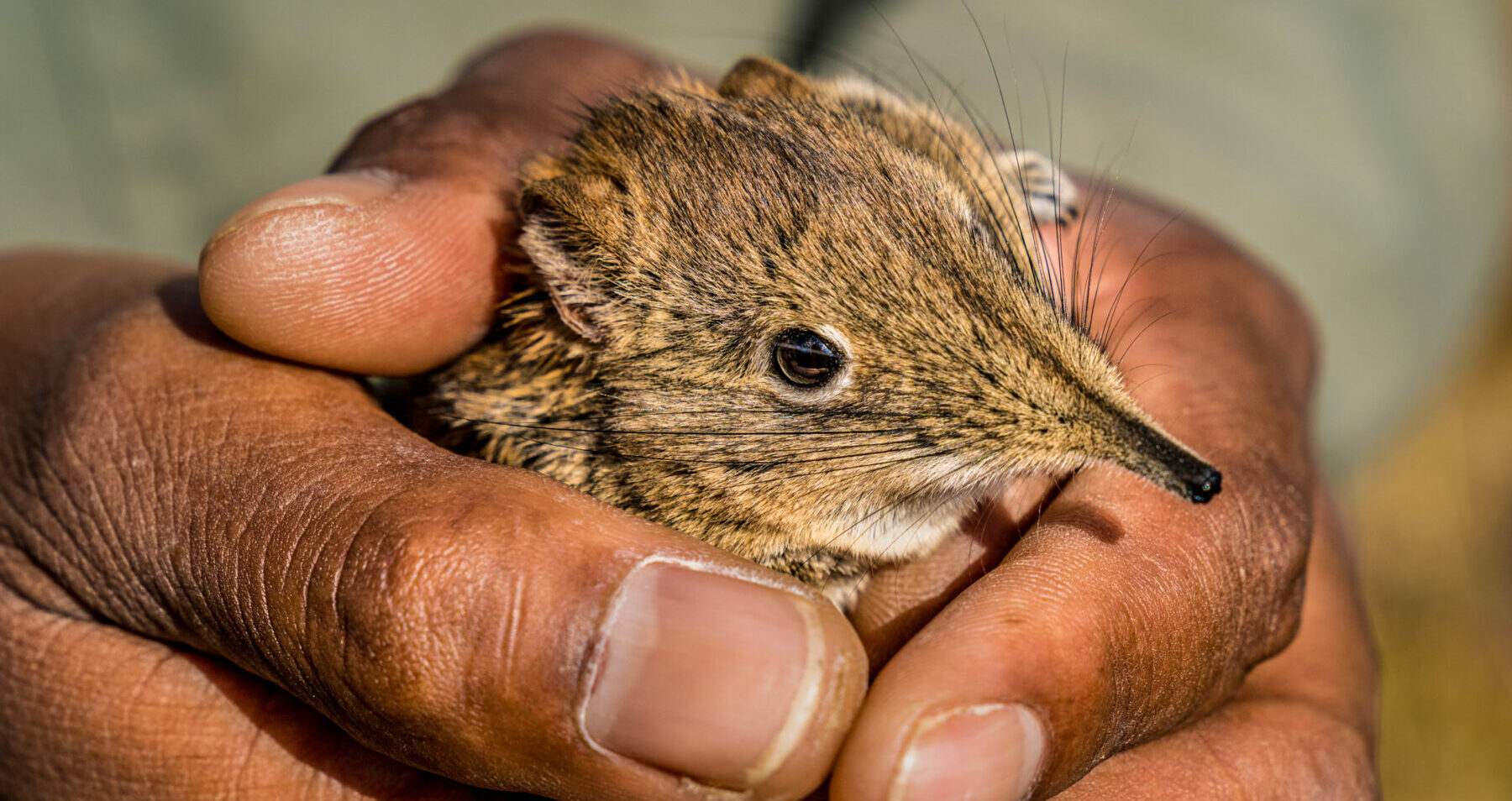 WHETHER WE LIKE IT OR NOT, THE NATURAL WORLD IS IN OUR HANDS. AS LONG AS WE CONTINUE TO DO IT HARM, WE ARE ALSO NEEDED FOR ITS PROTECTION.
All images by Marcus Westberg, keep following @marcuswestbergphotography on instagram