Experiences | Sep 2020
TAKE A PHOTOGRAPHIC SAFARI
The summer months at Tswalu are a photographic safari delight. It's when the region is often referred to as the Green Kalahari as rainfall transforms the vast landscapes rolling away to the horizon below dramatic skies. Clouds soften the light, the days are longer and there is less dust. For high-drama wildlife photography, the dry, winter months yield incredible, often up-close sightings as the animals are drawn to water sources. With less vegetation, visibility increases too. Whatever the season, Tswalu is always a wonderful place to get creative with a camera.
Whether photographing the southern Kalahari's iconic landscapes or its wildlife, taking the shot of a lifetime requires patience and time. The undivided attention of a guide, who combines a deep understanding of animal behaviour with slick photography skills, and who knows just how to manoeuvre the vehicle into the right position for the perfect capture, is highly advantageous. While Tswalu guarantees a private vehicle and dedicated, experienced guiding team with every booking, those who are really serious about taking wildlife photos will appreciate the introduction of a fully equipped photographic safari vehicle and specialist guide.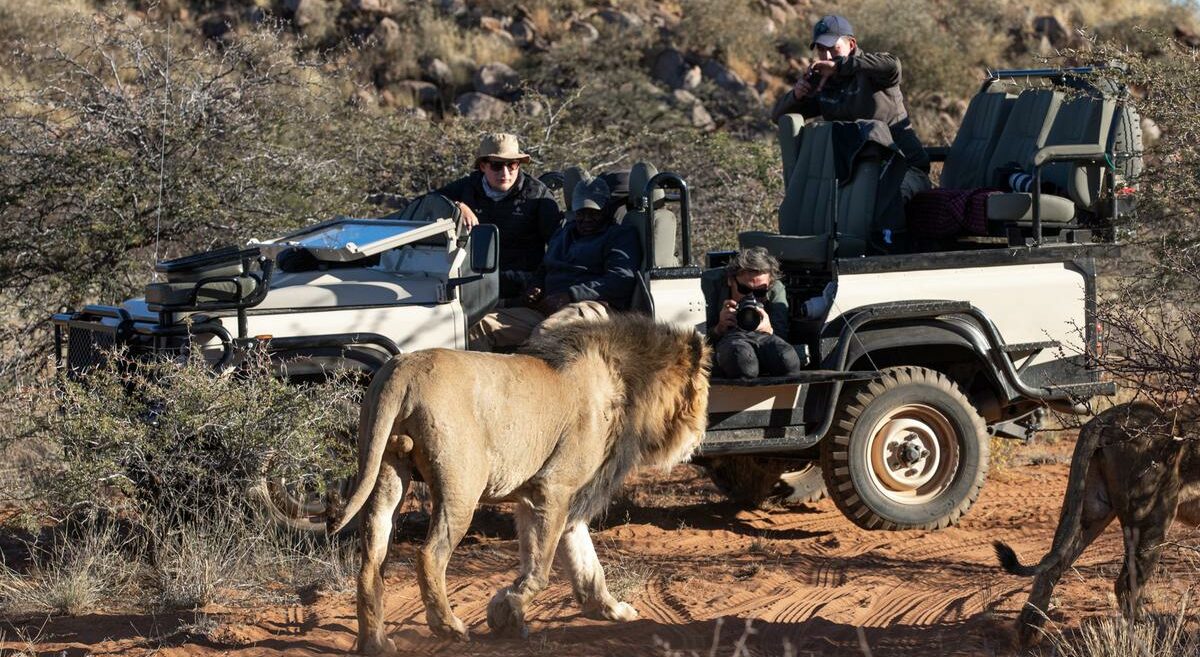 Vehicle specifications
Like all Tswalu's safari vehicles, the modified vehicle is a Land Rover. It's geared to meet the needs of a solo photographer, but has plenty of space for a second guest. A rotating swivel seat allows for an uninterrupted, 270-degree arc and can be locked into position. The seat is fitted with a stabilising arm and platform for taking sharp, steady images, even with a long lense. There are also brackets, slings and bean bags to assist with stability and sharpness. Hatches cut into the sides of the Land Rover afford the photographer the opportunity to lie flat on a firm mattress to photograph animals at eye level.
Equipment to hire
Tswalu has already purchased two 150 – 600mm 'Sigma Contemporary' zoom lenses, compatible with Nikon or Canon mounts, and will expand the available range depending on demand. Requests for other lenses can be arranged in advance.
Who will benefit
'The idea is for all levels of photographers to get their best shots,' explains Gus van Dyk, Tswalu's head of conservation. 'Novices will benefit from some guidance on the basics, and experienced photographers will benefit from the photo opportunities that present themselves while spending time with an experienced guide.'
Learning the basics
Those new to wildlife photography can learn the basics of photography, such as exposure, composition, selecting a suitable shutter speed, and depth of field, and then put their new skills to work shooting in different conditions. There is no limit to the length of drives on Tswalu, so guests can stay out for as long as they want.
Perfecting the art
Experienced photographers will appreciate the opportunity to spend as long as it takes to get a great shot. There is no queuing for sightings at Tswalu, so a patient photographer can wait for either the best light or to catch the behaviour they are after.
On-site photographic studio
Guests can learn to edit, tweak and print their best images in The Motse's Photographic Studio. Editing is done in Adobe Photoshop or Lightroom, and printing is available up to A1 size on either paper or canvas.
Good to know
Every guest vehicle has a pair of Zeiss Terra ED 10X42 binoculars on board for guests to use while they are out on safari. A range of the finest Zeiss binoculars are also available to purchase from the studio.
Advance booking
Both the vehicle and specialist guide are available at an additional cost and need to be booked in advance.