Conservation | Sep 2023
THE VALUE OF SECURING VULTURE-SAFE TERRITORIES ACROSS AFRICA
Tswalu is helping to provide safe habitat for vultures to reestablish populations, most notably the critically endangered white-backed vulture and the endangered lappet-faced vulture. In collaboration with BirdLife South Africa, Tswalu Kalahari Reserve became the first Vulture Safe Zone to be established in Africa. Five years on, the Vulture Safe Zone network has become established across several African countries, mainly on privately owned land. International Vulture Awareness Day is an opportunity to remember the crucial role vultures play in nature.
Without the ecosystem services that vultures provide, carcasses would be left to decay and nutrients would not be recycled back into the environment.
As a photographer and writer, Marcus Westberg has travelled extensively in Africa, documenting conservations projects and operations that are making headway, despite the challenges and odds stacked against them. Here, he provides insight into vulture conservation – the successes, both here on Tswalu and further afield, and the challenges.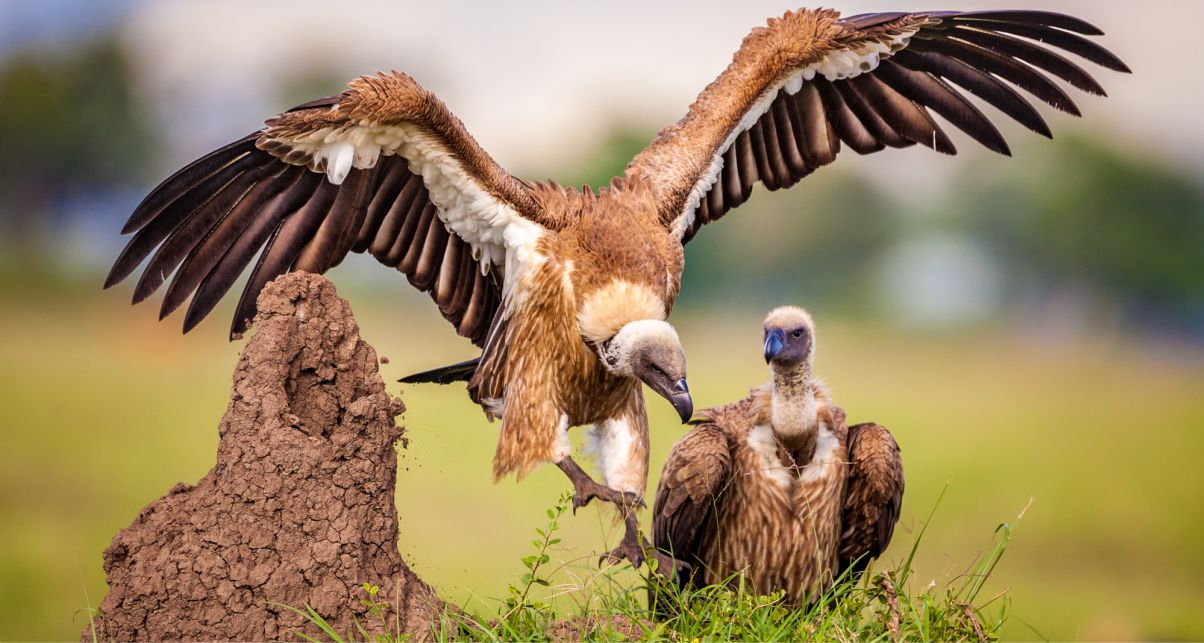 NATURE'S CLEAN-UP CREW, THIS PAIR OF WHITE-BACKED VULTURES WAS PHOTOGRAPHED IN KENYA.
As the lions left the carcass they had been feasting on to rest in the shade of a tree, their hunger sated, half a dozen large raptors moved in. Until now, wary of the big cats' sharp claws and powerful teeth, they had kept their distance. Before long, every last bit of flesh and skin had been consumed. Vultures, nature's own clean-up crew, are nothing if not efficient.
They may not top many safari guests' must-see list, but few animals are as irreplaceable in the environments they inhabit as vultures. Thanks to powerful acids in their stomachs, they are able to consume decomposing flesh and the bacteria thriving there. Without their presence, decomposition of carcasses takes much longer, significantly increasing the risk of disease transmission.
Vulture population decline
Unfortunately, their predictable feeding habits – vultures are exclusively scavengers, able to detect dead animals from astonishing distances – have made them easy targets for human persecution, resulting in alarming population declines. Several species have lost more than 80% of their numbers in just a few decades, and total population declines over a longer period are well over 95%. Today, only three of Africa's 11 vulture species are not classified as critically endangered.
Their ability to converge on carcasses moments after an animal has been killed or has died is also their downfall, for a number of reasons. Poachers rightly fear that large numbers of vultures circling a carcass might give away their position before they have made their escape, increasing the chance that they are detected and caught by anti-poaching teams or law enforcement officers. To prevent that from happening, they lace carcasses with poison, or leave pieces of poison-infused meat next to them, killing the vultures within minutes of their arrival. In other cases, the poison is meant for other predators such as lions, African wild dogs or jackals; but, like snares, poison kills indiscriminately. Poisonings might also be entirely accidental, as some of the antibiotics and other drugs used to treat livestock are lethal to vultures.
An even bigger threat to vulture populations is the unfortunate fact that their ability to detect dead or dying animals so quickly has led many people across Africa to believe that they are clairvoyant. As a result, there are widespread practices of consuming vulture brains, eyes or tongues in the hope of obtaining similar abilities, and intact heads are kept as lucky charms or used to drive away evil spirits. Here, too, the weapon of choice is poisoned carcasses; this way, dozens of vultures can be killed and collected in a single swipe. All in all, according to Darcy Ogada of the Peregrine Fund, poison-laced animal carcasses are now responsible for 90% of vulture deaths in Africa.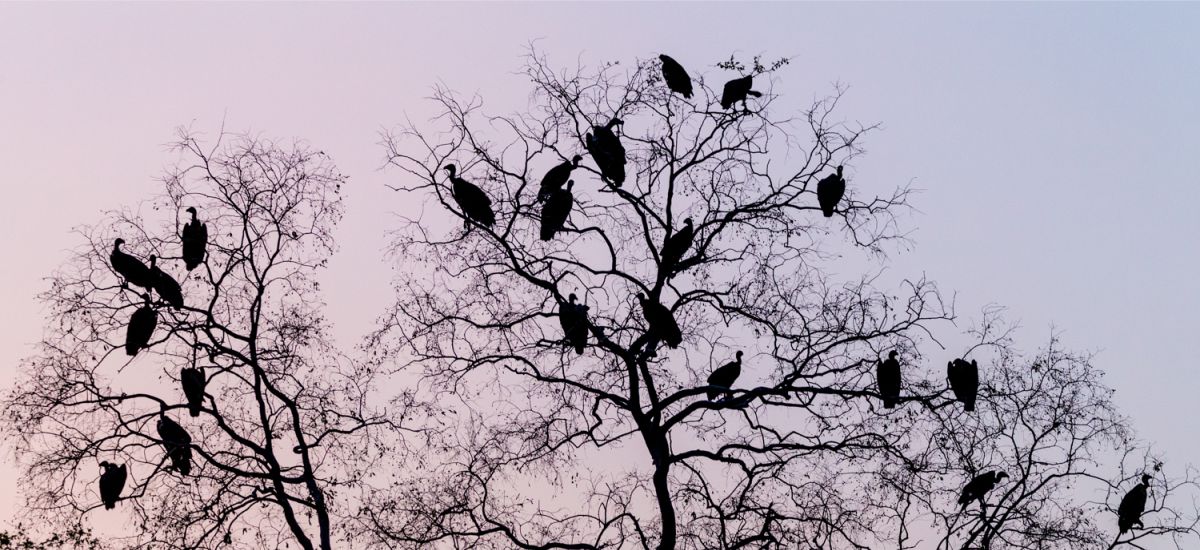 VULTURES CONGREGATE NEAR CARCASSES, OFTEN ROOSTING IN TREES – PHOTOGRAPHED IN CHAD.
Vulture Safe Zones
Is all hope lost, then? Fortunately, rather than resignation, the realisation of just how dire the future of vultures in Africa might be has spurred action and engagement across the continent. Scientists, politicians and community leaders, concerned about the rapid decline of such an important part of ecosystem health and balance, have launched campaigns to dispel superstition and myths concerning the supposed (and very much imaginary) gifts and abilities brought about by the consumption of vulture heads. As with so many other issues, education is bound to play a key role.
A further step, beyond unconnected local efforts, has been the establishment of Vulture Safe Zones (VSZs). These are areas deemed to meet criteria that minimise the risk to vultures, such as having little or no poisoning, poaching and hunting, limited electrical infrastructure – electrocution is a smaller, but nonetheless, significant cause of death for vultures – and sufficient food supplies for the birds to survive and thrive. These have proven crucial in Asia, where vulture populations were nearly wiped out in the 1990s and early 2000s but are now making a strong recovery. Tswalu, which was declared a VSZ in 2019 – the first in Africa – has so far passed its inspections with flying colours.
The strategy of VSZs, though not always easy to implement, is simple. First, safeguard and stabilise existing vulture populations. "In other words," says conservationist Linda van den Heever of BirdLife South Africa, "do everything we can to minimise threats in core vulture habitat." Second, increase their population in those areas by creating conditions that enable them to thrive, allowing them to fulfil their ecosystem role.
WHITE-BACKED VULTURES ARE ACTIVELY BREEDING ON TSWALU KALAHARI RESERVE.
Though Tswalu's vulture population is small, the first of those phases has been well met by the stringent conservation measures in place and the commitment of the Oppenheimer family. The second, too, appears to be underway: of the four vulture species found at Tswalu, two – the critically endangered white-backed vulture and the endangered lappet-faced vulture – are actively breeding in the reserve.
The third and final step of the VSZ approach is more complicated. Birds cannot be contained by fences and boundaries. Once populations within core areas have grown strong enough, the hope is that they will spread their wings, so to speak, returning to areas where they have become locally extinct. The more vulture-friendly areas out there, the more likely that is to happen.
Finally, there are the occasional positive surprises. Upon taking over management of South Sudan's Boma and Badingilo national parks in late 2022, African Parks' staff were encouraged to find thriving vulture populations, hitherto largely unknown. At least six species are present, and in greater numbers, park manager David Simpson believes, than in any other country in Africa. Together with the commitment shown by landowners across the continent and the resilience we know vultures possess, their future might not be so bleak after all.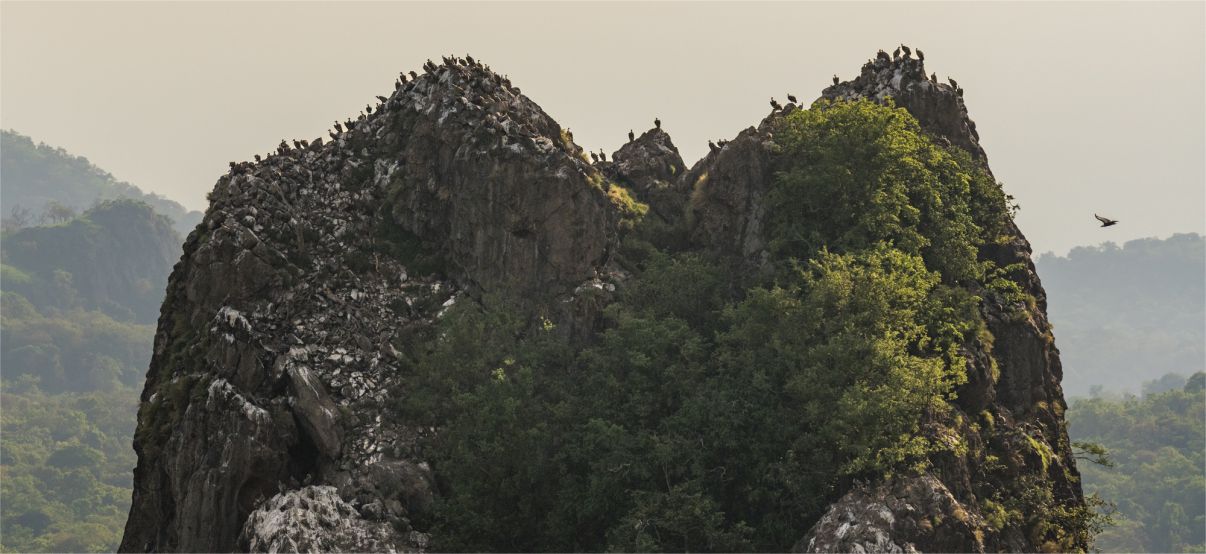 RÜPPELL'S VULTURES ARE ONE OF SIX SPECIES THAT APPEAR TO BE THRIVING IN PROTECTED AREAS IN SOUTH SUDAN.
All images by Marcus Westberg. Keep following @marcuswestbergphotography on instagram