Community | Jun 2020
TRACKER ACADEMY AT TSWALU KALAHARI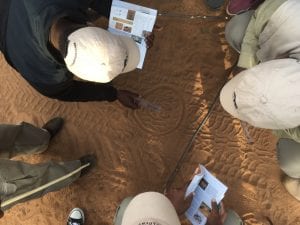 It has been said that an experienced tracker can read the earth like a book. Successful tracking demands experience, knowledge, patience, physical endurance, and mental focus, often under challenging environmental conditions over extended periods. Tracking involves the interpretation of signs of the wild, from animal tracks and dung to calls and behaviour. Trackers are an essential part of the safari experience and conservation work carried out at Tswalu, particularly in a reserve this vast.
Eleven years ago, guide Alex van den Heever and tracker Renias Mhlongo, who worked together at Londolozi for 25 years, came up with the idea of starting a tracker school that would offer a formal qualification to youth from disadvantaged backgrounds. Operating under the auspices of the Peace Parks Foundation, the Tracker Academy is a division of the SA College for Tourism (SACT) funded predominantly by the Rupert Family Trust. Accredited by the government and endorsed by FGASA, it's the first and only specialised tracker training academy in the world.
There is a misconception that tracking cannot be 'taught' or that it's a special gift inherited by a chosen few. As a traditional skill it evolved for reasons of human survival. Today, the academy aims to create a culture of curiosity among its students, both male and female, combining tracking skills with modern conservation techniques to advance tracking as a profession. Through intensive training and assessment, graduates become ambassadors for the African wildlife industry by bringing authenticity and accuracy to environmental education, wildlife protection, ecotourism, monitoring and research.
Following on the success of campuses at Londolozi and Samara, both of which are private game reserves, a third campus was established at Tswalu three years ago. An original farmhouse on the reserve was renovated and equipped by the Tswalu Foundation to house the students and staff. The Tswalu campus is the only one that has accommodation for both male and female students.
The one-year, full-time intensive course, led by experienced trainers, has been a game changer for the safari industry. Each year a total of 24 students from disadvantaged backgrounds are chosen after a rigorous selection process from well over 500 applications. There are two intakes, in January and June, and students are rotated after six months to another campus to increase their exposure to different habitats. Along with all the skills needed to achieve permanent, gainful employment in the ecotourism industry, great importance is placed on imparting life skills.
In the past 11 years since it was launched, 94 percent of its graduates have found permanent employment in the fields of tourism and conservation. Some 175 graduates are in permanent conservation jobs – an admirable statistic.
The programme contributes significantly to the preservation of indigenous knowledge in South Africa by empowering and equipping young men and women to become custodians of the world's last remaining wild places. It is not only keeping the art of tracking alive but has been instrumental in ensuring that it's recognised as a measurable, professional qualification.