Experiences | Jun 2020
WHAT DEFINES TSWALU KALAHARI
The wide, open spaces of Tswalu Kalahari, South Africa's largest, privately owned reserve, have long drawn travellers seeking a deeply layered, immersive safari. Exclusive access to this wilderness is a privilege that far outweighs more conventional notions of luxury. From the ancient quartzite Korannaberg mountains to the southern Kalahari's grassy, red sand dunes rippling away to the horizon, Tswalu offers what discerning travellers crave most – space and time. The remote reaches of the reserve may be explored on drives, walks or on horseback, always with opportunities to stop and appreciate the solitude and silence. This is a place to recalibrate and reconnect, both with nature and yourself.

With a guaranteed private vehicle, guide and tracker comes the freedom and flexibility to choose where to go and what to see. Nothing is dictated, the only schedule is your own, and days on the reserve unfold at your own pace depending on your interests and the time of year. For keen photographers, in particular, a private vehicle means unlimited time at sightings, which may include some of the elusive species that find sanctuary at Tswalu, such as aardvark, pangolin, bat-eared fox, brown hyena, and aardwolf. Other iconic species include the black-maned Kalahari lion, the desert black rhino, wild dog, oryx and cheetah. Throughout the year there are special sightings and transformations to the landscape influenced by seasonal changes and the amount of rainfall. Spending time at one of the habituated meerkat colonies is often a highlight of any stay.
Your guide and tracker, experienced and adept at navigating dirt tracks and animal trails unblemished by tell-tale tyre tracks, are always on hand to interpret the signs of the wild and share the wonders of the southern Kalahari with you. Heading off in a new direction every day, it literally feels as if you and your party have the entire reserve to yourselves. Unlike most private reserves in South Africa, there are no other lodges on the property. Scenic helicopter flights, excursions to study the reserve's ancient petroglyphs, and spending time with your guide in the photographic studio, editing and printing your wildlife images, are a few of the other specialised activities on offer.

Tswalu is unique in that it has a foundation dedicated to research. Research informs every conservation decision taken, and is a vital part of what Tswalu is all about. Guests are encouraged to interact with scientists and doctoral students in the field, should they have a keen interest in a specific subject. Long-term, large-scale project goals of the research centre include the effects of climate change on key species at Tswalu, for example pangolin and aardvark. For guests, there is also the opportunity to visit the artist currently in residence, a three-month sabbatical opportunity granted to a South African artist that is linked to the research and conservation work of the Tswalu Foundation.

As the world adapts to social distancing norms, being able to control one's environment is going to determine whether travellers feel not just safe but excited to explore the world again. For our guests, that sense of safety and security begins at Fireblade Aviation, the departure point for private air transfers directly into the reserve. From the moment you arrive at our landing strip and are welcomed by your private guiding team, the true value and significance of only having to share your safari with family or close friends in a safe, secure setting begins to take shape.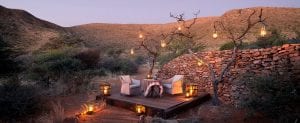 Tswalu has the lowest guest footprint in South Africa. Whether you choose the private Tarkuni homestead for a multigenerational family reunion or one of the nine, spacious Motse legae (the Tswana word for 'dwelling'), everything about your stay is considered and arranged with the individual in mind. Exclusivity extends to private dining. Delicious, tailored menus, using locally sourced produce with a strong sense of place, may be served in your suite or outdoors at a private table under the bluest of skies or a canopy of stars. Privacy, exclusivity and flexibility have always been central to the Tswalu guest experience. Your time on the reserve is entirely your own, and therein lies the real luxury.
Freedom to explore, whether the unfamiliar or the well known, will never be taken for granted again. More than ever before, there is a renewed sense of urgency, purpose and responsibility when it comes to choosing a destination. Tswalu's low-impact, high-value approach to ecotourism ensures that revenue flows directly back into conservation work. Continuing the conservation work that is at the heart of this noble project has never been more important. Those who choose Tswalu contribute to the sustainability of our commitment to preserving the southern Kalahari's biodiversity for future generations.