Experiences | May 2023
TWO CHEFS, ONE MISSION – SUSTAINABLE DINING
Jan Hendrik van der Westhuizen, Michelin-starred chef extraordinaire and creator of Klein JAN restaurant, is teaming up with chef Kobus van der Merwe of the award-winning Wolfgat in Paternoster on the West Coast to cook an exclusive six-course menu at Tswalu Kalahari this September – for one night only.
SYNERGY BETWEEN KLEIN JAN AND WOLFGAT
Geographically, the award-winning restaurants of South African chefs Jan Hendrik van der Westhuizen and Kobus van der Merwe, could not be further apart – the Kalahari and the West Coast – yet Klein JAN and Wolfgat have much in common. Both offer destination dining with a distinct sense of place that draws inspiration from the surrounding landscape and the dramatic seasonal transformations. Both restaurants have humble, heritage cottages at their heart. Both champion hyper-local ingredients, often foraged, and show a deep respect for heritage foods and local culture. Both offer seven-course tasting menus. Tables are sought after and booked out months in advance. Both follow a sustainable, zero-waste approach to food and cooking, which includes old-fashioned methods of preserving seasonal surplus by pickling, drying and fermenting. Jan and Kobus are brave culinary pioneers, passionate about storytelling and proudly South African. Both have received global recognition and a slew of prestigious awards. Perhaps most impressive of all, the success of both restaurants relies on their passionate mentorship of ordinary South Africans, many of whom have worked their way up in these celebrated kitchens to play an integral role in producing deceptively simple plates that capture the flavour and essence of the destination in every mouthful.
Jane Broughton caught up with chef Jan Hendrik to find out more.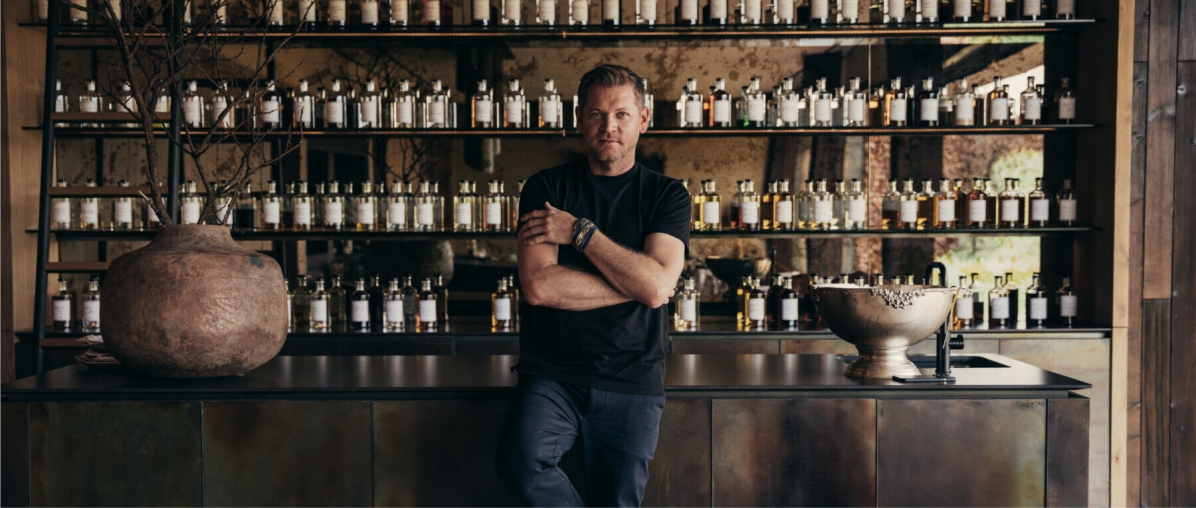 What excites you the most about cooking with Kobus from Wolfgat?
You would probably think of us as complete opposites – one with a restaurant in the desert and the other with a restaurant by the sea – but we are so similar in our approach to sourcing the ingredients and produce that we use in our kitchens. Too few restaurants in South Africa are hyperlocal, by which I mean sourcing from local, sustainable farmers and growers – something that lies very close to both Kobus and my hearts. I am excited to introduce Kobus to our Kalahari ingredients and to see what he creates and what we will create together. There is beauty in contrast.
Will September's special menu feature distinct creations from each of you?
Together, we will create a six-course menu, of which three dishes will be created by Chef Kobus using local Kalahari ingredients and the other three dishes will be iconic Klein JAN dishes.
What are the commonalities, or where do you believe the overlaps are, between what the two of you are doing in two very different regions of South Africa?
Kobus and I are old friends, and he has actually spent some time at Restaurant JAN before. He grew up in the Kalahari, so there are many overlaps, but the most important is that we both work with and allow our surroundings, nature and community to lead us to create an unforgettable, authentic experience for our guests. There is beauty and opportunity all around you, whether you are based in a small fishing village near the tip of Africa or in the heart of the desert. You just need to embrace it.
Has Klein JAN made a big social impact on the surrounding community?
The social impact has been huge. At Klein JAN almost 70 percent of the team comes from the Kalahari, and it is so rewarding to be able to offer them career opportunities and to see them grow and learn. Since we only source locally, we also work closely with local suppliers, giving them the opportunity to grow their businesses, which also has a direct impact on the local community. This adds a deeper level of connection to the region.
The menu at both your restaurants has a strong sense of place and shines a spotlight on ingredients (and destinations) that were previously not well known – as tourist destinations or for their cuisine. What motivates you to do what you do, and in such remote locations?
The challenge of creating something from nothing, something unique, and giving diners the opportunity to taste something they have never tasted before – that's the motivation. We currently have a boscia root coffee on the menu as our stoep appetiser, and other local ingredients like wag-'n-bietjie,  Bonsmara beef, lavender fever berry and gemsbok cucumber all feature on the menu. There are so many unexplored destinations in South Africa which all have so much to offer. In a way, we want to encourage people to get out of the city, discover what lies beyond, and have experiences that they can't have anywhere else. The best way to experience a destination or region is through food and community.
About Wolfgat
Chef Kobus van der Merwe and Wolfgat, his tiny, unassuming restaurant in an original fisherman's cottage named after an archaeologically rich sea cave, are synonymous with putting the hyperlocal, foraged ingredients of South Africa's West Coast region on the global culinary map. Combing the veld and the shoreline of this stark, windswept landscape, a region driven by dramatic seasonal contrasts, Kobus and his team produce a seven-course tasting menu for just 20 guests at each service. Seasonal staples include fresh oysters, a West Coast delicacy; bokkoms, dried fish that forms the umami-rich base note in fragrant stocks and sauces; the nutritious flower buds of veldkool (Trachyandra falcata), which resemble slender asparagus spears; and seaweeds of many shapes and textures, harvested from the icy Atlantic Ocean. Sustainable to the core, Wolfgat pays homage to the ancient diet of nomadic strandlopers who combed this coast. Read more
Images by Hanru Marais.