Experiences | Oct 2022
FINDING PETROGLYPHS ON BUSHMAN HILL
I visited Tswalu in August, the first time I had experienced the reserve in winter. Golden grasses waved in the breeze, mornings were dry and crisp, and blue-skied, pleasantly warm days were conducive not only to long, immersive drives but also to exploratory walks. Late winter is very different to the 'green Kalahari' of summer when seasonal rain quenches the earth, replenishing natural pans and transforming the landscape in a matter of days with a profusion of new grasses, bulbs, and wild herbs. Summer is a time of well-earned swims, long siestas, rumbling thunder and spectacular late sunsets, but since I really enjoy getting off the vehicle on safari, to walk in the veld, I discovered that the mildness of winter suited me well.
Tswalu's greatest gift to guests is that everybody is assigned their own guide, tracker, and private vehicle – a ticket to freedom which lends a fluidity and spontaneity to days on safari. My guide, Nic Coleman, and tracker Ben Ditshetlo, already knew that the petroglyph site on top of Bushman Hill was on my wish list. Klipbak, as it is known, has the highest cupule count of the three most well-documented rock engraving sites on the reserve. Cupules are those mysterious-looking circular depressions in rock, often found below engravings of human figures and animals, and nearly always found near water sources.
We set off just after sunrise on my first morning, a strong to-go coffee clutched in my hand and a 'bush baby' (hot water bottle) tucked behind my back. As we left the Motse behind, the foothills of the quartzite Korannaberg mountains rose on one side, while grass-tufted red dunes rolled away beyond the vehicle. We drove through open areas where black thorn thickets were beginning to bud and past Bushman Pan, bone dry at the end of winter. Meerkats were already emerging from their burrows to sun themselves in the first rays. To access the site, we needed to take a short hike up a rocky ravine on the western side of Bushman Hill. Nic parked the Landrover at the base of the hill and we started climbing. For anybody who is moderately fit and sure footed, it's an easy hike that should take no longer than 20 minutes. Taking care not to step on any loose rocks is my best advice, especially on the descent. At the top, we were greeted by the pungent fragrance of wild camphor and lavender fever berry. It felt like a different world.

Winter is a wonderful season for getting off the vehicle and exploring the likes of Bushman Hill, by Marcus Westberg.
I'd been told that eland and mountain zebra were sometimes seen on top of the hill, and that the northern pride of black-maned lions had been known to give birth up there. Even so, what a wonderful surprise to see several enormous kudu bulls with magnificent sets of horns and a herd of mountain zebra foraging below a rocky outcrop. The animals froze, stared at us, but didn't run. Our elevated position reinforced the vastness of the land, and I wondered what it must have been like hundreds or even thousands of years ago when San hunter-gatherers may have gravitated towards this rocky vantage point, a sacred space, in search of water. We walked on, curious to locate and decipher the clues left behind by these early inhabitants of Tswalu.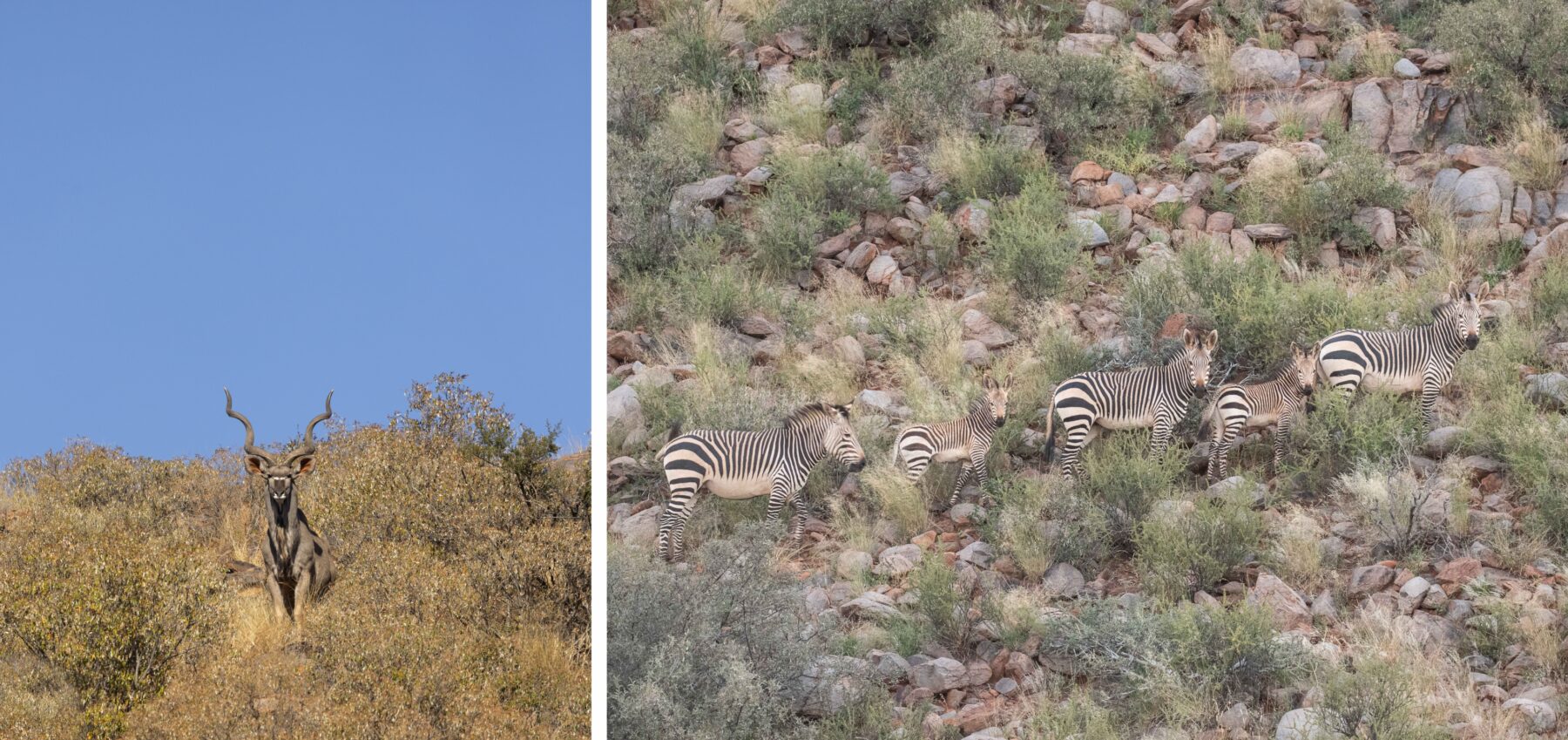 Left: A kudu bull displays his impressive horns; Right: Hartmann's mountain zebra in their natural habitat; by Barry Peiser.
In historian Pippa Skotnes's story, Understanding Rock Engravings, I read that images are less often narrative even though animals and people may be visible. Instead, the marks chipped or scratched into rock surfaces are more often symbolic, geometric or mimetic. Klipbak has hundreds of cupules in two locations that appear to mimic the rings left as water recedes in a cavity or imitate the hoof marks left by animals in sand. On the rock surfaces above the cupules, we could make out human figures and depictions of giraffe and eland, species which feature prominently in the spiritual belief system of the San. I also read that engravings are deeply connected to shamanistic beliefs and ritual practices. Even while the images may serve as a symbolic record of supernatural experiences, rather than a physical encounter with an animal, according to Skotnes they "would have been seen as an integral part of the place" rather than an ancient art gallery to be admired at face value as we were doing.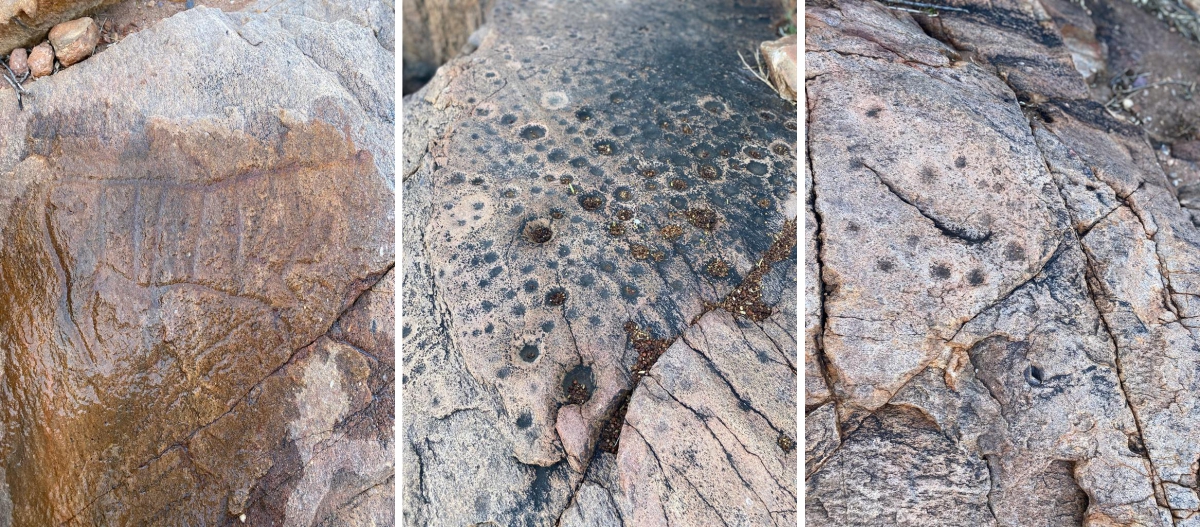 Accidentally splashing water on a rock made the engraving pop. The weathered imperfections of hundreds of cupules; by Jane Broughton.
Our conversation died as the unmistakable sound of a lion roaring drifted up to us. We stood silently, waiting for the next round of roars. It had never felt more important to have an experienced tracker in our midst! Oom Ben reassured us that the lion was very far away, in fact some 60 metres below us to the east of Bushman Hill. Just to make sure, we walked to the edge of the plateau where it didn't take Nic long to locate the lion through his binoculars somewhere off to the left of Ratel Pan. While scanning the open areas below us, he also located a white rhino and her calf!
We took it in turns to view the animals through the binos, while Oom Ben wandered off to look for anything else of interest. He arrived back sweating, but with a huge smile on his face. He'd stooped to look inside a shallow cave and surprised two brown hyenas. Known for their shy, elusive character, the startled hyenas brushed right past him.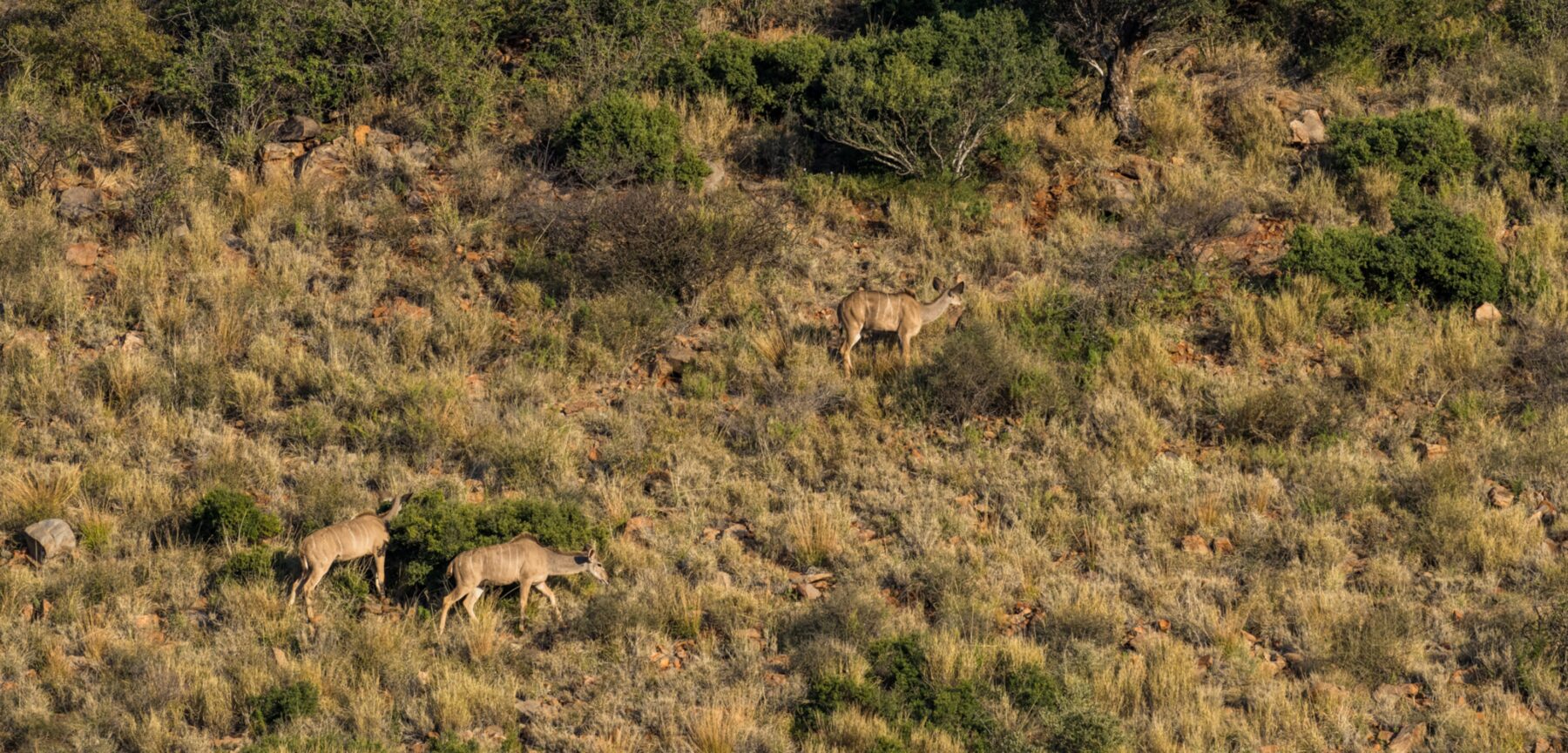 A little harem of kudu females on Bushman Hill, by Marcus Westberg.
Back at the vehicle, breakfast plans were put on hold in favour of driving round to the open area where the lion and the rhinos had been spotted. There was something extremely rewarding about tracking the lion's telltale paw prints in the sand, losing his tracks where the lion had wandered off the road, then relocating them and eventually finding him and enjoying an up-close view. As if on cue, the lion lifted his head and began to roar again. This close, the primordial sound sent shock waves through my body. Driving further, the cherry on top was catching a glimpse of the rhino mother and her calf before she trotted off between the black thorn with her little one just ahead of her.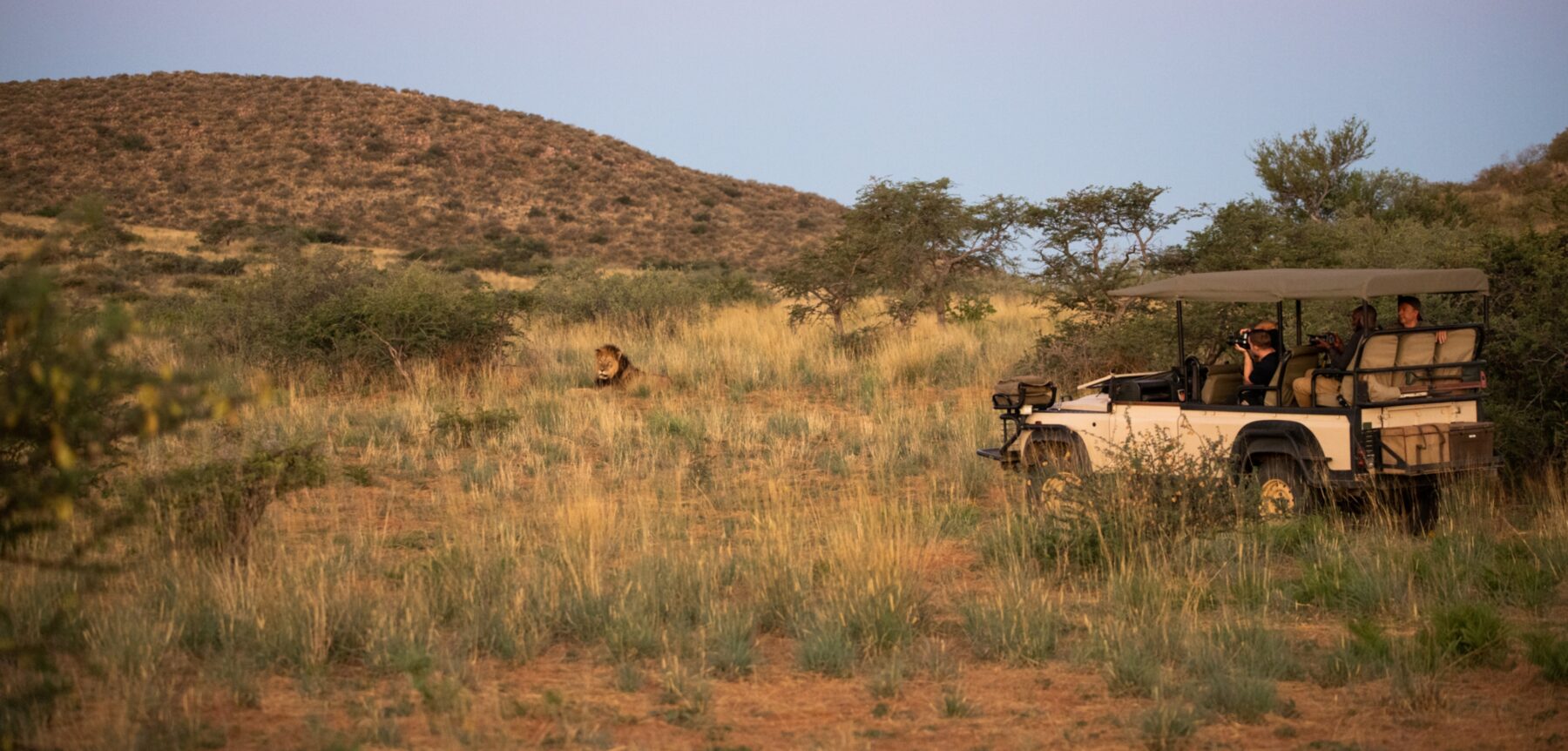 When a Kalahari black-maned lion roars, the sound reverberates right through you! By Josh Duffus.
Breakfast that morning was well worth the wait. Finding a quiet, sheltered spot, we tucked into a picnic spread of fresh fruit skewers, granola and yoghurt pots, bran muffins and croissants, and a cheese and charcuterie board. By now the day was warming up and, instead of another coffee, I raised a Mimosa to toast the epic morning that had unfolded.
Jane Broughton is a freelance travel writer and content creator. Follow @janehbroughton on Instagram