Community | Oct 2022
BRINGING SUSTAINABLE WASTE MANAGEMENT HOME
So many decisions we make in our everyday lives have an impact on climate change and the health of the environment and our planet. From choosing reusable bottles, cups, straws and grocery bags to composting our food waste and going paperless where possible, there are so many ways in which we can all make small shifts in our habits that, collectively, will be the change we want to see in the world.
Managing waste in Tswalu's staff villages is just one aspect of operating sustainably but a very important one, according to Prince Ngomane, the reserve's sustainability officer. Waste management includes reducing, recycling and repurposing waste. Inspiring and motivating the Tswalu community to be part of the reserve's sustainability journey may sound like a straightforward task, but it takes continuous education and the provision of practical solutions. Designing and building waste disposal bins for the staff complex to make recycling as effortless as possible has been a very successful community focused project this year.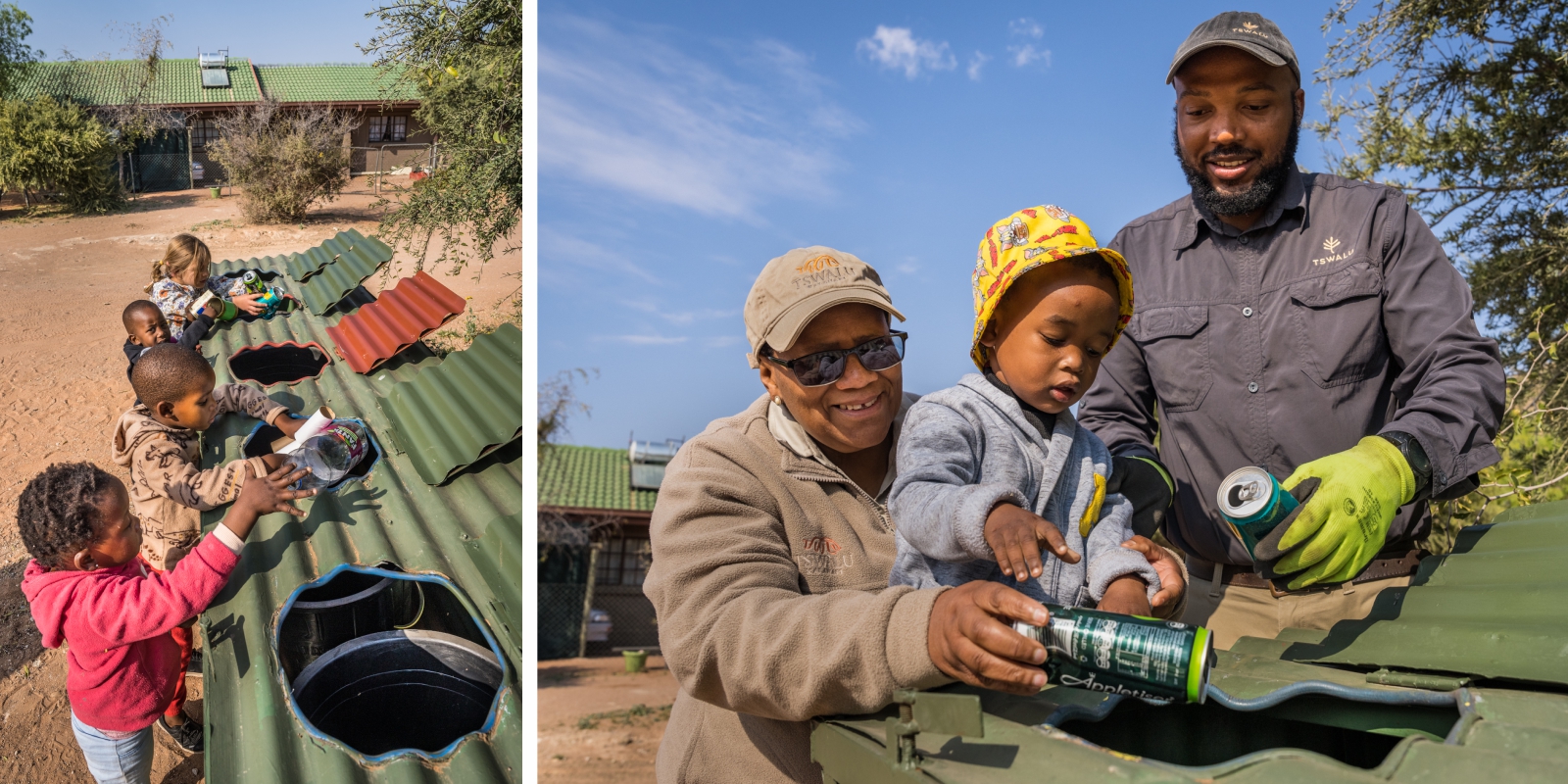 Children from Tshameka preschool learn how to separate waste; teacher assistant Jeanette Machongo and Prince Ngomane assist one of the preschoolers.
One of the advantages of being part of The Long Run community is the opportunity to learn from and share ideas with fellow member properties. Earlier this year, Prince visited member property Wolwedans in Namibia's NamibRand Nature Reserve and was struck by how much attention they dedicated to waste management as part of their sustainability plan. On his return to Tswalu, he started experimenting with building waste disposal bins using discarded farm infrastructure. There were a few attempts and failures before his team settled on the final design that allows for waste to be disposed of in separate bins. "Because the guys understood the importance of getting our waste under control, they were motivated to come up with the best possible solution," explains Prince.
It would have been a lot easier and quicker just to order in modern, purpose-built waste disposal units, but Tswalu's staff village recycling bins are testimony to the growing sustainability mindset on the reserve. The housing for the bins was constructed from discarded corrugated iron sheets and angle iron that came from old farm infrastructure accumulated over the years."These materials did not have a home, were rusted, and needed to be given a fresh purpose," says Prince. Before the old and rusted materials could be repurposed, each item first had to be sandpapered to get rid of the rust and then painted. These were time-consuming steps, but necessary to ensure that the structures would stand the test of time.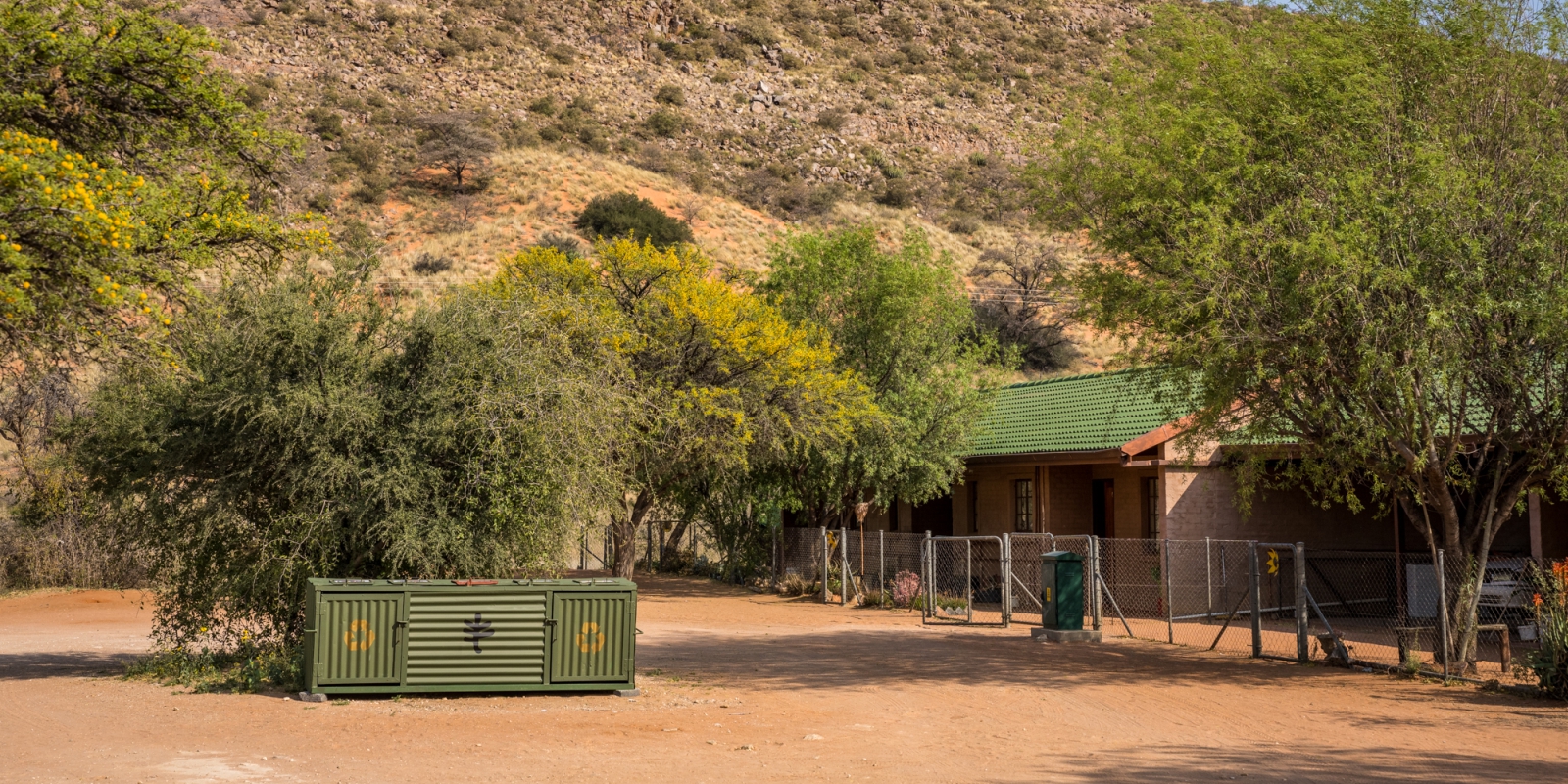 Dismantled farm infrastructure, including old fencing, was used to build the recycling units to make waste management easier for residents.
Each housing accommodates five medium-sized bins with openings on top that are clearly labelled so that residents know exactly what can be disposed of in each bin. There are separate bins for glass, metal, plastic and paper, food waste, and sanitary waste. The bins are baboon and animal proof. So far, 11 of these waste disposal units have been completed and the team is busy building eight more.
Staff have been briefed about their purpose and how to use them correctly. The response from the Tswalu community has been very positive so far, according to Prince. "People love how they look and the fact that all the materials were recycled. The feedback we're receiving is that the bins are definitely making their lives easier."
All images by Marcus Westberg, keep following @marcuswestbergphotography on instagram