Experiences | Oct 2023
WHAT IT'S LIKE TO CHECK INTO LOAPI TENTED CAMP
Guests first come to Tswalu for the wildlife, including the elusive species for which the destination is well known, but they frequently return because of the hypnotic, raw beauty of the landscapes. When you know that you are sharing exclusive access to 114,000 hectares with, at most, a few dozen guests, space becomes the ultimate luxury, time becomes elastic, and the stresses of everyday life shrink in relation to the grandeur of where you are. There is nothing like time in nature to become fully present and appreciate living in the moment.
For a long time, the only way to camp out in South Africa's largest private reserve was to spend a night at Malori, Tswalu's tented star bed, while staying at either the Motse or Tarkuni. Since the opening of Loapi, everything has changed. Guests can now take over one of Loapi's six, luxurious, villa-style homes under canvas, which channel the untamed spirit of camping. These one- or two-bedroomed homes speak to a growing desire among travellers to connect closely with nature.
Private and remote, escape to Loapi Tented Camp for a southern hemisphere summer in the Green Kalahari.
BOOK NOW
Please note: • This Stay for 4, Pay for 3 Loapi Offer is valid for new bookings, for travel between 1 January and 31 March 2024. • The offer is mutually exclusive and cannot be combined or used in conjunction with any other special rates or promotions offered by Tswalu. • The offer must be requested at the time of booking and cannot be applied retrospectively.

Loapi offers the ultimate private wilderness experience. The camp stretches for a kilometre (a thousand yards) from one end to the other, the homes tucked between the foothills of the ancient Korannaberg and Tswalu's characteristic arid savannah. Each home is spaced far apart to ensure a sense of complete solitude and privacy. It feels as if you have the entire expanse for yourselves.
With no shared spaces or amenities, each independently run micro camp has been designed to accommodate the rituals and moments of connection and quiet contemplation of a home. A private study for remote working doubles as a library and games room. Cosy indoor spaces for relaxing and dining extend outdoors onto generous deck areas that include shaded spots for lounging and dining as well as sun beds and a plunge pool. Overseen by a personal chef, the fully equipped kitchen is the interactive hub of the home with a help-yourself deli bar stocked with homemade snacks and drinks.

Each private home honours the importance and value of shared time whether that's meeting around the fire for early morning coffee, sinking back into low-slung chairs to gaze at the night sky, or gathering around the dining table for a generous meal, presented family style. From every vantage point, it's all about the views at Loapi and inviting the outdoors in.
In its design, Loapi exudes quiet, restrained luxury in spaces that never compete with what you've come to see. Just like the semi-arid environment, there is richness in the sparseness. Natural fibres, colours and contrasting textures are layered luxuriously, including in the bedrooms where the sheets are woven from sustainably grown long-staple Indian cotton and the super-soft, pure alpaca throws are made from fibres locally grown and woven in South Africa. In the living areas, furniture is smooth, voluptuous, and curvaceous, while underfoot bare wood and pure wool rugs provide extra comfort.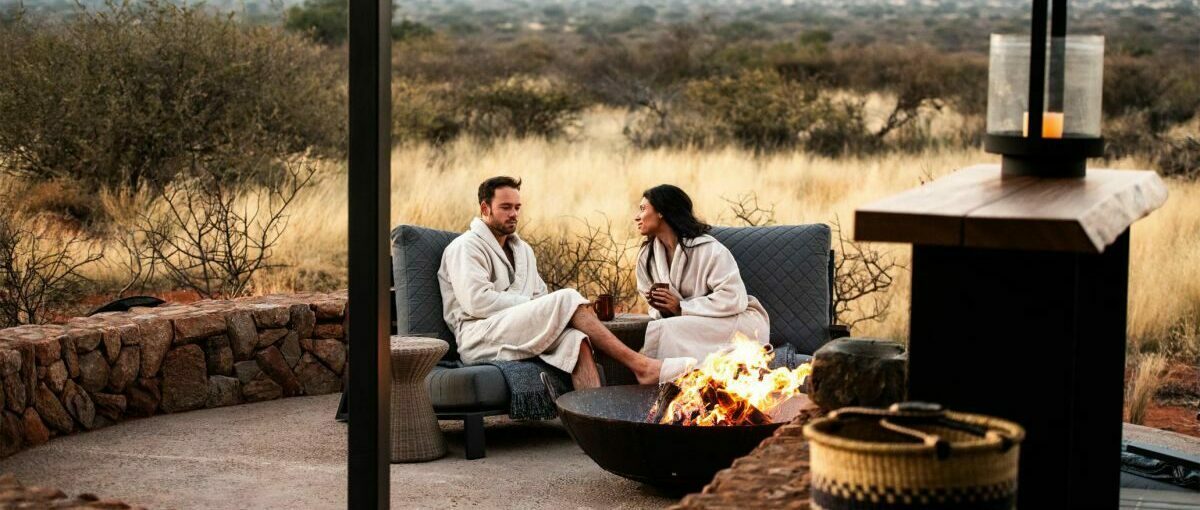 There are private spaces for retreating, including decks leading off the bedrooms with day beds and space to roll out a yoga mat. A walk-in shower, which forms part of a spacious bathroom-cum-dressing room, leads to an outdoor shower. Bathtubs have been consciously omitted as part of the camp's water-wise, sustainable design. In the bedroom, there is another day bed for a siesta or for reading bedtime stories to children, who will love the camping connotations of the extra pull-out bed in each suite, designed especially for family stays. Glass doors can be pushed wide, and bug-proof screen doors locked into place to allow nature's nocturnal soundtrack to drift in on the breeze while you sleep.
The Loapi safari experience is private and personalised, both on and off the vehicle, led by an experienced team with immense knowledge and deep respect for the southern Kalahari. Guests are guaranteed a private guide and tracker and the exclusive use of a vehicle, which becomes a ticket to freedom. Each day unfolds as it's meant to, without constraints. Together with a dedicated homathi (house manager) and private chef, your guide and tracker are committed to making each day count so that your safari is stitched together like a perfectly choreographed edit of Tswalu, from wildlife sightings to experiences such as horse riding, meerkat encounters, and dinner at Klein JAN. Being in a private reserve also means exclusive opportunities to take guided walks, stay out late for night drives, enjoy starlit dune dinners, get involved with hands-on conservation, and learn about research projects that fall under the Tswalu Foundation.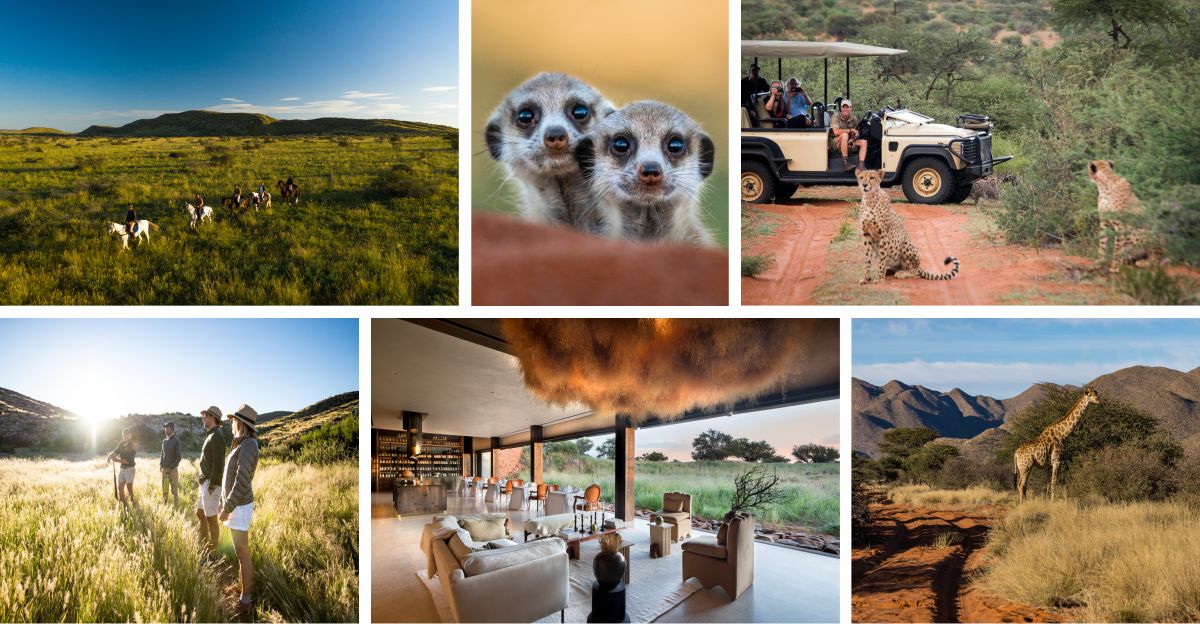 Choosing to spend a day relaxing in camp is encouraged, although rising early to witness the eastern sky awash in hues of pink and mauve just before sunrise is something you may not want to miss. Slower, meditative days in camp follow the rhythms of nature and the trajectory of the sun across the sky. Shaded areas abound and the cool depths of the plunge pool, which uses solar power, can also be heated, ensuring that guests feel a continuous connection to the environment at any time of the year. Sipping drinks on the verandah looking onto distant mountains glowing in the late afternoon sun, while a little harem of kudus browses close by and the low contact calls of lions drift quietly across Bruwer Valley, sums up this immersive, private wilderness experience perfectly.
There is no doubt that a safari represents the ultimate adventurous escape, whether it's your first trip to Africa or you are already committed to positively impacting the sustainable conservation of the continent's remaining wild places. The southern Kalahari adds a deeper dimension to the idea of spending time in a remote, untrammelled wilderness – the vast northern reaches of South Africa are humbling in their scale, contrast, adaptations, and diversity.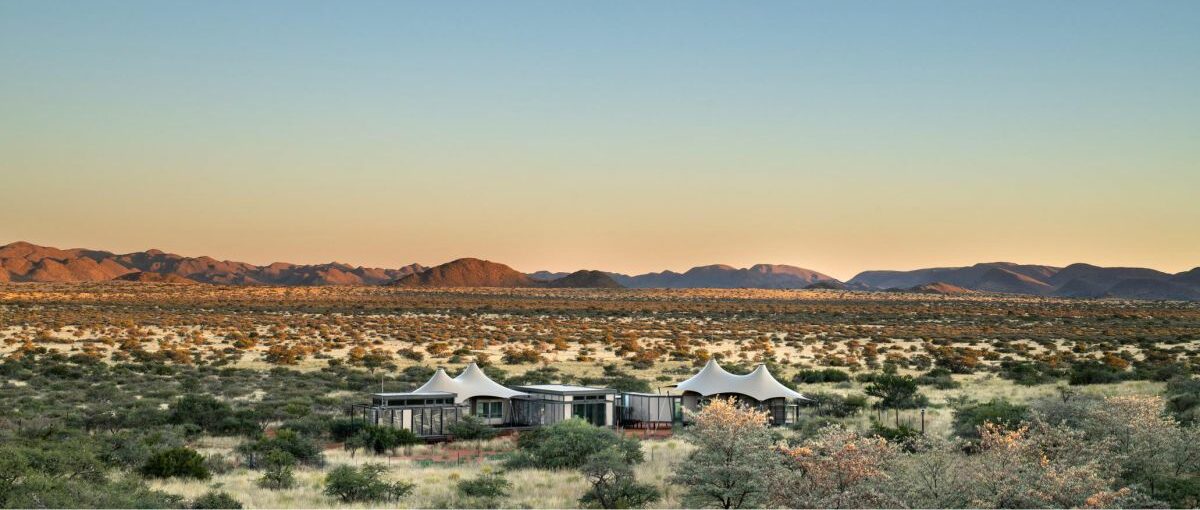 It's impossible not to be struck by the luminous intensity of this place. In the southern Kalahari, the sky seems bluer, and the sand appears redder. Even the animals appear more statuesque against the dramatic backdrop. Light bounces off the ochre earth, tinging the undersides of clouds so that they look like pink cotton candy. The immensity of the 'space below the clouds', the meaning of Loapi in Setswana, must be seen to be appreciated. Just as the red sand of the Kalahari sneaks into your boots, the magic of this place is bound to creep into your heart.
Our new Stay 4, Pay for 3 Loapi Offer is the ideal opportunity to experience all of this for yourself.
To check availability or to book this limited offer, contact your preferred travel planner or get in touch with our reservations team.