Experiences | Mar 2023
A DESTINATION TO DISCOVER IN THE SOUTHERN KALAHARI
Recognised as one of Africa's last remaining wildernesses, Tswalu is a destination in its own right with dramatically scaled landscapes, breathtaking vistas, diverse habitat with fascinating fauna and flora, and a wide choice of privately guided safari experiences. Stretching for 114,000 hectares across the southern Kalahari, it is the largest private game reserve in South Africa.
The Korannaberg mountains cut through the characteristic arid savannah, contributing to greater habitat diversity than anywhere else in the Kalahari. The varied habitat supports extremely diverse wildlife, including 80 mammals, some of which are uniquely suited to the semi-arid conditions like black-maned lion, desert black rhino, meerkat, and wild dog. Tswalu also offers a rare opportunity to see some of Africa's most elusive species in one place, including brown hyena, aardvark, bat-eared fox, Temminck's pangolin, African wild cat, and aardwolf.

TSWALU'S VARIED HABITAT SUPPORTS 80 MAMMALS, INCLUDING BROWN HYENA, RHINO, LION, AND BAT-EARED FOX.
THE POSITIVE IMPACT OF YOUR SAFARI
At its core, Tswalu is a bold conservation endeavour, restoring biodiversity to the Kalahari ecosystem through rewilding, habitat protection and sustainable tourism. With just three small, luxury camps, it represents the lowest ratio of beds to hectares in South Africa. Exclusive access to this untrammeled wilderness, together with the guarantee of a private vehicle, guide and tracker, sets the scene for a safari of unparalleled privacy. It is possible to head out in a different direction every day, without following well-worn routes, finding other tyre imprints in the sand, or even seeing another vehicle. The value of having an experienced tracker in this environment cannot be over emphasised, and tracking has been rightly elevated to an art form.
.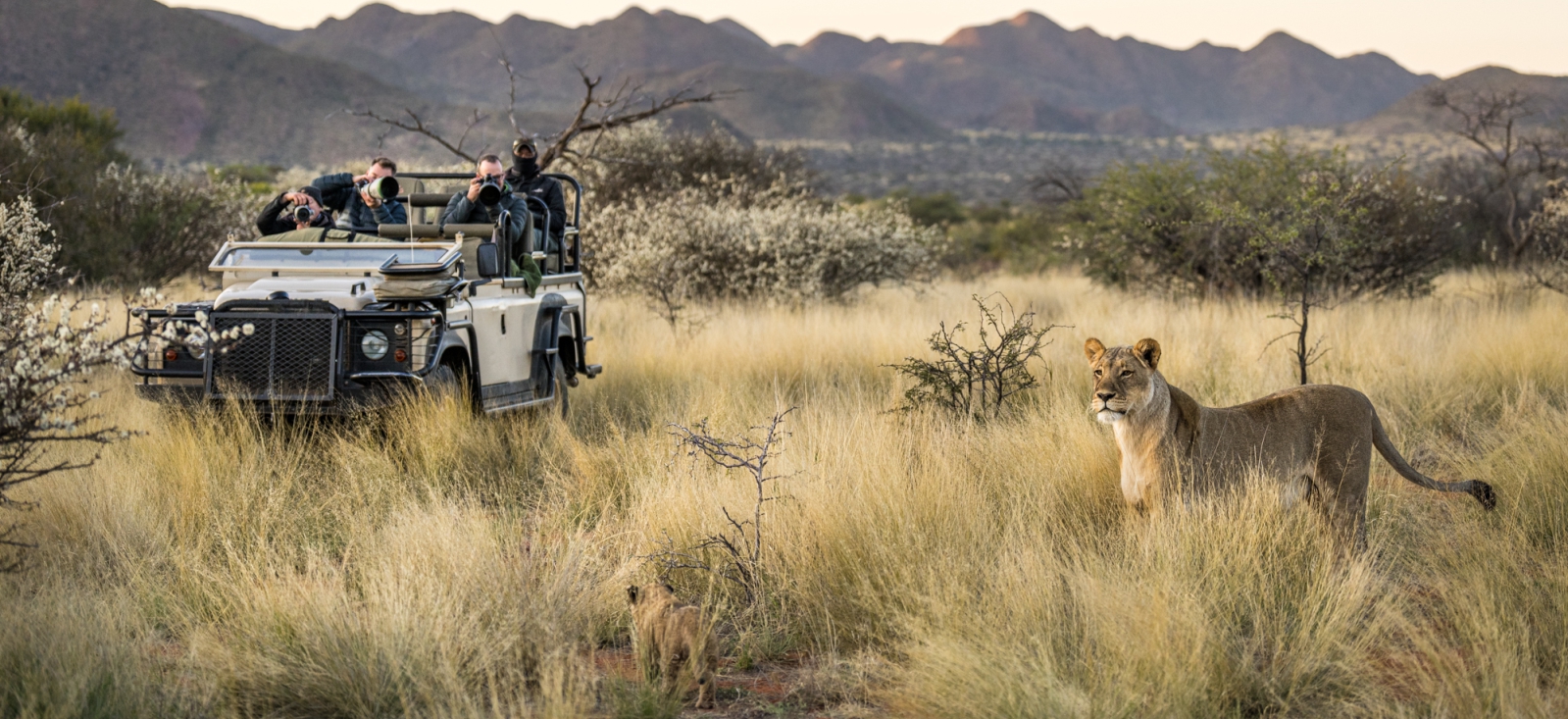 EXCLUSIVE ACCESS SETS THE SCENE FOR A SAFARI OF UNPARALLELED PRIVACY – NO QUEUING FOR SIGHTINGS.
YEAR-ROUND SAFARI ATTRACTIONS
Tswalu has always been a year-round destination, the absence or presence of rain triggering radical transformations to the environment so that no two safaris are ever the same. Thunderstorms roll across the reserve during the summer months, threatening or delivering sporadic rain that greens the landscape with tall grasses and bursts of colour from flowering annuals. This is why it is referred to as the Green Kalahari. Winter is no less captivating, the dry season's big, blue skies fusing with golden grasses rippling away to the horizon. In any season, the textures, colours and ever-changing light make Tswalu a dream location for photographers.
THE SEMI-ARID SOUTHERN KALAHARI IS A YEAR-ROUND DESTINATION. SPORADIC RAIN TRANSFORMS THE ENVIRONMENT.
TAPPING INTO TSWALU'S TREASURES WITH A LONGER STAY
With such vast and diverse landscapes to explore and so many activities on offer, the reserve lends itself to a longer, more immersive stay. The best way to see more of the destination is to experience two camps, each with a distinct sense of place.
The Motse camp is the perfect introduction to your destination safari, drawing guests in with its sociable atmosphere and generous-hearted service, organic-luxe design and nurturing, earthy spaces. Backed by the Korannaberg foothills, the Motse is in the west of the reserve, where the mountains give way to grassy plains and red dunes dotted with pans. Getting out to explore the area is made easy with a private vehicle, and the undivided attention of a guide and tracker to arrange game drives, nature walks, horse riding, meerkat encounters, hands-on conservation, or an introduction to one of the many research projects supported by the Tswalu Foundation. Between activities, the camp's nine well-spaced legae – a Setswana word meaning 'home' – are private sanctuaries to retreat to, offering every imaginable creature comfort. Dining is different every day, from a picnic breakfast and poolside lunch to a boma barbecue, a lantern-lit dune dinner, or the provenance-led culinary journey which unfolds at Restaurant Klein JAN on one special night.

HORSE RIDING, MEERKAT ENCOUNTERS, AND HANDS-ON TRACKING ARE PART OF THE MOTSE EXPERIENCE.
A TRUE WILDERNESS EXPERIENCE AWAITS AT LOAPI
Everything changes when guests arrive at Loapi, a tented camp that will fulfil any yearning for unscripted time in nature. The camp's six private tented safari homes in Bruwer Valley have elevated, unimpeded views south across the grassy plains to distant hills in the valley beyond. From one end to the other, the camp appears to float above the landscape in a conscious departure from the organic, grounded permanence of the Motse.
Meaning 'the space below the clouds' in Setswana, Loapi signals a change of pace inspired by a new mood of carefree, nomadic living and the untamed spirit of camping. The light, modular design under canvas ensures a continuous connection to the environment, in tune with nature's rhythms. In embracing this true wilderness experience, guests have complete freedom to do whatever they want. Each home comes with a dedicated homathi, or butler, and a private chef. With a private vehicle, guide and tracker always at the ready, guests can choose to spend all day tracking some of the elusive species, visit nearby pans where resident lion prides converge, or hike up Bushman Hill where Hartmann's mountain zebra and kudu are often spotted. Most of all, Loapi provides the luxury of space and time to do nothing more than relax on the deck and gaze at the view, relishing the solitude and silence.
With the opening of Loapi, indulging in a longer, slower, more immersive safari in the destination while experiencing two different camps has become an exciting possibility, and one that is ultimately kinder to the planet.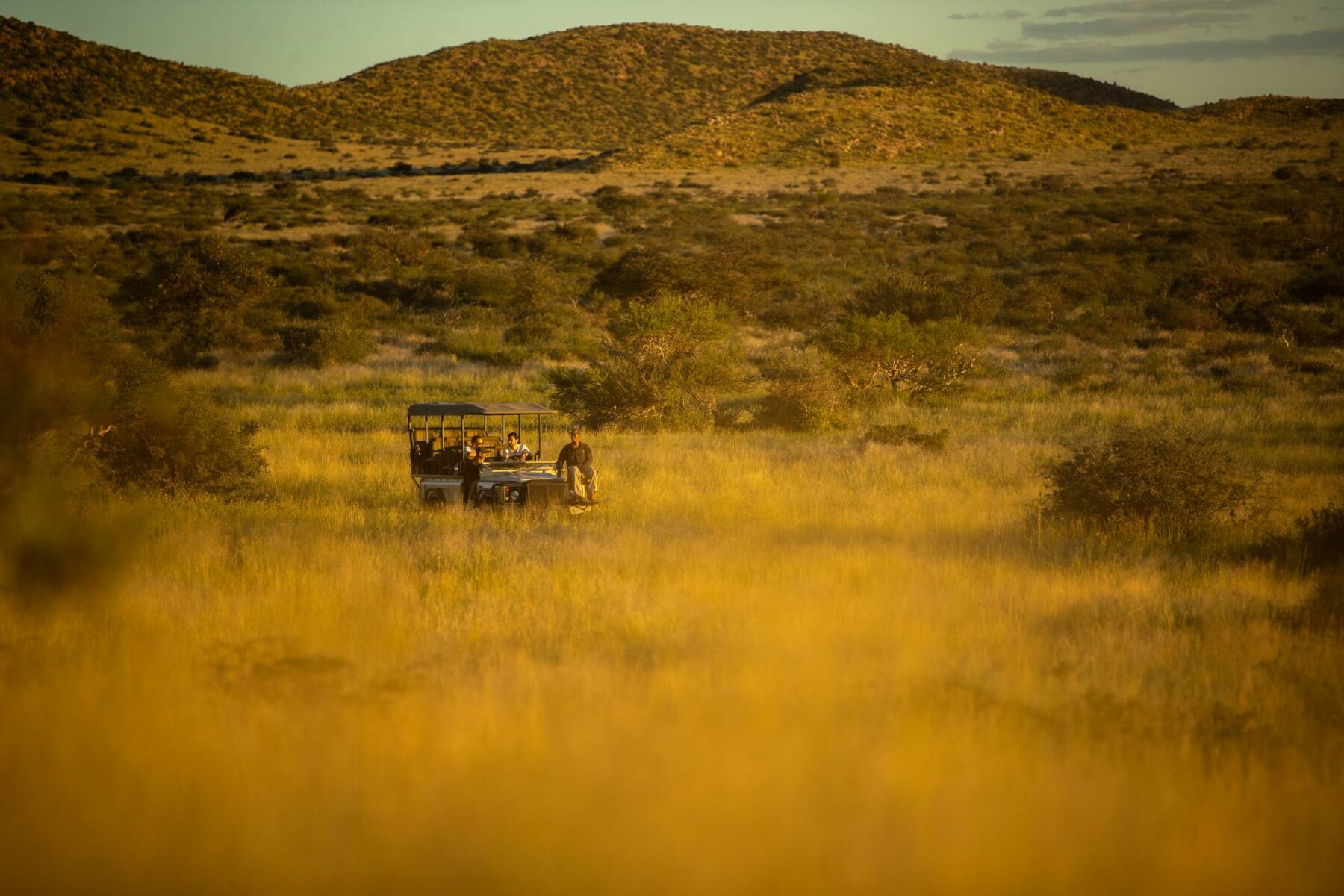 Image credits: Barry Peiser, Rebecca Cook, Marcus Westberg, Kosie Lategan, and Felix Studios.